By Mary Meldrum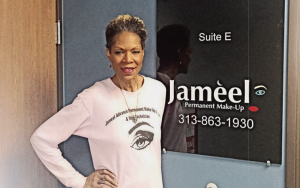 JAMEEL COSMETICS, LOCATED AT 641 NINE MILE RD, STE E, HAS BEEN IN BUSINESS SINCE 1982 AND MOVED TO THEIR CURRENT LOCATION IN 2012.
Rochelle Robinson is the owner of this vibrant business, and she has a lot to say about her industry.
Robinson started beauty work about the age of nine. She became licensed at 16. To say that she is qualified is an understatement.
"I decided that it was my calling."
Even though she didn't get paid in her childhood, she learned most of what she does on her own. She has been licensed as a chromatologist and makeup artist. All the other services came out of necessity and need.
A NEW SERVICE SHE OFFERS is Bemer therapy, which is a device that opens the vascular system and allows the body to heal itself. Natural healing is a big focus for Rochelle and she institutes it every chance she gets.
Rochelle works with people with hair loss, such as people who have had chemo or other drugs, or whatever the reason they have lost their hair.
She used to work with the Look-Good Feel-Better program, working with the patients at Henry Ford and Sinai Grace hospitals. That used to be a free service, but the program has been discontinued. Cosmetic companies used to donate cosmetics to patients and volunteers like Rochelle would teach them in the early '20s before the pandemic.
Rochelle also has a history of working as a volunteer at Gilda's Place in Royal Oak.
PERMANENT MAKEUP IS A COSMETIC TATTOO PROCESS. Once you have it done, it will be there forever but it fades and get lighter, and you can have a touch-up done. Rochelle has had two touch-ups done on her eyebrows in the 17 years that she has had them. It's a relatively expensive service. After you have it done, you have to take care of it the right way so that it lasts. It doesn't cover up the gray and requires maintenance. The technician should explain to the client how to take care of it.
Rochelle does custom blending as well. She has an extensive background in color, skin care, and as a makeup artist. She got involved with custom blending for women of color who cannot find the proper shade of foundation. She has been custom blending for about 20 years and uses a water-based foundation because it is lightweight and as close to nothing as you can get.
Jameel Cosmetics offers a wide variety of services, and whatever the client needs Rochelle is prepared to serve them. As an artist, Rochelle is very diligent about making the client happy with their choices and her work.
"What I want most is a happy customer." She proclaims.
Aqua detox is a process of putting your feet in water with an electrical array, it opens the pores and releases toxins into the water.
NUTRITION IS A BIG PART OF HUMAN HEALTH ISSUES. Your body needs the proper blood flow, the right chemicals, and nutrients. Especially for people who have hair loss and other obvious issues. She will ask her clients about their diets and life habits to see if she can pinpoint the root of their problems.
Many of her clients have been coming to her for several years.
"I have people that I have become affiliated with who are almost like family."
What Rochelle wants everyone to know is this:
"If I can't help you, I will be honest with you and not waste your time. The goal is to see you satisfied as a customer."
www.jameelmakeup.com | 313-863-1930 | Walk-ins welcome
Ferndale Professional Bldg, 641 W 9 Mile Ste E, at Livernois