By Kevin Alan Lamb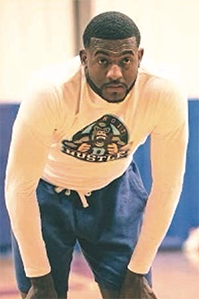 MY FINAL HIGH SCHOOL BASKETBALL GAME WAS PLAYED in East Lansing at the Breslin Center (Michigan State,) in front of close to 10,000 people, for the Class A State Semifinals. We lost, but the previous game was played at Ferndale High School, where we (West Bloomfield) upset Detroit Southeastern in the most grueling battle I've experienced on the hardwood.
At the time, I had no idea that I would one day call Ferndale home, and have the opportunity to write about other athletes who bled and sweat on that same hardwood. Jody Hill is a graduate of Ferndale High School, where he was first team All-Conference, earning an honorable mention for All-State. Today, he is the General Manager of the Detroit Hustle, a professional basketball team in The Basketball League (TBL). Formerly North America Premiere Basketball, TBL is a minor league basketball organization that began operating in North America in 2018 with eight teams, and expanded to over 30 teams as of 2021.
"Just wanting to give back to the great game of basketball and my community, giving people the opportunity to play at a pro level even if it wasn't the NBA. It gives guys the chance to have their families still be able to come watch them play," Hill credits as the catalyst for creating the organization.
TBL IS ONE OF THE FEW MINOR LEAGUE basketball organizations providing player salaries from $1,500 to $6,500 per month, with teams operating on a budget of $125,000 to $250,000 per season.
"I am a high school graduate from Ferndale High, where I was first team All Conference and honorable mention for All-State. From there I went to play for Delta College in Saginaw, where I was named an All-American. Finally, I transferred to Livingstone College, where I was a CIAA champion and all conference member, and also BOXTOROW first team All-American. Professionally, I played in Canada, Iraq and the U.S.."
Like just about everything during the pandemic, you can imagine that launching a professional basketball team was difficult, to say the least. Home games were played in a number of locations as a result of limited availability, while practices were held at the Boys & Girls Club, who were a major partner.
The Hustle's roster has 12 players, with two reserves. There is a 24 game season, and four conferences, with seven teams in each.
"In our first season all of our players came from the Michigan area, and all went and played in college, while some also had other professional jobs overseas."
IT WAS A STRUGGLE TO FIND GYMS for home games as a result of the pandemic in 2020, which also limited the amount of fans which were able to attend games due to the gym's protocol.
"Also, sponsors and partners backed off because they didn't want to take the risk due to COVID. But we had a great turnout and season, and are definitely looking forward to this upcoming season."
Antonio Capaldi (Detroit) was named the Hustle's first ever Head Coach. A former college standout at Madonna University, Capaldi brings a fresh energy to the new TBL franchise. With coaching experience on the high school, college, and pro level he brings a unique perspective to the Hustle.
"I am grateful for the opportunity to be a Head Coach in a strong league like TBL. We will be active in the community and play a fast paced & tough brand of basketball," says Capaldi.
"As a player I have known Antonio to be a very tough competitor and we know what we are getting in him. As a person, he is exactly the kind of man that we need to guide us through these exciting times with always keeping an eye on our community engagement," Hill says.