By Ginger Goldmine
OUR DIGS 2020 FEATURED HOME IS THE ROCK HOUSE, located in Ferndale at 519 W. Maplehurst.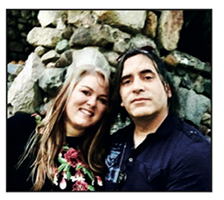 Tamela Ekstrom and Evan Derian have lived here since 2011. Evan is an artist, graphic designer, and comic book creator. He creates a comic book/graphic novel series called Miserable Americans.
Tamela owns HAVEN Real Estate + Design, helping people buy and sell homes in our community. The design element to her business helps homeowners stage their properties to sell for more money.
What is one word you would use to describe your vibe or style?
TAMELA EKSTROM: Juxtapose: I like to mix furniture styles and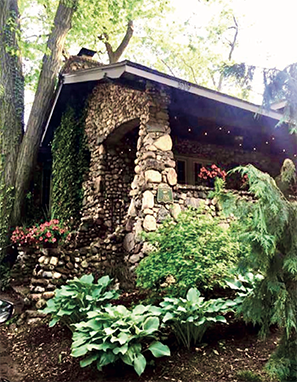 textures to create a soulful space, artfully combining the aesthetics of modern decor with vintage spin. Flashes of metal next to rough wood. I think it's all about balancing the space so it's appealing to the eye. I don't like anything too cluttered. I want that modern look to have a cozy feel. Visitors often say our home is even better in person. I usually pick some colors for a season and then curate the art from ours and our friends' work. We are both artists, and somehow our work looks very good together. Evan can tell which color combos I'm starting to eye, and I get lucky and end up with pieces that work with that. Our home is ever-evolving. I feel space needs to be ever-changing to transform its inhabitants.
What are some design strategies you would share?
The homes in our neighborhoods were built in the '20s and '30s, and tend to have smaller rooms. So raising and widening doorways creates a whole new and airy space. I'm attracted to black or darker walls and moody spaces to sleep. I try to place the darker colors in satellite rooms, like bedrooms that are contained.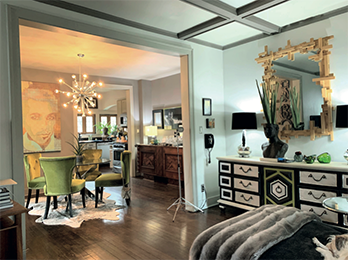 In our main space, I painted every wall a similar neutral shade. This opens up the small rooms so they flow into each other and appear larger. We recently updated the paint in a few rooms to a very light, warm color called "Gray Owl" from Ferndale's Benjamin Moore dealer, Paint Stop. Colors contained within art and pillows absolutely pop in this hue.
I also raise the curtain rods above the windows and buy 95" curtains. This really lifts your eye up and visually creates a larger space. When we are selling homes at HAVEN we offer free staging advice, and one thing that creates compelling photos are when contrasting pops of color are used. This anchors photos and creates visual interest. Pick a color palette, match a couple of pillows with a print or art piece and suddenly you have an exciting visual story.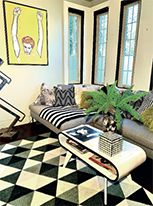 What are some of your favorite local artists?
I love Detroit artists and vendors! We are so lucky to have so many artists in our neighborhoods. Some that come to mind while I'm looking around my house:
• My hubby, Evan Derian (IG:@evan_k_derian) of course. He's incredibly talented at illustration. He has his own graphic novels, but he also paints a lot of rock stars' portraits and offers affordable, limited edition pieces.
• Robert Mirek (IG:@robert_mirek) creates totem pieces out of many mediums. I find them mysterious and I'm always into his color combinations.
• Eastworks Detroit (IG: @EastworksDetroit) satisfies my love for industrial lighting.
• My friend Karen Larson (IG:@karen.larson.patterns) is a graphic designer and creates patterns for custom wallpaper.
• My friend Susu (@Susu.Detroit) creates many different items, she's now in a phase of making incredible purses and art from dolls and rough and shiny crystals. I have a piece with leather, chain, and a shard of raw crystal that is functional as a tiny vessel but also art. It's so pretty I have it hanging on the wall and I stare at it all the time.
Do you have any special or semi-secret spots you frequent that you'd like to share?
Ok, this is big, because I'm giving up my favorite stores to you guys.
• Nine Furniture and Design (IG:@ninefurnitureand design) hand-makes furniture and decor, and also sells vintage. So it's pretty much one-stop shopping for me. I'm fascinated at how quickly Keith and Evan create these affordable, inspired pieces. I just received the curved whitewashed coffee table in the photo you see in this article. Another item hand-made by them is the large cross-hatch wood mirror you see in the living room photo.
• We have many pieces from Vogue Vintage (IG:@voguevintage). Their mid-century lighting, cabinets, tables, and chairs provide pieces to promote our modern aesthetic.
• Western Market (IG: @westernmkt) for ferns for our porch and Featherstone Garden (IG:@featherstone.garden) for healthy houseplants.
• Nadeau (IG:@nadeaudetroit) makes my heart beat real fast. When I moved here, I searched and searched for Asian style modern furniture, as I could find in San Francisco. After a few years, Nadeau opened up and I hope everyone shops there so they stay around forever. They have solid wood and metal furniture and home goods. I have lots of pieces from their industrial line.
• Leah's Closet (IG:@leahsclosetroyaloak) is my friend's vintage clothing store, however, she also carries curated home items. I am constantly changing my barware, and I usually get it from Leah. I also bought these incredible beaded tassels I use on the silver glass shard lamps you see in the photos here. Sometimes she has some really great textiles and mid-century artwork as well. She's great about posting on her Instagram.
• And then, I should mention one more shop I love, my friends' Tanda and Lauren own Free Phoenix (IG:@shopfreephoenix). They have pillows, trays, glasses, throws, and art. Owner Tanda's design sense is very organic and earthy and her curated pieces add texture and warmth to spaces.