Making the Most of Too-Short Summers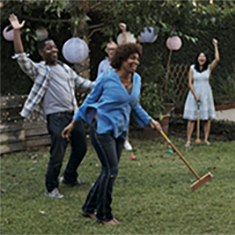 IF YOU'RE OF A CERTAIN AGE,YOU PROBABLY REMEMBER being told when you were a kid, to "Go outside and play!" Well, it's still valid advice, no matter if you're a kid or an adult. Michiganders don't get much premium outdoor weather, so let's enjoy it while we have it! It doesn't take much to make your backyard an inviting place to be on sunny days and breezy nights.
Just relax. If you have two sturdy trees about 15 feet apart, hang a hammock and put a little table next to it. Perch a tropical drink on the table, pull up a reggae station on Pandora, and pretend you're slung between palm trees on the beach. If you don't have ideally-spaced trees, a hammock stand works, too. Or if you're into home spa treatments, sprawl in a chaise lounge and let your hair, nail, and facial treatments sink in and do their work while you enjoy the outdoors. (Just be sure to scoot into the shade if you're using products that shouldn't be in direct sunlight, like retinol and alpha hydroxyl acids.) In the evenings, laze next to a firepit.
Commune with nature. Many pollinators are attracted by certain plants, including hummingbirds and butterflies. If you'd like to be able to observe pollinators going about their busy business, Google "plants for [insert your favorite here]" and create your own nature center to encourage visitors. (Bonus: many flowers that draw in pollinators are also delicious for humans, like lavender and squash flowers.) When dusk arrives, download a stargazing app and puzzle out some constellations. You can even go camping in your own backyard if you have a tent handy.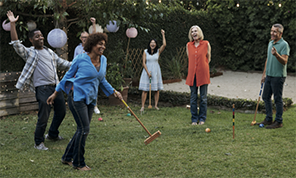 Play games! Ever seen those giant life-sized games at summer festivals? You can whip them out in your very own backyard to entertain folks of all ages. Classic lawn games like croquet and bocce are perennially popular, too, or you can hang some water-filled balloons from a tree and have a piñata party. Got hula hoops? Use them in a hip-jiggling competition. Or cut out about a quarter of each hoop, sink the ends into the ground, and play kickball croquet.
Be handy. Even if you don't have mad carpenter skills, you could probably build a teepee out of long sticks and some leafy branches. If you are DIY-inclined, then you might want to transform a shed into a reading nook or build a free- standing Tiki bar. Want to expand your gardening and carpentry skills at the same time? Spend an afternoon putting together a greenhouse kit and then enjoy fresh veggies and herbs year-round.
Get creative. Bet you've seen some fun, quirky items at art fairs that made you think "Hey, maybe I could do that!" Whether it's a funky plate perched on a stick or a birdhouse made of corks, outdoor items are a lot more rustic and less complicated to make compared to items you would want to showcase inside your house, and if you do your crafting, then it's fine if you spill paint or glue. Chances are you already have plenty of oddball items you can use as art supplies.
Try out your hosting skills. Haul out a card table, plop it in the grass, and invite people over for a Euchre party. Or depending on your group of friends, perhaps a BYO tea party would be more appropriate. (In that case, also haul out a pretty tablecloth and your best china, then pluck some nearby flowers to make a quick bouquet.) If you have a deck or patio, string some lights on whatever hooks/umbrellas/railings are handy and host a cocktail soirée.
Summertime is party time!