By Kevin Alan Lamb
WE LIVE IN A TIME WHEN IT IS DIFFICULT TO TAKE 10 STEPS before someone offers their uninvited opinion or advice on how to act, think and run your business.
Rather than lead by example or applaud those pioneering a unique path, we often criticize others who face the changes we weren't willing to make ourselves. As such, it is refreshing to discover a place, space, and concept designed to help their clients find their own way.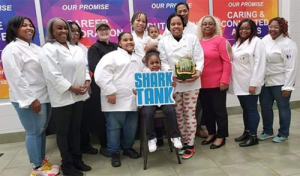 "The D-Loft Cafe is focused on being a hub for the food professional," says Brandi C Shelton, founder/ owner.
"We assist new and established professionals to grow and maintain their customer base while assisting them in the development of business concepts that increase their brand awareness, financial stability and most importantly creativity. The Cafe works daily on the enrichment of small food businesses by working hand-in-hand with the creator/ owner and continuously developing new and out of the box thinking for the future.
"We work to provide things not normal to a banquet space or hall. Social connections build. A banquet hall isn't a place to build unless it's made into a full social environment. TVs, fireplaces, lounge furniture and more provide the client with a different viewpoint. It is a training concept. Social spaces are considered banquet halls but what we do and how we offer the space is by far on a different level to our consuming public.
"Our drink partners both help us to be innovative. No more of the boring drinks. We bring a full brand to the table. It is healthy, tasty and fresh. Our drinks are handcrafted right here in Michigan and they are a super-small business. Lymonheadz started with five total drinks on their menu. In one year we assisted them in the development of 25 flavor combinations and they have even started distribution to stores and restaurants for 2022.
FOR OVER 20 YEARS, SHELTON HAS BEEN BLENDING BUSINESS AND BEYOND, which she credits as the recipe for creating social spaces.
Like rocket fuel for dreams realized, Shelton's passion and vision continue to provide others a guide to reach, and navigate their stars. The D Loft's mission is to ensure each professional that walks in their doors is successful on three levels.
• START: Beginning stages of building the business and brand foundation.
• MOVE: Movement is the element where the business is growing and gaining momentum with a brand presence.
• TRIUMPH: The final stone to the foundation of building a business. When the company is established and working, growing and making money. It is the crossover point of knowing you are in the winners circle.
NO MATTER YOUR PROGRESS ON YOUR ENTREPRENEURIAL JOURNEY, the D Loft's mission should excite and quite possibly intrigue you. Their studio space focuses on being a part of the arts, building with educational programs, independent artists, and other small businesses. They host a variety of different business and art-based forums, all by special invitation only.
There's even a bed-and-breakfast. "Another hole in my belt of trying something new. We took a home and converted it into a boutique style, mini-hotel concept, with art and more. We removed the basic kitchen appliances and replaced them with what a general hotel would have, and created a breakfast menu for up to eight to partake in every morning of your stay. What can go wrong with shrimp and grits, French toast or pancakes, fruit platters, fresh juice, alkaline water and desserts?"
Investing time, energy, and love into the realization of others dreams, helps illustrate the reality that a dream shared, is less likely to be a dream deferred.
"There are several success stories. From food to food trucks. The mission is sustainability. From Confections Factory to Flavor for the Soul, Jerri's Cheesecakes, Rosey Cheeks Treats, Sweet Babe Treats (our sweet lineup), Blu VI Catering, Chef Taz Bistro (our co-Executive Chefs), Chrissy Cuisine, Culinarian's Corner (our Executive Chef and Food Director) to Fantastic Fruit (fresh fruit and veggies) and more. On the food truck side, we built a relationship with Touch of Honey and DC Novelty Eats and they both are gaining momentum.
"Touch of Honey is focused on the building phase of life. Her final goal is full domination in the communities where she becomes a household name. She brings back that mama approach, providing you a meal that reminds you of Sunday dinner on a Tuesday. All of them hold something special to me and the foundation of what the cafe stands for. Collectively, there are 20 members that build up."
Visit the D Loft's three locations – Hamtramck, Ferndale and Oak Park – to experience its wondrous offerings for yourself.
13710 W Nine Mile Rd, Oak Park
138 Stratford, Ferndale
313.879.0750 | thedloftcafe@gmail.com