By Jenn Goeddeke
TOM KATOULA IS THE OUTGOING AND AMBITIOUS OWNER OF PAPA ROMANO'S IN FERNDALE SINCE 2004.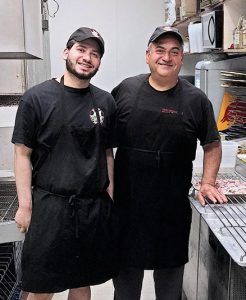 The business has been in operation since 1995, but after taking over Katoula has been determined to keep improving its popularity. Katoula lived in Denmark for ten years and worked as a chef in his own restaurant. He certainly has the experience to run a successful pizzeria. Katoula is a family-oriented man, with all his family living in the USA. Katoula moved to Michigan in 1999.
As with many local businesses, the Covid-19 pandemic created some challenges. Katoula lost five of his long-term employees during the early phase of the pandemic and has had to bridge that gap.
Fortunately, many members of his family stepped in to help. For example, his nephew Kyle helps him manage the store, and his son Marcelo works there part-time. Additionally, some of his friends' kids work for him also. Katoula commented, "I make them all feel like family – it's not all about business!"
IMPRESSIVELY, KATOULA NOT ONLY STAYED IN BUSINESS, he also came close to doubling his business from early 2020! Katoula appreciates his staff for their part in the continued success of the Ferndale store. "My family cares about the business and they give the best service to customers." Being professional at all times is key. Recently, Katoula's daughter Marci and two nieces, Chanel and Chantel ran the store by themselves on a Sunday. With a smile, Katoula added, "they're even better than me!"
Katoula loves to excel with fresh ingredients, including all the salads. "They are not the cheapest price, but they are the best quality, and we get great feedback from our customers." Currently, the number-one seller on the menu is Papa's Favorite, a combination of a large pizza and Bambino breadsticks. They also offer a full Mr. Pita menu too, and delivery is available to a wide radius.
A large part of Katoula's business is catering, with favorites being mostaccioli and chicken wings. With his reliable staff and store capacity, he can cater to any group size.
TO GIVE BACK TO THE COMMUNITY, KATOULA HELPS OUT various local organizations, schools, city staff, and charities with donations of food. He mentioned how much he enjoys working in Ferndale because of the "great mix" of people!
740 W Nine Mile Rd in Ferndale | 248.399.0011
M-Th 10:00AM-10:00PM; Fr-Sat 10:00AM-1:00PM; Sun Noon-9:00PM.