Sahara Restaurant & Grill, Traditional Mediterranean Cuisine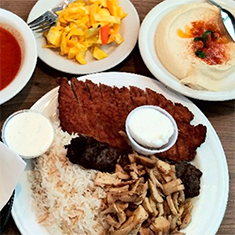 By Jenn Goeddeke
THE SAHARA RESTAURANT & GRILL, JOINTLY OWNED BY ZEANA AND SAAD ATTISHA, SERVES A WIDE RANGE OF CUISINE WITH A FOCUS ON TIME- HONORED MEDITERRANEAN DISHES. VARIOUS DINING OPTIONS ARE OFFERED, INCLUDING CATERING, BANQUETS, AND CELEBRATIONS OF ALL TYPES. CURRENTLY, THEY HAVE FOUR DINING LOCATIONS: DETROIT, STERLING HEIGHTS, OAK PARK AND WARREN.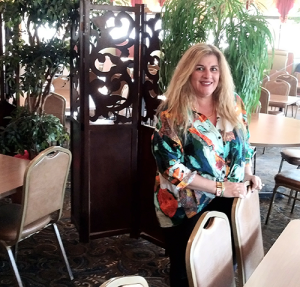 I recently visited Zeana Attisha at their Oak Park locale, which has a spacious, warm ambiance and traditional/intricate decor. Zeana is lively, charismatic, and highly educated, with degrees from MSU and WSU in hotel management and business & finance, respectively. Her father, who immigrated here from Iraq in 1967, was determined to raise his girls to be strong and independent, "like five soldiers!"
SAAD ATTISHA CAME TO THE USA AT AGE 16, the eldest of eight children. His family immigrated here for freedom from Iraqi government oppression. The Sahara Restaurant locations have opened within areas that have both a Chaldean church with a strong community. Saad became skilled at working in the family restaurant and worked his way up from stock-boy. At 19, he opened the Eastern Restaurant at 9 & Woodward in Ferndale (across from Como's). Then in 1983, Saad moved the restaurant to Oak Park (9 & Coolidge). At that time, they changed the name to Sahara Restaurant & Grill, now located at 24770 Coolidge Highway.
Zeana mentioned that Mediterranean food has steadily become more and more popular over the years, to the point where it is a top option for diners in the USA. She added that there are quite a few variations in how food is prepared, depending on the restaurant. In response to high demand, Sahara employs an experienced team of chefs who work together each day, preparing meals from scratch, using authentic Chaldean recipes: "straight out of mom's kitchen!" Ingredients are always fresh, not frozen, with frequent purchasing from Detroit's renowned Eastern Market and the Detroit Produce Terminal.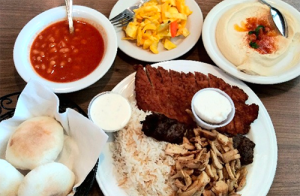 The Sahara Retaurant menu is extensive, with tempting favorites such as chicken or beef shawarma & cream chops; various lamb dishes; seafood dinners; grilled kabob kaftas; hommous (with or without meat); a full range of salads, and tasty soups such as lemon rice or adas (lentil). Also, menu options include "create-your-own" sandwiches and combo meals. The house ranch, garlic spread, pickled cabbage, plus rice & stew are all popular additional sides. Combined with the fresh bread, made from a customary Iraqi recipe, the combined result is delicious! Zeana informed me that they cater to many other forms of cuisine preferences, aside from the established Chaldean/Mediterranean fare, plus items by special request.
TOGETHER, THE ATTISHAS EFFICIENTLY HANDLE all aspects of the restaurant operations. Zeana explained with a smile, "We are like yin and yang, and so we make a great team. Saad has street smarts and I have book smarts! He is the idea-man: creative and smart. He is also very picky about all ingredients used. For example, he favors choice angus and other top-of-the-line meats. He manages the kitchen and I handle the bookkeeping and bills for all the locations. We are both outgoing and respected in the community."
Additionally, Zeana is involved with local politics, and helped overturn the dry-city status of Oak Park (which had been in place since 1945. "I want the city to do well and so I have to be proactive!"
The Sahara Restaurant is obviously successful, despite significant adversities the Attishas have encountered while running their business. Zeana recalled that in June of 2010, while at their 9 mile & Coolidge locale in Oak Park, the premises of the neighboring tenant burned down. It was a massive fire, and several local fire departments were involved. The fire extended into the Sahara Restaurant and destroyed a lot of the property (including damage to some large, expensive equipment). Zeana added that it was a huge hurdle to deal with and recover from.
They have also felt the effects of the Covid19 pandemic in quite a few ways. Initially, there was a complete closure, followed by carry-out orders only. "We gradually got back to full restaurant service, but there have been huge changes in cost, labor, and worker expectations." Zeana explained. "Costs have dramatically increased on just about everything they need to buy, including spices and oil, but we are trying hard not to let this affect the current menu prices. Our customers have been understanding of any small increases made because clearly food prices have gone up everywhere." In common with many other businesses, supply-chain delays have been problematic currently for the Attishas. There is a wait time of several months for certain supplies for the restaurant (such as their signature plastic bags used for carry-out orders).
DESPITE ALL THE MAJOR CHANGES SINCE MARCH 2020, Zeana emphasized how patient and supportive their customers have been throughout the whole Pandemic upheaval. The staff has been equally loyal, something that Zeana largely attributes to Saad's management style: "he is laid-back, and you couldn't ask for a better boss!" Their four busy locations continue to thrive and consistently keep customers happy.
The Sahara Restaurant & Grill locations are in Sterling Heights, Oak Park and Detroit. The Sahara Banquet Center is in Sterling Heights and the Sahara Market & Bakery in Warren.
2390 Metropolitan Parkway, Sterling Heights, 586.264.0400
24770 Coolidge Hwy, Oak Park, 248.399.7744
32836 Ryan Rd., Warren, 586.274.0700
77 W. Columbia St., Detroit
www.newsahara.com