OUR LOCAL AND MULTI-TALENTED GARY BRUNNER LAUNCHES A NEW CAREER IN HORROR ACTING VIA THE RUSSIAN SLEEP EXPERIMENT
Story by David Wesley
Photos by Michael Bugard
Film still photo courtesy of Framed Pictures, LLC
Posters designed by Mark Kosob
Gary Brunner is an actor, musician, artist, chef and lifelong Ferndale dweller. His life and career is storied, starting with witnessing the making of the original Evil Dead film. Gary also runs Atomic Dawgs, in Berkley,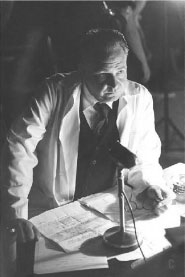 for owner Joel Martin, who also owns 54 Sound. Now Gary's career is taking a new interesting turn. He's now about to become a presence in the cult horror film world. He is the lead actor in the short film "The Russian Sleep Experiment" which was adapted from of the most popular creepypastas (en.wikipedia.org/wiki/Creepypasta.) The story has millions of fans and you can see the trailer on YouTube. Gary got his desire to be in film because he used to hang out with the Evil Dead crew when they were editing "The Evil Dead" in Ferndale. More on that seminal meeting in a moment. Needless to say, Gary was blown away when one of his childhood heroes (Evil Dead veteran and film/TV director Josh Becker) had this to say about the Russian Sleep Experiment short: "The Russian Sleep Experiment is certainly one of the best short films I've ever seen, and I've seen alot. It excels in every department…and it all comes together in what I feel is the perfect length and tone, thus achieving an extremely solid impact in its payoff."
Gary himself sat down with Ferndale Friends, and gave more insight on his colorful life and careers in Metro Detroit:
Ferndale Friends: How did you get involved with film and theatre in Detroit?
Gary Brunner: When I was about ten years old I used to ride my bike up to the magic shop in Ferndale. I wanted to do monster makeup, something my parents were strongly against. I got some fake beard hair glued to my face and couldn't get it off. So I skipped school and went to the magic shop for answers. There was a sign on the door that said "back in five minutes." This was most disturbing to me, of course. I mean, if my parents found out I didn't go to school because I had a fake beard glued to my face, I'd be dead for sure. So I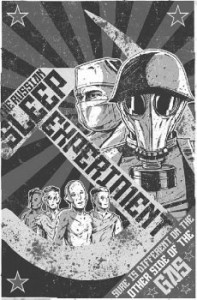 sat in the hallway in front of the door and waited and waited. I noticed on the door directly across the hall from the magic shop, it said "Action Pictures." That had to mean movies! I pressed my face into the mail slot in the door. The first thing I saw was an Evil Dead poster on the wall in the office. What I didn't know was that the door wasn't shut all the way. So when I smashed my face into the mail slot, I fell into the office. Bruce Campbell and Sam Raimi came running out to see what was going on. Sam looked real mad, "What are you doing breaking in here kid?" Bruce chimed in, "Yeah kid, and what's that hair glued to your face?" After I told them what had happened, they laughed hysterically and helped me get the fake beard off with spirit gum remover. Once I was beard-free again they let me watch Evil Dead. It hadn't even been released yet. They didn't even have a distribution deal yet. I was hooked!
FF: How has the art scene in Detroit changed since you began making a presence in it?
GB: I think the art scene has grown into an amazing situation. When I was younger, there weren't the same opportunities that there are now. I used to go and watch music artists like the Romantics, George Clinton and Eminem record their songs (at 54 Sound.) Years later my friend and mentor, Joel Martin, bought an old house in Berkley and wanted me to design and implement a fine dining version of a neighborhood hot dog joint. It's almost four years later and we are still hanging in there and seem to win, place or show every time there is a contest involving hot dogs. I feel so grateful to ave such a wonderful opportunity to be so creative with my cooking skills.
FF: How did your experience with the Evil Dead crew influence your part in the Russian Sleep Experiment? GB: The Russian Sleep Experiment is like my Evil Dead movie. I used to watch those guys work so hard to get Evil Dead funded and distributed, and now here I am years later trying to raise money for a feature­ length film. Those guys never gave up and neither will I.
FF: How do you feel about the changes seen in Ferndale as a longtime resident?
GB: I've seen a lot go down in Ferndale since my family moved here when I was eight-years-old. A lot of the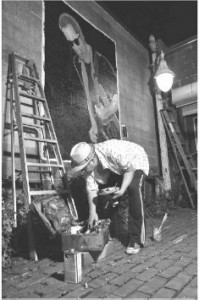 neighbors on my block have long since retired or moved away. What replaced all those original residents no one could have seen coming. Ferndale has turned into a creative Mecca of sorts. We still have a lot of families in Ferndale, but it seems like every other week I hear about some amazing artist or musician that just moved into Ferndale. There are so many cool shops and mom and pop kind of restaurants. More than a handful of music studios. I love Ferndale, I love my street, I love my house, I love all my neighbors on my street and never want to leave.
FF: What are the projects you 're working on now and do you have any future projects you have planned?
GB: Aside from the Russian Sleep Experiment Project, I play drums for an outlaw country band called The Holy Winos. I'm also putting together a power pop style band. I. like a lot of other actors, audition any time and every time I can, hoping for that big break!
If something happened with our health, we believe there is a solution to any maladies in a medicament. What medicines do patients purchase online? Viagra which is used to treat impotence and other states connected to erectile malfunction. Learn more about "sildenafil". What people talk about "viagra stories"? The most substantial aspect you should look for is "sildenafil citrate". Such problems commonly signal other problems: low libido or erectile dysfunction can be the symptom a strong heartiness problem such as heart trouble. Causes of sexual dysfunction switch on injury to the penis. Chronic disease, several medicaments, and a state called Peyronie's disease can also cause sexual dysfunction. Even though this medicine is not for use in women, it is not known whether this medication passes into breast milk.