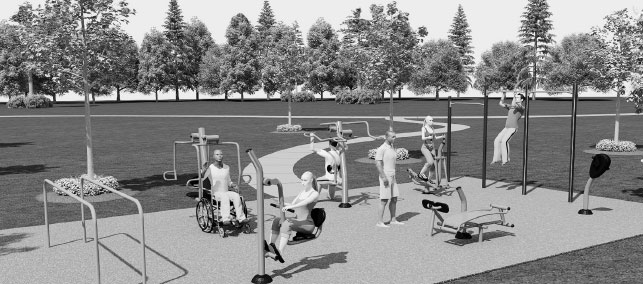 Story by Sara E Teller
Photo by Bernie Laframboise
Cindy Truba-Hutchinson of Commerce Township, Michigan, was born and raised in Hazel Park, Michigan, one of three children to long-time residents Richard and Lorraine Truba. "Dad lived on the same street his whole life," she explains of her father. Truba was a well-known businessman and public figure who raised Cindy, her brother and their sister just a few houses down from where her grandparents lived in the tight-knit, family oriented community. Richard and Lorraine owned Truba Carpet at 9 1/2 Mile and John R for 50 years, which had previously been a furniture store owned and operated by Cindy's grandfather.
Richard was a Masonic Temple Shriner and active member of numerous community organizations including Hazel Park's City Council, zoning board, and Lions and Elks Clubs. Following in her father's shoes, Cindy herself became involved in the City Council before relocating to Commerce Township and was the first female Lion's Club member in Hazel Park in 1987. "Mom and Dad were both very giving of their time and money," Cindy says. "They were proud and giving, and wonderful citizens of the city."
So, when her mother passed away this year at 89 years old, joining her father who passed ten years earlier, she decided to commemorate their long-time charitable presence in the community by raising funds to build what she calls "a park within a park in Hazel Park." Originally inspired by her son Tyler, who owns a gym in Wixom, Michigan, to provide residents of Hazel Park with a health and wellness experience, Cindy decided to work with the city's Recreation Department to design a fitness park — a family-centered recreational escape intended to serve as "an asset to the whole community."
"Sareen Papakhian, Hazel Park's Assistant Planner, has been extremely helpful" in making Cindy's vision come to life in the heart of Green Acres Park. These gathering places "are very prevalent where the weather is great all the time," she says, and she felt Hazel Park residents would be thrilled to have something similar in their backyard.
"We will start with eight or nine pieces of equipment, some ADA-compliant, made for the outdoors," Cindy explains. She has confirmed the city is working with an equipment builder used previously to construct several playground structures meeting all American Disability Act specifications. These structures and the remainder of the park facilities should be available by the end of the summer. So far, the Truba and Hutchinson families have been able to raise two-thirds of their fundraising goal of $30,000 toward the project, and they hope to raise the remainder by the end of June. Cindy is asking for the public's help with funding the remaining $7000.
At the time of this interview, Cindy planned to set up in the refreshment tent at the upcoming four-day Hazel Park Memorial Festival located at Green Acres Park. The festival draws a large number of Hazel Park residents and those of neighboring communities with its parade, carnival, craft sale, live entertainment and numerous family friendly activities. Anyone interested in donating to the fitness park can send a check in care of "Richard and Lorraine Truba Recreation Fund" to The City of Hazel Park, 111 E 9 Mile Road, Hazel Park, Michigan 48030. Please make sure to note the project on the memo line.
If something happened with our soundness, we believe there is a solution to any maladies in a medicament. What medicines do patients purchase online? Viagra which is used to treat impotency and other states connected to erectile disfunction. Learn more about "sildenafil". What humanity talk about "viagra stories"? The most vital aspect you must look for is "sildenafil citrate". Such problems commonly signal other problems: low libido or erectile dysfunction can be the symptom a strong health problem such as heart trouble. Causes of sexual malfunction include injury to the penis. Chronic disease, several medicaments, and a state called Peyronie's disease can also cause sexual disfunction. Even though this physic is not for use in women, it is not known whether this therapy passes into breast milk.