By Sara E. Teller
IT'S FUN AND REWARDING to work on our home and garden projects. It's also an opportunity to remember those who have no digs of their own, and are struggling just to find a safe place for their family to live. While working on DIGS 2019, we learned about a local organization, Bethany Christian Services, helping to resettle refugees from around the world.
Bethany Christian Services is a global nonprofit organization that brings families together and keeps families together. Programs include adoption, foster care and pregnancy counseling. Bethany also provides counseling to families, assists refugees and immigrants with resettling in the United States, and partners with several international countries to help keep families, near and far, together. Bethany is founded on Christian values and beliefs and they work to protect, empower, and strengthen families.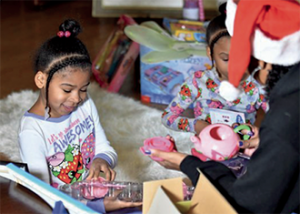 "Strengthening families for the well-being of children is our top priority," said Starr Allen-Pettway, LMSW, Branch Director, adding, "The work we do equips families to be the answer for children in need. Every child deserves love and a loving place to call home."
IN SOUTHEASTERN MICHIGAN, Bethany's foster care program provides homes for the temporary placement of children. They also place those children who become available for adoption with their forever families through the state. There is also a domestic infant adoption program, which offers familybased support for birth mothers who make the decision to make an adoption plan for their children, and a teen outreach initiative in which Bethany partners with various local agencies to provide life skills training and education for youth in the Detroit Metropolitan area.
"Bethany makes every effort to ensure that families have the skills and training necessary to support the needs of children coming into foster care," Allen-Pettway explained.
Bethany staff members come from a variety of professional backgrounds. Most have social service and counseling backgrounds and provide either direct or indirect support for the services offered by the organization. Other members have appropriate academic degrees for the positions they occupy.
"The specialties vary depending on department, but the one thing consistent throughout our organization is the love and compassion that all Bethany staff have for people," Allen- Pettway said, adding, "Bethany leaders have a heart to serve and dig into the hard places. As leaders, the commitment is to ensure that we remember the overlooked, the forgotten, and serve them to the best of our ability.Leaders understand that many of the systems for which we do work are broken, and it is our responsibility to be the hope for those that find themselves in sometimes very hard places."
Bethany Christian Services is always looking for the help of volunteers.
"We are always looking for volunteers – or, in our eyes, partners – who can support the various needs of the children and families that we serve. It is always our desire to do more, and that ability becomes greater when we have more hands at the table to support the needs."
www. Bethany.org/MadisonHeights •
248-414-4080 •