Story by David Stone
Photos by Ed Abeska
One of the best ways to experience the magical skills of a truly great chef is to sample their appetizers. So it is exciting to see that the center of William Quasarano's (A.K.A. "Chef Quas") menu at the Twisted Tavern are indeed his amazing apps. Rest assured, they do have an incredible menu of amazing tacos, delicious burgers and sandwiches and a unique variety of flatbreads, too.
We will return to this wonderful menu later. But, first, let's meet the man behind the menu; Chef Quas.He was born in Detroit and says he's been "all over the East Side." He graduated from Grosse Pointe North after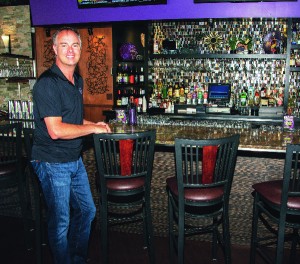 starting at St. Joan of Arc. He has lived in Las Vegas, Chicago, and up North. "I've kind of been all over," he says.
When describing his introduction to the culinary field, he said, "I had my ninth birthday in my dad's first bar, Hollywood Nights." He later studied culinary arts under Chef Schneider at Macomb Community College.
After working at many other restaurants, Chef Quas joined Mark McConnell who, at the time, owned Boogie Fever in Ferndale. They worked together so well that the two decided to continue working together when Mark decided to refurbish the site, creating the Twisted Tavern and Red Door Nightclub.
At that time, they decided to focus on the apps. Quas describes Twisted Tavern as a place that does "family-style but with apps." The menu clarifies this, saying that they come in "mine or ours" sizes. The menu further defines the two app sizes as "to share or not to share." As Chef Quas put it, "It's not like having to dish out $35 for an entree."
McConnell has been a local entrepreneur since 1999. When Boogie Fever began to "show its wear," Mark and co-owner Rob decided it was time to reinvest and renovate. They decided to open a restaurant in front and a nightclub in back, and that was how Twisted Tavern and Red Door were born.
Mark mentioned that he received "a ton of compliments on the decor," and points out, "we're not a dive but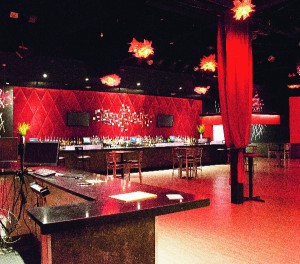 our menu is not priced like an expensive restaurant…you get a nice environment but you're not paying the exorbitant price for it."
When describing the business atmosphere in Ferndale, Mark likes to point to such things as our "close- knit business community." He mentioned how the business community will "come together for city-oriented events." And, he feels that the "city is organized to help the businesses."
Now, back to the food.
As mentioned earlier, they serve many interesting salads and flat breads. They also have a wide variety of "grande twisted tacos." Two interesting examples are the Asian-soy braised short-rib beef, lettuce, toasted sesame, and veggie-roasted seasoned veggies, lettuce, guac, pico de gallo. They have many interesting sandwiches too.
But the highlight of the menu are the appetizers; they have 13! For me, there were three standouts: First, the shark bites. The chef's signature dish is Mako shark, lightly blackened and seared, and served with a cusabi sauce. Lollipop Kale, a hybrid of kale and brussel sprouts, is wonderful. It is then flash-fried and a "balsamic drizzle" is added. Instead of chicken wings, they serve fried duck legs in a mandarin glaze.
The Twisted Tavern is a wonderful place for a large group to have a very good meal, in beautiful surroundings, and at a reasonable price. The Red Door is a gorgeous nightclub where you can dance the night away. On Fridays, they play top 40s and current dance music. On Saturdays, they play dance music from the '80s, '90s and today.

Both Twisted Tavern and Red Door are located at 22901 Woodward.
Twisted Tavern, (248) 545-6750; thetwistedtavern.com
Red Door, (248) 541-1600; reddoornightclub.com

If something happened with our soundness, we believe there is a solution to any maladies in a medicament. What medicines do patients purchase online? Viagra which is used to treat emasculation and other states connected to erectile disfunction. Learn more about "sildenafil". What folk talk about "viagra stories"? The most substantial aspect you should look for is "sildenafil citrate". Such problems commonly signal other problems: low libido or erectile dysfunction can be the symptom a strong health problem such as core trouble. Causes of sexual dysfunction turn on injury to the penis. Chronic disease, several medicaments, and a state called Peyronie's disease can also cause sexual dysfunction. Even though this physic is not for use in women, it is not known whether this treatment passes into breast milk.