By Ryan R. Ennis
CERTIFIED AS A ONE-STOP SERVICE CENTER, OAKLAND COUNTY MICHIGAN WORKS! OAK PARK IS A DEPARTMENT OF THE OAK PARK SCHOOL DISTRICT IN OPERATION FOR OVER 40 YEARS. THE PRIMARY GOALS ARE TO HELP THE UNEMPLOYED IN SECURING NEW POSITIONS AND TO COOPERATE WITH BUSINESS OWNERS IN HIRING STAFF.
Director Sherry Kless accomplishes those tasks by overseeing 21 federal and state programs that provide funding for both job hunters and recruiters. At times, her responsibilities can be demanding. Fortunately, she can rely on her education and experience to ensure that they are handled well.
For the past 28 years, Kless has worked "in various roles from case manager to program coordinator, to business services professional to assistant manager." Supplying good foundations for her profession have been her master's degree in career counseling and a certification as a career development facilitator, both obtained from Oakland University. She also holds two additional certifications: in business services from Michigan State University's School of Labor & Industrial Relations and in talent pipeline management from the U.S. Chamber of Commerce.
Throughout her work day, Kless meets with individuals and determines beneficial resources for them. "My focus is on those who have barriers to employment," she explains. "I'm great at digging into my client's work and education histories to clarify their interests, skills, and dreams for the future."
WHEN BUSINESS OWNERS AND RECRUITERS ENLIST HER SERVICES, she sits down with them to figure out what types of obstacles they may face in hiring new staff. "Together," she says, "we develop strategies to address the challenges created by fast-moving technologies, global competition, high rates of unemployment, and the demands for a highly skilled workforce." To assist employers in dealing with the challenges, she has "created apprenticeships, internships, work experiences for adults and youth, on-the-job training arrangements, and customized training programs."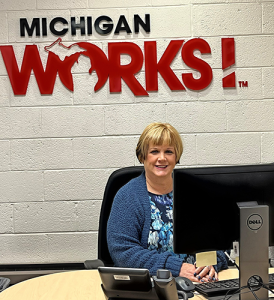 "I love what I do," emphasizes Kless.
At the Oak Park office, she shares her responsibilities with 11 career advisors and three employment services specialists. Her staff concentrate their expertise on helping clients one-on-one to begin their journeys to success. After assessing the individuals' skills and helping them develop occupational goals, the advisors and employment specialists will show them information on how to find appropriate job listings, search for career events, use computer programs to design cover letters and résumés, and open social media ac- counts on which they can make their résumés viewable to recruiters. Depending on their proficiencies, clients may be encouraged to enroll in workshops (either in-person or virtually) to bolster their interviewing and English-as-a-second-language skills.
ONE OCCUPATION CURRENTLY IN HIGH DEMAND IS ROBOTICS TECHNICIAN. According to Kless, "advanced manufacturing is one of the fastest-growing sectors in Southeast Michigan, with thousands of positions opening up annually. If you have the interest and ambition, Oakland County Michigan Works! and Oakland Community College offer no-cost training to qualified workers."
Another area with an immediate need is for computer numerical control (CNC) machine operators. They make parts and pieces from raw materials. Kless states that interested individuals can "learn more about this short-term, eight-week training program at Oakland Community College in Auburn Hills," which will prepare the participants for entry-level CNC machine operator positions."
A third critical-shortage area is for logistic technicians, who are sought after by a variety of companies and sectors, from the auto industry to e-commerce. Logistic technicians work in fulfillment centers, warehouses, distribution centers, and factories; they process and ship customers' orders. "Opportunities in this field are booming," states Kless, "with a projected growth of four per cent annually across the country through 2029, including Metro Detroit." In partnership with Oakland Community College and PepsiCo, Oakland County Michigan Works! is presently offering a certified logistics technician training program, free to eligible candidates.
A fourth area with an ever-growing need is for truck drivers. According to the American Trucking Associations (ATA), nearly 75 percent of all freight in the United States is moved by truck drivers. The U.S. Bureau of Labor Statistics stress that openings for truck drivers will continue to rise through 2029, resulting in an additional 30,600 jobs. In partnership with several truck driving schools across the tri-country region, Oakland County Michigan Works! provides short-term training opportunities with tuition assistance available to eligible candidates. To apply for the program, applicants must be 18-24 years old and possess a copy of their current driver's license.
A fifth area with plentiful openings is for sterile processing technicians, who play a critical role in hospitals and other medical facilities. "An entry-level position in this field," says Kless, "can lead to a number of advanced career pathways with greater pay and responsibilities, such as a surgical technologist or clinical laboratory technician. Oakland County Michigan Works! and Oakland Community College offer a special training pro- gram for sterile processing technicians. We partner with several hospitals in the county that provide the required clinical rotations for it." After completing the program students will receive a certificate of program completion and the opportunity to take the Certification Board for Sterile Processing & Distribution (CBSPD).
ADDITIONALLY, INDIVIDUALS WHO HAVE FINISHED A MEDICAL ASSISTANT APPRENTICESHIP are highly prized in the healthcare field. The Henry Ford Health System, one of the largest in the Metro area, presently has hundreds of medical assistant position openings and can provide apprenticeships for those who are interested in pursuing this career path. The one-year apprenticeship program is demanding but features a tuition-free classroom and paid on-the-job training with additional supportive services for eligible participants.
Some individuals with criminal convictions may feel that they are ineligible for the programs and services available at Oakland County Michigan Works! However, says Kless, "New expungement laws may allow them to clear their public records. Successful expungement opens the door to better jobs, housing, and educational opportunities." For individual to take advantage of the Oakland County Clean Slate Program and have a conviction removed from their records, they can get started by registering online at OakGov.com/CleanSlate. Once a request has been submitted, a program representative will reach out to the individuals with more information on their eligibilities.
Oakland County Michigan Works! Oak Park services Southeast Michigan and the surrounding communities. Currently, because of a decrease in Workforce Innovation & Opportunity (WIOA) funds, priority is given to Oakland County residents for training services. "If customers live outside Oakland County," says Kless, "they may be better served by their respective Michigan Works! Authority."
Located at 22180 Parklawn, Oakland County Michigan Works! Oak Park is open Monday through Friday, from 8:00 A.M. to 5:00 P.M. You may walk in, or schedule an appointment by calling (248) 691-8437. If you are registering for the first time or require assistance with unemployment benefits, you must be at the site by 3:30 P.M. to complete the process.