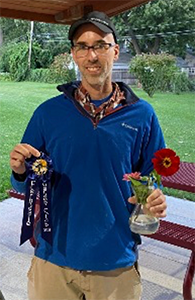 THE FERNDALE GARDEN CLUB (FGC), founded in 1931, continues to be vibrant and active.
Fall activities included the annual mum sale, a scholarship fundraiser. FGC has offered a scholarship to a graduating Ferndale High School senior since 1998!
In September, the FGC held their annual zinnia bloom contest (Ferndale's city flower). Everyone votes on the best bloom and the winner takes home a blue ribbon. The contest is open to all and is a fun way for local gardeners to meet in person.
A big highlight of 2021 was the special field trip to the Piet Oudolf Garden on Belle Isle.
And free zinnia seeds were handed out at the annual Seed swap at the Ferndale Library in February.
The FGC maintains the Memorial Mall, a public garden on Oakridge at Livernois "as a place of respite and contemplation" for the community. Garden club volunteers also helped rejuvenate the plants around the Hilton Convalescent home.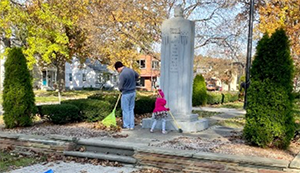 MONTHLY MEETINGS INCLUDE PRESENTATIONS on a variety of gardening topics includeing intentional meadows, planting native plants and trees, supporting pollinators (including monarch and black swallowtail butterflies), restoring native bird habitats with healthy nesting materials, rooting houseplant cuttings, hydroponic seed starting, growing aquatic plants, and more. Meeting dates are May 12, June 9, July 14, Sept. 9; 7:00 P.M. at Harding Park Pavillion.
The club also hosts garden workdays at Oakridge and Livernois the first Saturday of each month at 10:00 A.M. Feel free to bring your own tools and help out! April 2 / May 7 / June 4 / July 2 / Aug. 6 / Sept. 3 / Oct. 1 / Nov. 5.
FGC membership includes residents of Ferndale, Oak Park, Detroit, Royal Oak and more. Garden lovers of all skills and abilities are invited from beginners to master gardeners to "folks that just enjoy looking at gardens."
• Facebook.com/theferndalegardenclub
• @theferndalegardenclub
• theferndalegardenclub@gmail.com