Staging Tips to Help Sell Your Home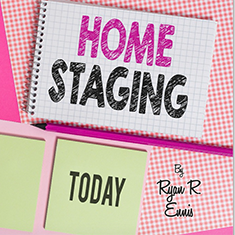 By Ryan R Ennis
YOU HAVE MADE THE DECISION TO SELL YOUR HOME. NATURALLY, THE DESIRE IS TO RECEIVE THE BEST PRICE. Your home has some impressive features. Yet, after scrutinizing the condition of the rooms and décor, you notice they could use a facelift. Some home-staging – readying the property for the market can improve your chances of selling it quickly and getting the offer you want.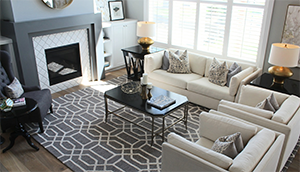 As revealed by the National Association of Realtors (NAR referencing a 2017 report), 77 percent of agents state that home-staging helps potential buyers to envision a place for sale as their own. NAR points out that this same strategy helps 39 percent of sellers experience faster home sales and elevates their property values by 6 to 10 percent.
Working in the field for over 30 years, real estate agent Keith Weber of RE/MAX First in Royal Oak agrees that home staging has many benefits — if done the right way. Like most agents in his company, he believes that the proper design can enliven a space. "But, just as important," he says, "are the background details." Too often, sellers focus more on the aesthetics of furnishings in the rooms than on the appeal of their doors, walls, and windows.
FRONT DOORS SERVE AS MORE THAN AN ENTRANCE to a home. If they are clean and painted in an attractive color, they welcome and entice prospective buyers to cross the threshold. Once inside, the buyers should be greeted by newly-cleaned or painted walls, preferably in a neutral or timeless color, that complement the furniture and wall art. Adorning the windows should be spotless treatments that offer clear views of the yard and other surroundings from a variety of angles.

When it comes to preparing the sellers' possessions for staging, Weber recommends following the "every other rule." After taking an inventory of their belongings, sellers should "put every other thing away." If they cannot be kept in the attic or basement, check into temporarily renting a storage unit. Too much bric-a-brac in the rooms distracts potential buyers from seeing themselves living in the property.
Another seasoned real estate agent who specializes in home staging is Judy Palmer of RE/MAX Showcase Homes in Birmingham. "For prospective buyers," she says, "visualization is the key to make sure the house feels like home." Observing the principle of "Less is better," she frequently coaches her clients on how to "move around or move out certain furniture" to reduce distractions.
ANOTHER SUGGESTION PALMER OFTEN MAKES is for sellers to put away personal items. "You want people to look at your house, not at your things," she says. Before the showings of a home begin, she often assists her clients with storing personal items such as family photos hanging on the walls or collections of memorabilia displayed on tables and shelves.
Like Weber, she knows that having the right color scheme matters. "Recently, I showed two bungalows to a client. They both had been updated and were similar size. In the first one, the walls and ceiling had been painted just white, no accent shades. The other used Pottery Barn colors throughout." Even though the home renovated with Pottery Barn colors cost $10,000 more, the person still bought it.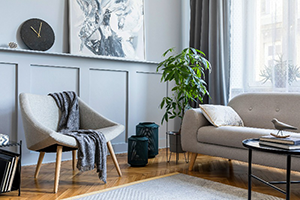 Irenita Goedert of Red Door Realty in Royal Oak discusses the four "D"s with new clients before they list their house on the market. She advises them to DISCARD anything that is no longer in good condition or hasn't been utilized in a long time. In this current market, homes can sell within days, so she encourages them to DISPLACE possessions not frequently used "by packing them early." While homeowners discard and displace unnecessary belongings, she falls in line with Weber and Palmer in teaching her clients how to DE-PERSONALIZE in a way that allows potential buyers to "visualize themselves living there."
After that, it's the time for the final D: Giving the place "a DEEP cleaning."
AS YOU PONDER PUTTING YOUR HOME UP FOR SALE, you may be reluctant to consider staging because the process seems too costly or time-consuming. You may also feel that it carries little weight since the high demand for housing dictates that the market is on your side. However, most knowledgeable agents recognize that any seller can take advantage of staging no matter what the market is like. Staging can be done with little or no expense and empower you to achieve your goal of transitioning to a new home in good financial standing.