Melanie Williams and Nicole Duffey, lifelong best friends, are celebrating 14 years in business as co-owners of Regeneration, a resale clothing store at 23700 Woodward Ave. in Pleasant Ridge, just blocks away from Ferndale and I-696.
DESPITE A TOUGH YEAR DURING THE PANDEMIC, they are expanding the size of their store with the addition of a new space called The Annex, and looking forward to the future.
Williams and Duffey expressed deep gratitude that their store managed to survive the difficult circumstances brought about by COVID-19.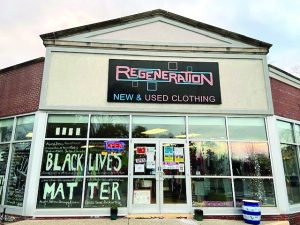 "We are appreciative that most of our customers feel safe to shop and sell clothing with us during such an uneasy time," Duffey said.
The duo's history as business owners goes back to 2007, when a desire for new careers led them to shift gears and open Regeneration.
"We were both in a stagnant place, job-wise and life-wise; craved a change and wanted a challenge," Williams said. "We both adored vintage clothing and had been avid thrift store shoppers, so it made sense to try our hand at a business we loved."
Regeneration had expanded to two stores when a second store opened in Clawson in 2011. But the Clawson store did not survive the pandemic, allowing Williams and Duffey to focus on growing their main location in Pleasant Ridge.
"Deciding to close our Clawson store wasn't difficult, as we knew that managing both stores, especially amid a pandemic, would be too much to handle financially and emotionally," Duffey said. "Last Summer, we rented the space next door to our main location to help manage the overflow of inventory.
"Eventually we will break down the main wall and refigure our dressing rooms. But in the meantime, The Annex houses the bulk of our accessories for men and women," said Williams. "While the front room has a cozy boutique feel, the Annex is an intimate space that is a revolving/evolving room dedicated to local artists and sustainable products."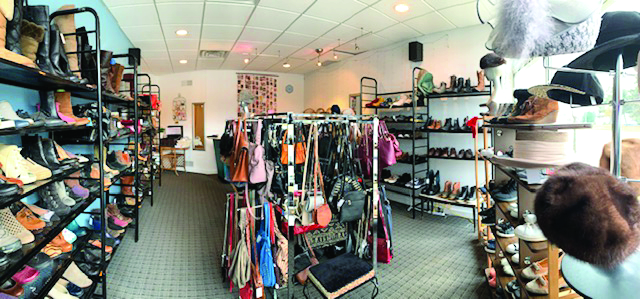 LIKE MOST SMALL BUSINESS OWNERS, Williams and Duffey got creative during the pandemic and went outside of their normal methods of engaging customers, and much of their efforts to stay connected to customers focused on social media platforms including Facebook and Instagram.
"We've used Instagram the past few years to highlight exceptional items we buy for the store, but now we're using Instagram to make connections. Just before we reopened in May 2020, we invited our staff to share Instagram videos of what they'd been up to during quarantine. We've since transitioned into hosting a weekly live sale on Instagram at 2:00 P.M. on Saturdays. It's important to share highlights of our inventory with folks that aren't one hundred percent comfortable shopping during the pandemic. We cultivated a big family of customers prior to the pandemic shutdown, and our activity on Facebook and Instagram helped us stay in touch with people and connect to other businesses."
One trend the two women have noticed is that career-oriented items aren't selling as much as they once did. Working from home has changed career-wear culture. They said the great thing about resale is that you don't have to spend a lot to wear fashionable clothing, and shopping secondhand is beneficial for one's budget, as well as the environment.
"When we do shift back to school full-time, being social, or heading back to the workplace, our store will be a fantastic option for families who don't want to spend full price on apparel," Williams said. "Also, having a significant amount of down time has inspired folks to clean out their closets and purge unneeded things. This is beneficial to the world of resale, because we are seeing an influx of amazing items that people are casting off in exchange for cash or store credit."