By David Wesley & stephanie loveless
SEVEN YEARS AFTER MICHELLE MIROWSKI LAID THE FOUNDATION for the Underwood V radio collective, and more than 20 years after free-speech activists all across the country began clamoring for access to the public airwaves…Ferndale is about to switch on the dial for our very own community radio station: 100.7 FCR FM.
The project is still in development, but as the ink dries on these pages volunteers are testing the equipment for the station. The station is expected to go live with a test signal and recorded information in the weeks ahead with a full programming schedule by Fall.
Ferndale Community Radio (FCR) is physically located inside of the Rust Belt Market at the northwest corner 9 Mile and Woodward. Owners Chris and Tiffany Best have generously offered rent-free space for the FCR broadcast studio, as well as a place on the Rust Belt roof for the essential tower and antenna.
FCR is a 100-watt LPFM (short for Low Power Frequency Modulation) station, with a projected broadcast range of perhaps two miles in any direction. We're about to find out exactly how far FCR will reach, as soon as all the bugs get worked out. LPFM stations are required to make sure their signal does not interfere with existing, mega-watt commercial stations. Because of the congestion on the radio dial, FCR is likely to be the only LPFM station licensed in the Metro-Detroit area in the foreseeable future!
LPFM licenses are only available to community-oriented, educational, non-profit organizations. In this case,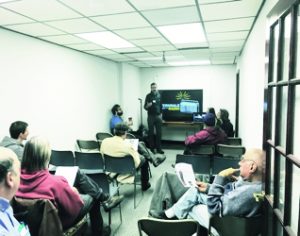 the non-profit behind FCR is Underwood V, a collective founded by Mirowski and friends. Board members include Mirowski, president; Dave Phillips, secretary/social media; Dave Kim, treasurer/promotions; Jeremy Olstyn, programming/training; and Keith Fraley, radio engineer. They are looking to fill DJ and other station positions. Interested volunteers should contact
ferndaleradio@gmail.com.
THE MISSION OF THE STATION is to provide a kind of "hyper-local programming" that is impossible to find anywhere else on the dial. Their mission statement speaks of "community engagement, promotion of community events, specialty broadcast, and more. Potential programming for the station includes: On-air book clubs, interviews with local news-makers, coverage of government and board meetings, sports coverage," etc.
The road to Ferndale's first and only community radio station began over 20 years ago, when LPFM stations didn't even exist. Ferndale Friends publisher Stephanie Loveless helped lead a national movement of democracy activists who ultimately convinced Congress and the Federal Communications Commission in 2000 to create the LPFM service, so that ordinary Americans could actually use the airwaves we already own. However, the powerful broadcast industry was able to limit the new rules so that it was impossible for even one LPFM station to go on the air in all of Metro Detroit.
However, eleven years later, President Obama signed legislation which loosened those rules enough so that it finally became possible for Metro Detroit to have one LPFM station – and it had to be in Ferndale!
So, FCR is practically a miracle. Our miracle. But it only exists because Michelle and her friends stepped up and applied for a construction permit when the FCC opened up a licensing window three years ago.
That was the easy part.
Next, they had to find a physical location for the studio, antenna and tower. And there were innumerable issues involving the City of Ferndale which had to be overcome: Not too many people walk into City Hall hoping to launch a non-profit community radio station, after all. This was brand-new territory for everyone involved. They had to find an engineer and a properly-qualified team for the construction of the tower and antenna. Negotiations with the landlord, etc.
This project would also require a significant amount of money – in fact, a little over $15,000 just to get started. So, on top of everything else, our worthy Underwood V volunteers were now charged with hustling up the cash, via social media, fundraisers, and underwriting agreements with local businesses. These fundraising efforts continue, and if you are interested in contributing, go to www.ferndaleradio.com. And local businesses are encouraged to underwrite the station financially in return for generous on-air mentions.
MANY TIMES OVER THE LAST TWO YEARS, it looked as if the money would not be found, and the whole project would have to be scrapped. But FCR supporters refused to accept defeat, and in recent weeks the decision was made to start purchasing the necessary gear: FCR is GO!
With the help of The Rust Belt and tons of local donations and support, Michelle and her team are ready to make the fresh and impactful change in radio that will nourish local talent and influence Ferndale life through the years to come.
FCR will have an impact on the Rust Belt too. Shoppers will be able to hear the station inside while they shop and will be able to meet the FCR team. It will create a more unique shopping experience.
Ferndale Community Radio will give the Ferndale residents another tool to communicate with each other. FCR has given the city something extremely unique to look forward to as it's extremely rare that a city has their own community station!
Once they are up-and-running, they plan to partner with lots of organizations in Ferndale. For example, the schools. This will also be a great forum for local musicians from all genres to have their music heard. This will be an avenue for the creative projects that make Ferndale so noteworthy. The station will be here soon – to enrich our already vibrant and talented community.
Initial Sponsors & Underwriters
Ferndale Friends
The Rust Belt Market
Jim Shaffer & Associates
Western Market
Stange Sports
Found Sound
Crane Optical
HiLo Guy
313 Brand Co.