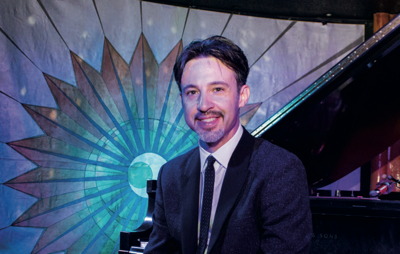 Photo and story by Kevin Alan Lamb
MATTHEW BALL IS ON THE BALLOT FOR CLAWSON CITY COUNCIL this November, helps run a toddler play-center in downtown Ferndale called Nature's Playhouse with his wife, and averages 35,000 views per month on YouTube since breaking out as the "Boogie Woogie Kid."
With over 3.7 million views on YouTube, Ball is the attorney-turned-pianist-and-singer who tours nationally playing favorites from the Swing era and more. Here's my conversation with the man who has been featured on NPR's All Things Considered and Morning Edition as well as Michigan Public Radio's Ann Delisi's and Rob Reinhart's Essential Music Programs.
Walk us through your performance at the Arches Stage in Cincinnati that helped launch your career…
The Arches Piano Stage is part of the larger three-stage Cincy Blues Festival. It is special because it is the only major festival that hosts an all-day stage dedicated to boogie-woogie piano-driven music, and welcomes boogie-woogie performers from around the world. It was my first major festival appearance before a large audience. Significant to me, I headlined alongside some the same names and personalities that had first inspired me to play boogie-woogie and blues piano back when I was just a fan and onlooker in the audience.
Who first coined the nickname, "Boogie Woogie Kid?"
The "Boogie Woogie Kid" I derived from a viral comic Youtube video about the high price of Starbuck's coffee that was around at the time in which I was deciding upon an online avatar. The video was from an old guy who goes by "The Kid From Brooklyn" online.
Can you describe the work you do with children and its significance to you?
The work with children grew out of my becoming a father six years ago really, and my wife buying into a toddler play-center in downtown Ferndale called Nature's Playhouse. There, we developed a boogie-woogie nursery rhyme program for tots that we performed every Tuesday, and that I've even performed for the Detroit Symphony Orchestra organization since departing from Nature's Playhouse.
What was your first YouTube hit to break out?
I get on average about 1100-1200 views a day, or approximately 35,000 view per month steadily. I think the most-viewed video is an older one, wherein I play a piece I actually don't even perform anymore called 'Hot Boogie-Woogie.'
Who had the greatest influence on your development as a musician?
My musical development was most influenced by the wonderful pianist teachers I've had as a young man. First, Flavio Varani, with whom I trained while at Oakland University and who himself graduated from the Paris Conservatory and the Manhattan School of Music.
The other influence was Bob Seeley, who was an internationally known boogie-woogie, stride, and traditional jazz pianist. He was also a personal friend of one of boogie-woogie's celebrity stars, Meade Lux Lewis, one of the pianists who launched boogie-woogie into a popular 1940s craze.
https://www.boogiewoogiekid.com/