ON MARCH 10TH, 2020, VOTES APPROVED A $125 MILLION BOND TO MAKE A SIGNIFICANT INVESTMENT IN OUR EDUCATIONAL SYSTEM. DUE TO RISING PROPERTY VALUES AND EXPIRING DEBT, THIS BOND WAS MADE POSSIBLE AT NO TAX INCREASE TO OUR COMMUNITY.
While the bond will ensure every classroom in the District is updated, the most significant investment is the construction of a brand-new, state-of-the-art Ferndale Lower Elementary School. The District is pleased to report the progress on the building and has plans to welcome students in the Fall of 2024.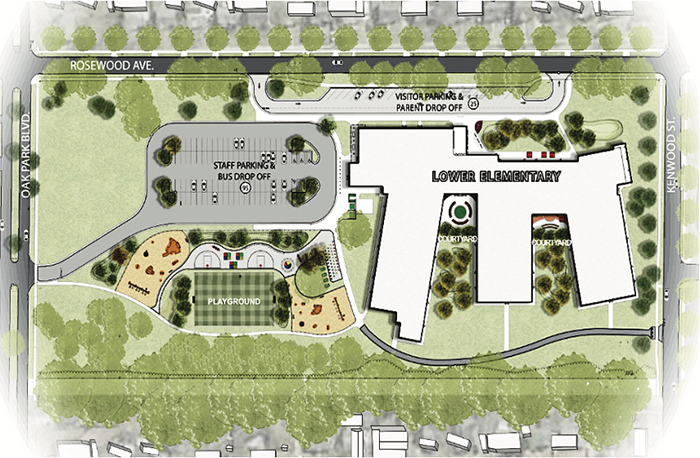 The new Ferndale Lower Elementary at 90,000 square feet will be 50 percent larger than the current building and will expand classroom sizes while integrating high-efficiency heating, cooling and advanced classroom technology for every student. The design also features exterior spaces for outdoor learning and has incorporated some nostalgic elements from the existing school building.
CONSTRUCTION WILL CONTINUE THROUGH 2023, AND YOU CAN TAKE A VIRTUAL "FLY-THROUGH" OF THE BUILDING and outdoor spaces right now at www.FerndaleSchools.org/bond. While small modifications may be made during construction, this video will give you a great look at what to expect from the new Ferndale Lower Elementary.
To learn more about all of the bond projects please visit our Ferndale Schools web page where we update the community on all of our bond projects as they are completed www.ferndaleschools.org/bondprojects.
To all of our neighbors, thank you for your steadfast commitment to ensuring our students have the optimal learning environment. Your investment in their future will be the bedrock of our lifelong-learning community for generations to come.