THE OAK PARK PUBLIC SAFETY DEPARTMENT MAY BE EXPERIENCING SOME STAFF CHANGES, BUT THOSE JOINING THE TEAM, AND RETIRING OUT, HAVE SEVERAL TRAITS IN COMMON. THE MOST IMPORTANT? THEIR COMMITMENT TO SERVING THE OAK PARK COMMUNITY TO ENSURE SAFETY.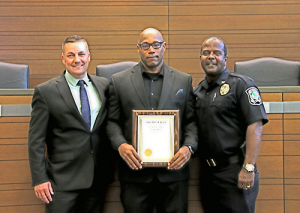 "The Oak Park Department of Public Safety has always taken pride in recruiting the best and the brightest in the Public Safety profession," said Public Safety Director Steve Cooper. "There is no better illustration of this than the officers who either have retired or are retiring in the immediate future.
"Each one of these officers has carved out distinguished careers and I am extremely proud to have served along-side them. Although their departure will be sorely missed, we look forward to the development of our newer officers as they prepare to take over these leadership roles. The Oak Park Department of Public Safety has always and will continue to place a premium on honesty, integrity, dedication, hard work, customer service, building positive relationships, etc."
RECENT OAK PARK PUBLIC SAFETY RETIREMENTS:
Sgt. Maureen Bergman: Retired after 25 years of service in Sept. 2021;
Det. Matthew Theisen: Retired after 20 years of service in July 2022;
Lt. Samantha Kretzschmar: Retired after 28 years of service in Aug. 2022;
Sgt. James Vernier: Retired after 23 years of service in Sept. 2022;
Sgt. Walter Duncan: Retired after 23 years of service in Oct. 2022;
NEW OFFICERS SWORN IN ON SEPT. 6:
Samuel James: Joined the Oak Park Public Safety Department with six years of prior law
enforcement experience;
Brian Blackburn: Joined department with five years of prior law enforcement experience.
Due to a combination of recent retirements and newly budgeted positions, the City of Oak Park continues to recruit for individuals to join the Public Safety team.
"The City of Oak Park values the rich diverse and inclusive environment that our residents bring to our community. In an effort to mirror that diversity and inclusivity in our workforce, Oak Park continuously recruits the most qualified, diverse and experienced candidates for the position of Public Safety Officer," said Human Resources and Operations Director Megan Burke. "We understand that by having diverse perspectives 'at the table,' we will be able to better serve the best interests of ALL, instead of just a few."
For more information on open positions in the Public Safety Department visit oakparkmi.gov.