Mighty Mo Muffler: Maintaining a High Standard of Quality Since 1962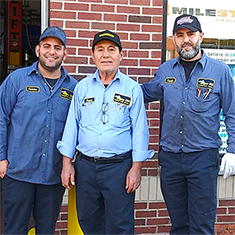 By Jenn Goeddeke
MIGHTY MO MUFFLER BOLDLY STANDS OUT FROM THEIR COMPETITION IN MANY DIFFERENT WAYS.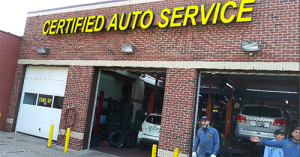 Located at 13941 W 9 Mile in Oak Park, it has been family-owned-and-operated for over 40 years. Owner Fares Shafou emigrated here in 1978 from Baghdad, Iraq. He began working almost immediately for the previous owner and founder, Morris Schussel. Fares fondly referred to him as, "a big man, who wanted a big name!"
In 1982, Shafou purchased the business from Schussel. Together with his sons, Frank and Brandon Shafou, Fares has consistently built up the Mighty Mo Muffler name to the point where customers come in from many of the neighboring cities. The fact that they openly generate a friendly, hard-working vibe has added to their popularity.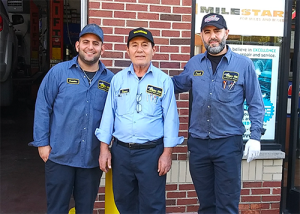 WHEN ASKED WHAT STANDS OUT FOR HIM over the past four decades of servicing vehicles, Fares responded, "I enjoy helping the community, and serving customers with integrity and honesty." Frank added, "Not everyone in the industry can be relied on to do a great job."
Mighty Mo's good reputation has spread wide, and so most of their newer customers are from word-of-mouth referrals. It is not simply a location for muffler work. They deal with a full range of vehicle repair and diagnostics, (except for major collision work). The scope of work done covers anything from basic servicing, such as oil changes or replacement tires, to more extensive and time-consuming repairs.
Services include brakes, electrical/electronic components, engine, and transmission work. Utilizing the latest technology, they repair and maintain all makes and models of cars, vans, and trucks (including foreign, electric vehicles, and fleets).

Part of the reason for their success is the fact they supply only quality parts, along with thorough service. All techs that work for the Shafous are certified and experienced. Frank mentioned that they emphasize continuous and progressive staff training.
THEY OFFER THE STRONGEST WARRANTIES, including the high-ranked North American Warranty. As part of their online pledge to customers, Mighty Mo stands by the promises they make to their customers. One such promise states that "after a thorough inspection on your vehicle, any required repairs will be discussed with you for your understanding and approval."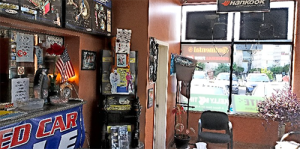 Overall, the Mighty Mo Muffler team is keen to help, build trust, and encourage any auto-related questions that customers may want to ask. Discounts are offered to students and seniors, plus various coupons can be applied. Additionally, the Shafous like to help out a few local causes, and they recently sponsored a school baseball team.
Monday-Friday 8:00AM – 5:00PM; Saturday 9:00AM – 3:00PM; Sunday Closed
13941 W Nine Mile Rd., Oak Park 48237
248-398-2774
www.mightymoauto.com