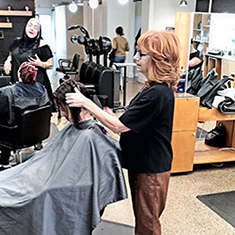 By Jenn Goeddeke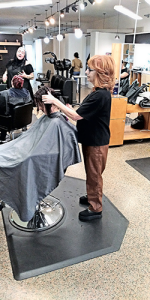 IRENE PETTS OF THE LIVELY FLIP SALON IN DOWNTOWN FERNDALE (251 W. NINE MILE RD.) HAS BEEN KEEPING CLIENTS LOOKING AND FEELING GREAT FOR OVER 18 YEARS!
Petts originally came from a salon background in Birmingham: "I wanted to create a unique experience for all and especially to make everyone feel relaxed and comfortable." As the name suggests, Flip Salon has an entertaining, vintage-themed vibe with music playing in the background to enhance the friendly ambiance.
The salon offers many beauty services including hair, make-up/skin, massage, and typically nails too (a new nail tech is coming soon). Check their website for updates and pricing.
The staff at Flip are experienced professionals, who work with all ages and any hair type and styling needs. Whether you're considering a hip or "edgy" new hairstyle or simply a trim, the Flip stylists will welcome you!
Walk-in appointments for hair styling are available, plus there is a Wi-Fi connection, and wheelchair access if needed.
Flip carries a diverse array of skin and hair care products, including the all-natural 'Davines', plus 'Cult and King' selections.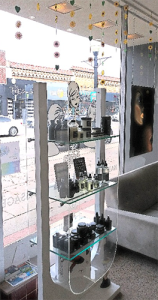 The current product giveaway on offer is proving to be popular: buy two items and get one free.
PETTS SAID SHE CONSTANTLY DRAWS INSPIRATION from her stylists, and that they are "super-talented, investing considerable time into each client's appointment."
A special shout-out goes to her masseuse-Jane Andrews, who Petts described as, "truly amazing and intuitive." Andrews combines different types of massage techniques, depending on the client. She is available by appointment only). Additionally, two of the salon's stylists – Adrienne and Levon – are both established local artists.
Petts emphasized that the best part of her job is, "meeting new people all the time, and helping others feel good about themselves." She added, "There have been a lot of changes over the last few years in the salon business, in general. I feel like Flip has been consistent throughout in giving our clients the best experience possible when they come here. I am very grateful to have a team of people and a unique space to make that happen!"
PETTS PARTICIPATES IN VARIOUS LOCAL FUNDRAISERS, including the Locks of Love charity events. In the past, (pre-Covid19) Flip has hosted some art shows and held art openings.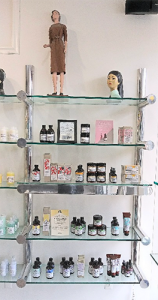 Naturally, the pandemic caused stress and set-backs, as most local businesses and customers would agree. Fortunately, Flip Salon emerged strong and vibrant! Petts mentioned that Flip has a larger space than average, so the staff was able to spread out sufficiently, plus work different shifts.
Although Petts continues to wear a mask at the salon, it is optional for clients to wear a mask at this time. Petts concluded with a smile that it's good to see a few newer businesses open up in Ferndale, such as Olive's Bloombox on 9 Mile, and Quix Chocolate on Troy St.
Flip Salon is located at 251 W.9 Mile Rd., Ferndale.
Call them at: 248.544.1400.
Email inquiries can be sent to: jeremy@flipsaloninc.com.
Visit their website: www.flipsaloninc.com.
Open hours: Sun, Mon, Closed; Tues, 9am-2pm; Weds, Thurs, 10am-9pm; Fri, 9am-6pm; Sat, 9am-5pm. Flip Salon is currently hiring – contact Irene Petts for application details.