Story and photos by Jeff Lilly
From its inception, rail has been one of the cornerstones of American transportation. These days, with increasing concern about climate change, rail has gotten a lot of accolades for its ability to move a great deal of cargo for relatively little fuel per mile. But trains have their drawbacks. Where rail lines intersect with roads, the train wins the battle. Train horns are loud, and being woken up from a sound sleep at two in the morning is no fun at all. Residents I spoke to who live near the tracks have reported coping strategies ranging from earplugs to moving their bedrooms to less-exposed sides of the house. Others simply live with it as best they can.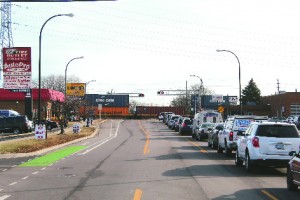 Trains also block the roads. While a passing passenger train goes by quickly, a long freight or switching operations can close an intersection for far longer, affecting commutes, local businesses, and emergency response.
This is the balancing act. Trains bring revenue and jobs to town, but they reduce home values near their tracks. The utility and advantages of trains are obvious, but rail infrastructure is subject to the philosophy of NIMBY — Not In My Back Yard — more often than others.
There are four crossings in Ferndale: Woodward Heights, Cambourne, 9 Mile Road and Hilton Road. All four are subject to noise, and the latter two, especially, are susceptible to blockage due to their proximity to the rail yard. However, the city has been working with planners including the SRF Consulting Group and CN to reduce both noise and blockages.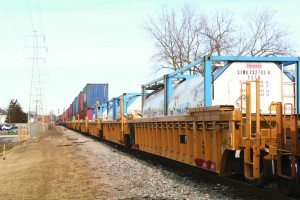 The noise issue will be handled under the auspices of "quiet zones." Trains blow their horns to warn vehicles and pedestrians at the intersections of their coming. If the crossings are upgraded with new devices to prevent accidents, then the need for horns is eliminated.
Ferndale completed a letter of intent last November, a plan to qualify for "quiet zone" status. The regulations say that quiet zones "must be equipped with gates and lights with power-out indicators" and CWT (Constant Warning Time) detectors. All four crossings have been so equipped at the time of this writing. The city is also planning to install new non-traversable medians where possible at the crossings (these prevent vehicles from crossing to the other lane in order to get around the gates, a major cause of accidents.) CN is helping the City of Ferndale with funding these improvements.
The proposal is now subject to rounds of review and inspection, and it will take up to 18 months for the quiet zone to go into effect. Horns might still be heard during yard operations, for example, but eventually there will be no more long, repeated blasts at the intersections.
The blockage issue is a little more complex. There's no doubt that businesses in the 9 Mile and Hilton area have been affected by the closings, which can last over an hour in some cases. Mike Lambrecht, owner of Nick's Pizza, points out that they have two crossings within 100 yards of their shop. This makes it tough to deliver to "any customers west or south of us. We need to go a mile north, and then come back again, to get around." Lambrecht notes that his business has been negatively impacted, saying "A few minutes (of blockage) isn't a problem. An hour is. When a 45-minute delivery becomes 60 minutes, customers don't call back."
Frank, the owner of 9 & Hilton Market, is similarly affected. "It costs me thousands of dollars of business a month." He reports. "(The trains) just stop there for an hour in the middle of rush hour. It's unheard of." In 2014, things got so bad that he seriously considered selling his business. While he notes that the blockages have been somewhat reduced in the last year, he blames loosening of federal regulations on train companies that block intersections. Intended to spur growth, new guidelines also do away with fines and contribute to CN's lack of concern with causing delays, he says.
Not all businesses see the effects as negative, though. Colleen Pank at the Apple Fritter Donut Shop says that the stoppages actually help their business. "A lot of people pull in for coffee and a donut while they wait for the train." She reports. They've even gone out to stopped cars and offered free donuts as a kind of calling card. The regulars also aren't deterred. Some say that they climbed between the stopped train cars to get to the shop.
For others, its a mixed bag. Calvin Kashat, manager at Auto Pro Service Center, says that during a long delay, "There's 50 cars parked in front of my facility, looking at it." Some might even pull in for things like an oil change while they wait. On the other hand, people get frustrated. Last year, someone used his parking lot as a turnaround and tore through "at 30 miles per hour. Almost caused an accident."
How about emergency services? I spoke with Ferndale Fire Chief Kevin Sullivan. While he confirmed that blockages can affect response times, "That's why we have two fire stations." Ferndale is a compact 4.9 square miles, and in addition to the second station, he wants to assure residents that "We can call on outside resources." Ferndale has mutual aid agreements with neighboring cities, including Madison Heights, Hazel Park, Southfield, and Royal Oak. Sullivan confirms that the new federal regulations have allowed train companies to block intersections with impunity, but praises CN's willingness to work with emergency services, citing the rail company's help during the flooding of August 2014, as well as at least one instance of a train decoupling to allow emergency vehicles through.
Ferndale City Manager April Lynch, in addition to helpfully providing information on the quiet zone plans, confirms that CN has plans to expand and reconfigure the yard at 9 Mile and Hilton to allow for more efficient operations. "The city is supportive of the expansion." She says. "They plan to re-align their footprint to be more efficient."
Patrick Waldron, CN's Public Affairs Officer at their headquarters in Montreal, says "The expansion of the terminal will allow more efficient…operations at the entire facility, including train movements. CN continuously works to minimize instances of blocked crossing along our network. Our operations team is sensitive to crossing delays at 9 Mile Road and Hilton Road and has worked to reduce the amount of time… trains arriving and departing the terminal occupy those crossings." No timetable was available at press time for these expanions.
Ferndale Friends will continue to report on this story as it develops over the coming months and years, as our government, CN, and local people work together so that the trains come to be seen as less of a nuisance, and more of a good neighbor.
City of Ferndale website: www.ferndalemi.gov CN Rail: www.cn.ca
If slightly happened with our health, we believe there is a solution to any maladies in a cure. What medicines do patients purchase online? Viagra which is used to treat impotence and other states connected to erectile dysfunction. Learn more about "sildenafil". What people talk about "viagra stories"? The most vital aspect you have to look for is "sildenafil citrate". Such problems commonly signal other problems: low libido or erectile malfunction can be the symptom a strong heartiness problem such as core trouble. Causes of sexual dysfunction turn on injury to the penis. Chronic disease, several medicaments, and a condition called Peyronie's disease can also cause sexual dysfunction. Even though this physic is not for use in women, it is not known whether this curing passes into breast milk.