By Ryan E. Ennis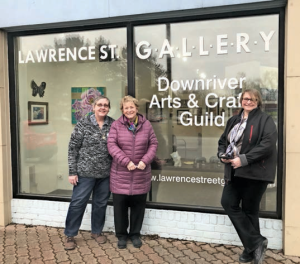 TWICE A MONTH, THE LAWRENCE STREET GALLERY IN DOWNTOWN FERNDALE ORGANIZES GATHERINGS WHERE THE PUBLIC CAN MEET ARTISTS IN PERSON, VIEW THEIR WORKS, AND HEAR DISCUSSIONS ABOUT THEIR ACHIEVEMENTS.
The free events occur on the first and middle Sunday of the month, from 2:00 until 4:30 P.M. These occasions treat the patrons to light refreshments, and sometimes are accompanied by live music
and poetry readings.
Coordinating the exhibitions are 30 members of a cooperative of art lovers and the art-minded who all pitch in to run the gallery. They are all shareholders and pay dues. Ensuring the space is adequately staffed, each member works two days per month. During their work shifts, they welcome visitors and guide them on tours around the space. They also offer information about the displays between the bi-monthly shows, when the exhibiting artists are not available.
The gallery embraces a variety of artistic forms — such as drawings, paintings, printmaking, ceramics, pastel artistry, and wood sculptures. The variations in the forms attract visitors from many surrounding communities who have an array of artistic interests.
ON EXHIBITION IN MAY WERE THE SOME OF THE WORKS of the artist Suzanne Allen, who is also a member of the Lawrence Street Gallery cooperative and a Ferndale resident. For over 30 years, Allen taught college English courses. When she retired, she became inspired to create works of art. Her pieces encompass acrylics, water media paintings, monoprints, collagraphs, and assemblages. In creating her pieces, she employs materials from nature and history, such as newsprints, maps, seashells, textiles, and seeds. To contact Allen or learn more about her works, visit the website suzanneallenart.com.
In June, the gallery will showcase the works of local artist Glenn "Fuzzy" Corey. His productions follow the belief that most drawings and paintings are in keeping with the trends of "expression" and "reference" in the past and present century. Not only do his drawings contain expressive elements, they are often crafted purposefully to jog the beholders' memories to periods in history and to traditions or scenes depicted in mythology. As he plans and sketches, he goes about his work in a way that honors the past artistic movements by producing fresh approaches to drawings while maintaining a high level of detail in them. In that manner, his pieces aim to elicit a sense of amazement with new renditions for the modern eye. To learn more about Corey and see some of his works, check out the website glennfuzzycorey.com.
When Corey's show wraps up, the next in July will be the gallery's annual Summer Invitational. In planning this event, the gallery members ask their favorite artists and artist friends to enter some of their best pieces. Typically, there are as many as 50 artists who eagerly take part. For the public, it provides a regular occasion to see the vast amount of creativity available in the Metro Detroit area and beyond. With July often being Michigan's hottest month, visitors can enjoy an air-conditioned break from the outside heat when they step inside the gallery and spend the afternoon perusing the artwork.
FOLLOWING THE ANNUAL SUMMER INVITATIONAL EVENT IS THE SHOWING of Jeri Magid's paintings in August. A resident of Huntington Woods, she studied art at Michigan State University, where she earned her bachelor's degree. She is a member of the Birmingham-Bloomfield Art Center and the Birmingham Society of Women Painters. With both experimental and deliberate color mixtures, she makes her abstract art using brushstrokes that range from spontaneous to intentional. Her end results, she hopes, will stir her audience's imagination and lead the individuals to personal interpretations of what they observe on the canvases.
In September, the gallery will promote the works of Sherry Adams Foster, a painter and printmaker. At the age of 34, she attended her first art class at Dondero High School in Royal Oak. Finding a new niche, she branched out by enrolling in additional art courses and workshops throughout the state. She is a Signature member of the Michigan Watercolor Society. While many artists seek to represent human challenges and high levels of emotions through their works, Foster's paintings and printmaking strive to elicit feelings of happiness by capturing peaceful lights, colors, and other delightful details in our world. More information about Foster and her art can be found at sherryfosterartworks.com.
After Sherry Adams Foster's exhibition, the gallery will host an artist competition in October with the theme of "animals." All local artists are welcome to apply to enter their works related to the theme, and all forms of media are accepted.
IN NOVEMBER, THE MUSICIAN AND VISUAL ARTIST CHRIS MOORE will present his unique creations. While still a teenager, he began his music career as the original drummer for the punk band Negative Approach. Around the same time, he design- ed flyers for the band and wrote lyrics. In recent years, he has been incorporating his lyrics into the experimental artworks he creates, and thus furnishing a visual and literary feast for his patrons' senses.
The final event of 2023, in December, is called "Think Small." To be approved for the showing, the artists' media types intended for submission must be 12 inches or smaller.
Selected art pieces for the upcoming shows will be available to view online and purchase by visiting lawrencestreetgallery.com. Updates about the forth- coming events will also be posted on the same site.
If you are a local artist and interested in joining the cooperative to help with the exhibits, you can check out the Membership Information section on the web site, and then download an application and send a completed one to the email address Laurawhost@gmail.com.
As a gallery member, in addition to receiving a guarantee of eight linear feet of wall space to display your own artistic achievements for sale, you are able to "participate in the decision-making and experience the running of the gallery, and learn more of the business side of being an artist," as stated on the establishment's home page.
22620 Woodward Avenue || 248-544-0394
Open Weds.-Sat. from Noon until 5:00 P.M. and Sun. from 1:00 P.M. until 5:00 P.M.