Mike Ross: From Musician to Artist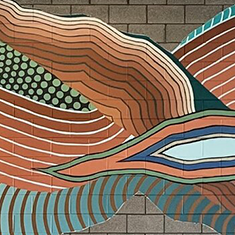 By Sara Teller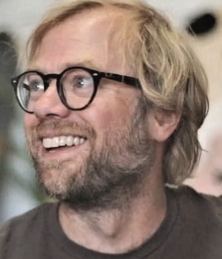 A WELL-KNOWN MURAL ARTIST, PAINTING BOTH THE INTERIOR AND EXTERIOR WALLS of many Ferndale hotspots, Mike Ross studied art and anthropology at Oakland University, graduating in 2003.
A creative at heart, he originally focused on music. However, over time, he shifted this focus primarily towards painting and has been hard at work inside 333 Midland Studios in Highland Park for nearly a decade.
"I went nearly ten years where I focused mainly on music and only dabbled in visual art occasionally," Ross said, adding, "I got heavily back into painting about ten years ago now."
ONCE A WAY TO SIMPLY "DEAL WITH STRESS," visual artistry became an important part of his life. "The more I painted, the more I wanted to keep painting. And the ideas really just never stopped flowing," he explained. "I started focusing on painting exclusively full-time about five years ago and painted my first mural in 2018."
In addition to bringing the walls of local businesses to life during the summer months, Ross said, "I always work on studio art as well, abstract and figurative oil paintings mostly. Now my work feels sort of seasonally divided: In the studio all winter, out painting murals all summer."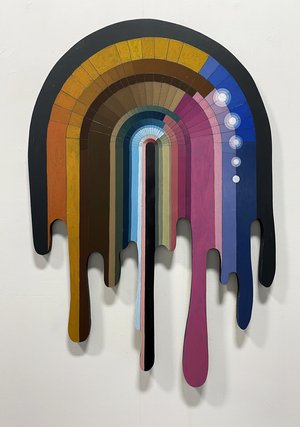 And that's the way he likes it. His divided endeavors "inform each other." Ross explained. "Working in the studio I'll often land on ideas that might be better suited for a mural so I'll kind of sketch it out and put a pin in it and refer back when mural opportunities arise. And vice versa."
He lives by the motto 'go big or go home,' saying, "I have always enjoyed working large when I paint, and in 2018 I was really wanting to get into murals.
"That's when, out-of-the-blue, Dustin Leslie of the WAB reached out to me and mentioned they were looking for someone to paint a wall at their new back patio bar, PORT. I knew Dustin from back in the band days. I jumped on it, of course, and in the end I painted four of their walls, inside and out."
This proved to be a valuable turning point in his career. Ross said, "I learned a lot from those murals. From there things snowballed for me in terms of murals both in Ferndale and beyond. I've now painted…all over the area [including in] Detroit, Hamtramck, Lansing, up in Lexington, and all the way down in Santiago, Chile." He already has more opportunities in the books for this summer.
"I just feel so fortunate to be able to do what I love to do every day," Ross stated. "Traveling down to Chile to paint a mural luckily, just before the pandemic hit – was a pretty special experience. I owe that one to my good friend Ismael Duran, who passed away earlier this year. A couple years before, I went with him to Cuba where we did another arts and music presentation.
I had worked with Ismael for the previous six years, teaching art and skateboard building to kids in Southwest Detroit at a cultural center called Garage Cultural. It was a fantastic experience, and I learned a whole lot there – not necessarily about art but about people and life in general. I miss that guy."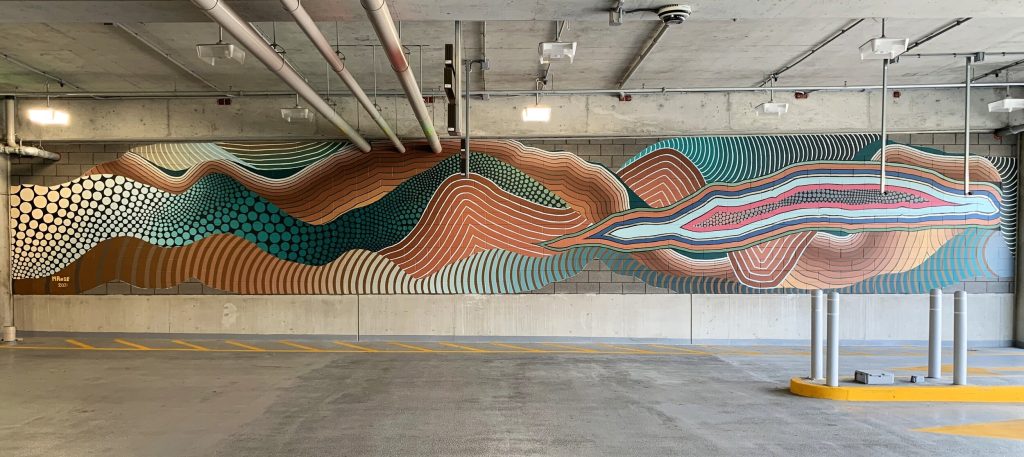 ROSS HAS LIVED ON THE OUTSKIRTS OF FERNDALE for more than two decades. He mentioned the work of the Ferndale Arts & Cultural Committee, saying the organization "does great work connecting mural-seeking businesses with artists. I have them to thank for getting me involved in the large mural project at the DOT parking garage, which has really been one of my favorite projects. It was super fun, and everybody involved was a dream to work with." He has also participated in Ferndale's DIY Fest and the Backyard Art Fair, which he'll be taking part of again this year.
Of the Ferndale area, specifically, Ross said, "While it's changed a lot in that time, one consistent aspect is that it's always been a community full of people with great, far-out ideas and the wherewithal to enact on them. I think it's a very freeing state of mind, living here. The people I've met here and played music with or talked art with, or whatever, one commonality is that they're all doers. And I think that way of thinking is contagious."
Visit www.mrossart.com to see more or request a rendering of Ross' work.