Ferndale Parks & Recreation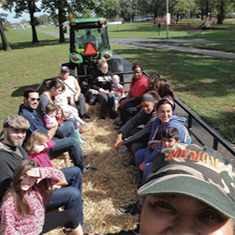 By Sara Teller
THE FERNDALE PARKS & RECREATION DEPARTMENT HAS BEEN HOUSED AT THE GERRY KULICK COMMUNITY CENTER SINCE 2001. It was originally located, in 1922, on the site of Washington Elementary School up until it was re-purposed as a community center. The center's namesake, Gerry Kulick, served on the Ferndale City Council from 1998 to 2000.
"As an active member of the community and president of several of Ferndale's boards and organizations, Kulick was a major proponent [of community togetherness], bringing the Center to fruition," explained current Director LaReina Wheeler who added, "Ferndale's Parks & Recreation Department regularly champions this vision and mission to create community through people, parks, and programs. We are dedicated to improving the quality of life of residents by providing a wide variety of activities that encourage health, fitness, and cultural enrichment."
Keeping this vision in mind, "We've also made great strides in implementing long overdue improvements to our parks that include renewed amenities (pavilions, park benches, etc.), ADAaccessible walking paths, outdoor fitness equipment, a state-of-the-art skate park, and a bioswale," she explained. "Many more improvements are on the way, including the city's first splash pad currently being installed at Martin Road Park."
COVID-19 HAS HAD A SIGNIFICANT EFFECT ON THE WAY THE P&R TEAM develops programming. However, it has brought with it some positive changes.
"If the pandemic has revealed anything," said Wheeler, "it's that Parks & Recreation is the heart of the city. Our Department continues to be flexible to meet the current, future, and emergency needs of our residents. At the start of the pandemic, we closed our building due to safety concerns. "Those concerns have been reduced [over time]. However, our building remains closed due to facility safety issues." In lieu of a physical building, the Department has turned to the parks system as one of its best assets in safely implementing and expanding in-person programming.
Wheeler added, "During the early stages, the team focused on reaching out to our local Ferndale seniors providing wellness checks and resources to help them manage through the pandemic. We have also provided free grocery and food giveaways, free sports equipment giveaways, virtual programming, and outdoor recreational programming.
The Department created a 'You've Been BOOed' program to connect families to each other while social distancing during the 2020 Halloween season and worked within social distancing guidelines in organizing scavenger hunts and a road rally."
They continue to offer senior programming and social events in a safe manner utilizing the Martin Road Activity Center (the Detroit Curling Club) during the spring and summer months and working with partnerships with other communities to house senior meetings. In Spring 2021, the community saw the return of youth and adult sports with participation steadily returning to its robust pre-COVID levels. Residents are now using park and pavilion rentals again, too, hosting outdoor gatherings.
WHEELER EXPLAINED, "WE WORK OUTSIDE of what is considered typical parks-and-recreation functions and strive to meet a variety of the needs of all our residents.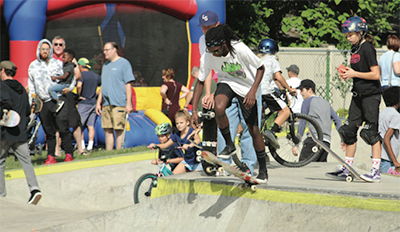 "We provide active and passive activities for all ages and demographics; we support and implement health and wellness initiatives; we subsidize and accommodate programs for our low-income participants; we act as a warming/cooling center and provide accommodations for medical needs including COVID testing, wellness checks, etc.; we train and empower our youth; we work tirelessly to secure grant funding to make park improvements and offer free programming; we provide free sports equipment, service our seniors; we work with legislatures as it relates to outdoor recreation policy throughout the pandemic, and we help support neighboring cities and businesses as well as build partnerships locally."
Geary Park and Wanda Park have undergone important renovations as of late with the P&R Department making much needed improvements and upgrades. At Geary, alongside its award-winning skatepark built in 2019, ADA-accessible walking paths, outdoor fitness equipment, drinking fountains, and other amenities were installed, including benches, trash and recycling bins and bike racks. At Wanda Park, similar improvements were made with the Department installing ADA-accessible walking paths, a pavilion, new play equipment, drinking fountains, and other amenities.
"WE'VE ALSO RECENTLY UPDATED OUUR FIVE-YEAR Parks & Recreation Master Plan that was adopted by City Council in 2022," said Wheeler. "This document enables us to get valuable feedback from our residents, youth, and stakeholders on our offerings throughout the pandemic and how we should plan to adapt for the future.
"As part of the Master Plan update, we developed concept design plans for the Wilson Park improvements that will take place in 2023 and proposed improvements to Martin Road Park. Since 2017, Ferndale has made it a priority to activate our parks and make them more accessible."
Community members are urged to participate in, and volunteer for, Parks & Recreation events. Some of the upcoming activities include youth and adult recreation leagues, sponsored food giveaways, and senior programming. Events include: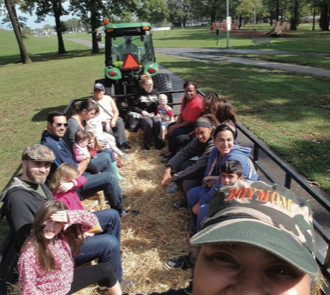 • FERNDALE SENIOR GROUP meetings, which take place the second and fourth Wednesday every month at 11:00 A.M. at the Hazel Park Community Center.
• TUESDAY AFTERNOON CRAFTING (CRAFTERNOON), which launched Tuesday, May 17th and takes place weekly. Seniors can enjoy crafting together at the Detroit Curling Club near Martin Road Park from 1:00 to 3:00 P.M.
• THE GRAVITY ART FAIR & SKATEBOARD CONTEST on June 11, 2022, at Geary Park from 11:00 A.M. to 7:00 P.M. This features skateboard, BMX, scooters and inline skating hosted by Modern Skate & Surf. More than 50 unique artists will display works inspired by the skate, bike and wheels culture.
• THE M-1 JAZZ COLLECTIVE CONCERT will take place on June 15, 2022, outside the Kulick Center from 6:30 P.M. to 7:30 P.M.
• SUMMER DAY CAMP, licensed by the State of Michigan and hosted by Ferndale Parks & Rec., will offer nine weekly themes to school-aged children ages 5 to 12. Activities like swimming, arts and crafts, music, nature, sports, and games will be available. Group projects will also be offered.
• MOVIES IN THE PARK, hosted by Ferndale P&R and DDA, will take place at several of Ferndale's parks every other Thursday from 8:30 P.M. to 10:30 P.M. starting Juneteenth. In addition to viewings at dusk, lawn games, food vendors, and small activities will be offered. Movie-goers should bring blankets and lawns chairs. The schedule is: June 16 at Schiffer Park, June 30 at Wilson Park, July 7 at Schiffer Park, July 21 at Martin Road Park, August 4 at Schiffer Park and August 18 at Harding Park.
"The Kids Zone hosts a rock climbing wall and guided sports activities," Wheeler added, and the Fall Festival will take place on October 1, 2022, from 11:00 A.M. to 3:00 P.M. at Martin Road Park.
"We also encourage our residents to attend our Parks & Recreation Commission meetings on the first Wednesday of every month at 6:30 P.M.," she said. "Meetings will be held at the Detroit Curling Club through-out the summer. This is your opportunity to be the first to know about upcoming events and park improvements and other matters, as well as a platform for you to provide valuable feedback. In addition, we are currently looking for volunteers to be park stewards. Stewards will play an important role in our parks, helping the Department beautify them while finding ways in which we can improve activities." All stewards will have an opportunity to adopt a garden in one of city's parks.
FERNDALE'S P&R HAS BEEN DILIGENTLY APPLYING FOR GRANTS to fund local park revitalization projects. It has recently received several to fund the Wilson Park improvement project, which is set to begin in Spring 2023. These grants include a Michigan Department of Natural Resources Land and Water Conservation Fund grant, an Oakland County Parks grant, and the America in Bloom grant. P&R also received funding for the Martin Road Park improvement project from Michigan Department of Natural Resources Trust Fund grant and America in Bloom grant.
For more information, visit Ferndale P&R's Facebook page at facebook.com/FerndaleParksandRec or the City of Ferndale website, ferndalemi.gov/departments/parks-recreation.