By Maggie Boleyn
Photos by Bernie Laframboise
HAZEL PARK IS A RESILIENT CITY, able to weather what Edward Klobucher, City Manager, termed a "quadruple whammy" during the early years of the new millennium. The four disasters: Decreased housing
values, declines in the racing industry, cuts to revenue sharing and a "broken municipal financing system" were met in traditional Hazel Park style — with a strong sense of a community pulling together to meet difficulties head on.
"The tremendous sense of community, combined with volunteer efforts in the city, is the secret sauce," Klobucher said. "We came through these chal-lenges in a way that other, similarly situated cities did not," he continued.
"Hazel Park is the only city of its type to remain masters of our own destiny." Klobucher is a lifelong Hazel Park resident, Hazel Park's longest-serving city manager and one of the longest-serving in Oakland County.
The 2008 collapse of the housing market, followed by "The Great Recession," decreased housing values nationwide. Most of Hazel Park's homes were built between the 1920s-1960s, and it is a challenge to keep those older homes maintained. "It's a never-ending battle keeping up with the aging housing stock," Klobucher said. Lower property values are problematic because this leads directly to lower tax revenues, making it difficult to fund City services.
Declines in the horse racing industry in general, and the Hazel Park Raceway, in particular have been another hurdle for Hazel Park. Klobucher said the City has had a long, "symbiotic relationship" with the race track, and declining revenue took a toll. In the 1950s, the Raceway provided nearly one-half of Hazel Park's tax revenue. Today, the track revenue is only two per cent.
The Headlee Amendment of 1978 and Proposal A of 1994 interact in such a way as to keep Hazel Park's revenues obtained from its taxes in a vice. The City can only significantly improve its tax base with new construction. Unfortunately, Hazel Park is a fully built-out inner ring suburb with no avail-able land; thus the City tax revenues will fail to rise significantly no matter how high Hazel Park's property values rise.
The 2014 flood dealt another major blow to Hazel Park, once more testing the mettle of residents. Again, community members stepped up and boldly faced the catastrophe. "It was a unifying, community-based response," Klobucher said. Any interruption to garbage collection would have wreaked havoc with public health. However, members of the Public Works Department, the Water Department along with Police, Fire and other city employees immediately pitched in to avert further disaster. Three dump trucks were quickly obtained, and over one-third of the garbage was swiftly removed, ahead of scheduled pickups. "That was done on our own resources," Klobucher said.
Klobucher outlined three approaches he considers key to moving forward into the future: Bringing new development to Hazel Park, encouraging education through the Hazel Park Promise Zone, and improving property values via participation in Land CURE, Inc. (Cities for Urban Revitalization and Enhancement, a non-profit public charity established for the purpose of "creating better neighborhoods in the inner-ring suburbs of Detroit.")
NEW DEVELOPMENT IS CRUCIAL TO THE FUTURE of Hazel Park. New businesses contribute to tax revenue and attract people to the city. Klobucher noted it is extremely challenging to "shoehorn new development" into existing spaces.
One very exciting new business in Hazel Park is Mabel Gray, located on John R between Hamata and Chestnut, in a rehabilitated diner. Mabel Gray opened to stellar reviews, and was named one of the best new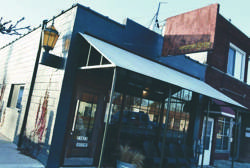 restaurants in America. Chef James Rigato presents adventurous fare which changes with the seasons.
New construction continues apace at 10 Mile and Dequindre, using space from the Hazel Park Raceway to build a 575-thousand square foot commerce center. Klobucher says that new construction is occurring in "nearly every corridor" in the city. Plans include adding new stores and a Secretary of State's office at 8 Mile and Dequindre.
Education plays a key role in maintaining the viability of the community. Klobucher said that Hazel Park is becoming a "learning community," and the "Promise Zone" has a prominent role. According to the City's web site, The Promise Zone guarantees all resident graduates of Hazel Park Schools "a tuition-free path to an

associate's degree, often through pre-existing scholarships." Promise Zone tuition monies can be used at any accredited trade school, community college, college or university in the state of Michigan. Promise Zone monies are paid directly to a student's institution, and cover tuition and fees, excluding books. "Other places talk about providing education," Klobucher said. "In Hazel Park, we are already doing it."
The Land CURE program aims to upgrade existing housing stock in Hazel Park. "It's most important function is to raise property values," Klobucher said. He points out that improved property values benefit all residents. Klobucher is a co-founder of Land CURE and has served as Board President since Land CURE's inception.
Drawing on the past and present spirit of Hazel Park, Klobucher is upbeat. "When I look to the future, working with the Mayor and City Council, I want to position Hazel Park to be sustainable; to survive and thrive."