The Hazel Park Raceway : A Historic Destination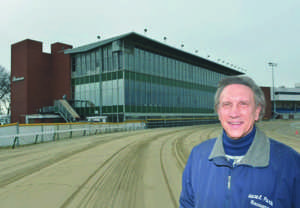 By Sara E. Teller
Photos by Bernie Laframboise
THE HAZEL PARK RACEWAY IS MORE THAN JUST A TRACK. "It's a destination," says Race Secretary, Ladd Biro, who has been in his position for 20 years. "There aren't too many cities that can boast they have a raceway," he says, adding that the historic site offers more than just racing.
The raceway, in fact, is home to many events and charity fundraisers through-out the year, including golf tournaments and 5k runs. At one point, it even hosted a 'color run', titled Run or Dye, in which members of the community partook in a fun and messy, colorful race where participants were showered in rainbow-colored, eco-friendly, plant-based cornstarch every kilometer. "There were couples out here with covered strollers!" Biro says.
The Hazel Park Raceway has also been home to other well-known venues, including the Shrine Circus, Octoberfest and car shows. "I've had as many as 60 vehicles inside here," Biro says of the auto show events. They host an annual 4th of July celebration with a barbeque and a live performance by Moose & Da Sharks, a Detroit oldies-style '50s and '60s tribute band, with their infamous Sharkette girls. "They've performed every year for the past 20 years," Biro explains, and the event-goers have come to anticipate their performance.
"We've always worked closely with the City," says Biro, and the city of Hazel Park has partnered with the raceway to offer community festivities, including its annual fireworks display. This year, the display will take place just before Independence Day, on June 30th.
Currently owned by Bernard Hartman and Herbert Tyner, owners of Hartman and Tyner Inc., Hazel Park Raceway generates approximately $550,000 in revenue annually for the City and is one of Michigan's largest and most profitable raceways.
The raceway staff proudly participate in CANTER, a non-profit organization that began in 1998 in Michigan to help thoroughbred racehorses find new homes and careers. CANTER was started by retired Channel 7 news anchor Robbie Timmons. And the track continually donates to Children's Miracle Network.
The raceway site began as a mere landfill in the mid-1900s. This land was purchased with the intention of building an auto track, but the original purchasers ran into financial trouble along the way and were forced to stop construction. A businessman then stepped in and acquired the 140-acre property. With the track already in place, he finished it out as a horse track instead, and the first race was held four years later in 1953.
Concession stands are available throughout the structure as well as clubhouse dining at the Top of The Park Grill and bar, making the raceway a great entertainment spot even for patrons who don't wish to place bets. It's open year-round with live racing taking place from May to September every Friday and Saturday night starting at 7:30 P.M.
As a "pari-mutuel" thoroughbred race track, Hazel Park Raceway participates in a betting system in which all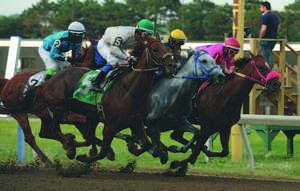 bets are placed together in a pool, a percentage is taken out by the race-way, and the remainder of the funds are split between bet winners. The track also offers simulcast wagering seven days a week, all-year long on thoroughbred and harness races, so race-goers can view and place their odds on horses all across the country. The Triple Crown racing days always draw a large crowd. These include the Kentucky Derby, followed by the Preakness Stakes race and the Belmont Stakes race. Simulcasting opens at 11:30 A.M. daily. Admission and parking are both free.
"Raceways have fallen by the wayside over the years," Biro says, but he's proud to be able to say Hazel Park's is still going strong.