By Ryan R. Ennis
WHETHER YOU'RE AN aspiring actor or director, or just seeking entertainment, the non-profit organization Michigan Stage has something for you. With its goal "to produce theatre in enriching, refreshing new ways directly within the community of Ferndale and greater Oakland County," opportunities abound for escaping from the monotony of the daily grind by indulging the imagination.
At Michigan Stage studio locations this summer, instructor/ artists with strong creative drives conducted summer youth playlabs for students ages 7 to 13. During the sessions, the instructors helped students develop themes and dramatic moods for designing skits and short sketches centered around D.I.A. (Detroit Institute of Art) works on display in the community. Under the artists' tutelage, the students learned how to breathe life into their ideas through performances at small local venues. The classes have served as meaningful ways for children and adults to express their creativity.
The playlabs fall under the wings of the organization's Performing Arts Academy, whose vision is a commitment to "upholding the professionalism of the performing arts community." To execute that vision, the academy provides resources such as intensive tenweek theater workshops scheduled in the evenings for students ages 13 to 22. Also available are individual voice and dance lessons along with workshops on contemporary pop-rock Broadway composers. A youth ensemble assists with the academy's artistic and administrative direction.

Another opportunity offered through Michigan Stage is its play-reading group – Michigan Page – in which group members analyze and critique theatrical works via Zoom. Selections include both contemporary and classical drama. Guest speakers help to facilitate the meetings by providing discussion points and background on the texts. Most recently, in April, participants read and interpreted Sarah Ruhl's Orlando, based on Virginia Wolf's popular genderfluid character who lives for centuries and re-examines history through encounters with key figures of English literature. Michigan Page's bimonthly meetings plan to resume in January 2022, at a local library. Says a Michigan Page participant about the club, "(It's) an environment where the love of theatre is nurtured . . . and impactful discussions are fostered in a relevant way."
Leading the cast at Michigan Stage is founding Artistic Director Tim Paré, a Michigan State University graduate with an impressive résumé. Previously, he held the titles of Educational Director for two stage companies where he developed theater arts programs for youths and young adults. By directing and choreographing his students in musicals and other performances, he annually reached 7,500 community members. College students have also enrolled in his workshops and courses on how to audition performers, dance professionally, and manage stage productions.
In forming his company, Paré has striven "to expose audiences both new and old to the performing arts in new ways – to nurture a curiosity to explore the world around us through…community theater productions."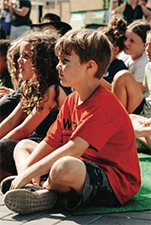 As part of fulfilling his mission, Paré directed three free concerts entitled Broadway in the 'Burbs, all performed on August 7 at The dot (Development on Troy) in downtown Ferndale. The shows featured Broadway cast members singing tunes from Beautiful: The Carol King Musical, Dear Evan Hansen, and other hits. Before and after each performance, gatherers were able to meet the singers, as well as chat with the fire and police department workers who were on hand with activities and information on city services.
Up next for Paré and Michigan Stage is Looking Back Through Stained Glass, a family-friendly musical that explores the styles of punk rock and heartbeat pop music in addition to the themes of rebellion and selfacceptance. Starring in the production will be Drag superstar Nancy Nogood and recording artist Ugochi Nriaka. Performed at the Ant Hall in Hamtramck, the musical will run from September 30th through October 9th.
For more information on Looking Back Through Stained Glass, autumn playlabs, and other Michigan Stage events and programs, visit www.michiganstage.org. You can also keep up to date by joining the mailing list. To contact Tim Paré directly, email him at tim@michiganstage.org.