EVERYONE IS CAPABLE OF CONTRIBUTING TO A GREAT MUSICAL EXPERIENCE. AND EVERYONE SHOULD BE AFFORDED THE OPPORTUNITY.
That's the premise behind EGO, an Electric Guitar Orchestra I am launching for the community this summer. I hope to retire next year after 19 years as publisher of Ferndale Friends, and I need new ways to make a nuisance of myself around Ferndale. EGO should be splendid mischief!

Playing music is good for our mind, body and soul. Music unites humanity in spite of our bitter political and cultural divides. Pythagoras, Kepler, Newton, Galileo and other great minds have been intrigued by the mathematical mysteries of music. There is also, of course, much magic in it beyond the realm of science. Music is possibly the great bridge between science and our souls. There is something very special about music and our society is enriched every time one of us picks up an instrument.
It's also incredibly fun! Won't you please come join our band? We want YOU in EGO! Neither talent nor much time are required. We want everyone, young and old, and if you need a guitar we'll try to to get one for you. We need at least 30 players but 60 is way better and there is always room for one more.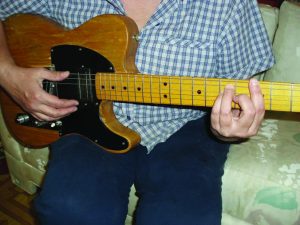 You do NOT have to know how to read music. Even if you are a complete beginner, in 20 minutes we'll have you plucking the easy parts to Verdi's Grand March or Bach's Air on the G String. You can do this. We also have challenging parts for more advanced players.
There's no commitment. This is about having fun. Show up as often as you like. We will rehearse in a Ferndale park twice a month using little battery- powered amps, and perform every couple of months.
It helps to start with the music of geniuses, and we'll be playing some of the most beautiful and beloved music of the last 400 years. You already know most of these compelling melodies.
Electric guitars produce incredibly delicious overtones and harmonics, which is another reason EGO should sound pretty awesome even with beginners. And the battery-powered amps today include all manner of wonderful effects: Reverb and echo, phase-shifters, flanging and chorus, effects, etc. Imagine that delicious sound multiplied by 60 or more. It might just be extraordinary.
What You Need:
Electric guitar ($50-$100 at garage sales. We will try to get one for you if needed, and we are not turning you down if all you have is an acoustic.)
Small, battery-powered amp. $100-$200
Tuner $35-$40
Folding chair and music stand
Go see Andy at Pursell Lutherie (248-439-0700, 23430 Woodward) or Dana at Berkley Music (248-543-3900, 3039 W 12 Mile) to get a special EGO deal, and support our local music stores at the same time.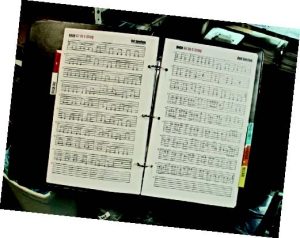 You Will Be Provided With:
A binder with all of the parts in easy-to-read tablature (photo right)
MP3 recordings of all the parts separately and complete as a group.
A coach to help you get started.
Interested?
So glad to have you aboard! Drop me an email, and I will get you started: steffie@ferndalefriends.net.
Do you have a guitar you can donate?
We're not looking for your '57 sunburst Les Paul! It just has to be playable. We will put new strings on it and try to do any needed minor repairs. You can make someone very happy by giving them a chance to participate! Please write me at steffie@ferndalefriends.net.