Ferndale Community Concert Band: Music For The People!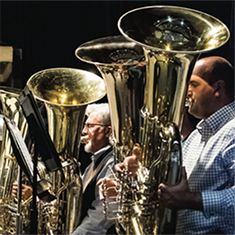 FOUNDED IN MAY 2015, THE HIGHLY RESPECTED FERNDALE COMMUNITY CONCERT BAND (FCCB) completed its fifth season this year, and has become one of Ferndale's most successful non-profit non-profits and largest volunteer organization in the community, boasting more than 70 volunteer musicians.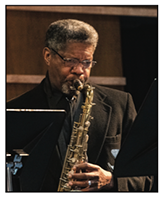 The FCCB does not hold auditions, but does consider the experience and accomplishments of a musician when accepting a new member. All concerts are free, with donations gratefully accepted at the door. There are a broad range of volunteer musicians involved, ages 16 to 84, with various levels of skill and experience. FCCB members are music educators, amateurs, professionals and students. A few members have played in the Detroit Symphony Orchestra on an as needed basis. Over 200 musicians have been a part of FCCB over the years, with each concert involving 70 or more musicians. The FCCB performs five concerts per season. When invited, the FCCB has added special performances, such as the NAACP 2019 National Convention performance, and other public events to their concert schedule.
In order to establish and manage this pivotal cultural band, two residents were selected to become members of the Ferndale Arts & Cultural Commission in 2014. Both were chosen for their outstanding skills and experience: Tim Brennan (a Hamtramck High School music teacher and veteran of the U.S. Army Band) and Sharon Chess (a well-known community organizer).
Information received from the Ferndale Arts & Cultural Commission's public survey led Chess and Brennan, to organize the Ferndale Community Concert Band. They created a promotional Facebook page, as a call to action, listing a time and date for the first band rehearsal. They also consulted with retired Cass Tech Orchestra Director, Marc Haas, on how best to form a community band. In all, 105 people responded to the request for volunteer musicians.
ON MAY 5, 2015, THE FIRST REHEARSAL WAS HELD at Ferndale High School (FHS). Both FHS Principal Roger Smith and FHS Band Director Elon Jamison were very helpful, and allowed the band to use their expansive facility for rehearsals and concerts. Additionally, Ed Quick stepped up as the Artistic Director and Conductor of the FCCB. Chess recalls the evening of the first rehearsal very clearly: "Quick wasn't confident there would be a good turn-out. We were expecting maybe 15-20 people to show up. But people kept coming through the door, and coming and coming!" It was an incredible ensemble of every instrument and player we needed." Hope ensued.
Even though the concerts are free, the attendees are very generous with their donations. The cost to produce each concert is over $1,800 (which includes printing, recording, sound/lighting technician and conductor fees). To help further with fundraising, a bake sale is held at each concert. "We have some really good bakers in the band!" Chess added with a smile. Members of the local Senior Group, and the Memorial Foundation, Dick and JoAnn Wilcock, and David Chess, help with the bake sale and door donations.
Another source of donation comes from the FCCB Board members, who have purchased equipment, music, recording and sound equipment, and other needs for the band. A friend of a Board member donated an expensive Yamaha concert drum kit, then, after few years, decided to donate the set to the FCCB. Another example of generosity was by a philanthropic donor, Jeffrey Chess, who purchased over $12,000 worth of equipment for the band. Chess added that sometimes Ed Quick donates the cost of music, if the total is over the $550 music budget, allowed per concert or it is a special piece he does not want the expense to fall on the Band.
The Band has played and is invited to return to the Music on Belle Isle Group (MoBIG) River Blast! Concert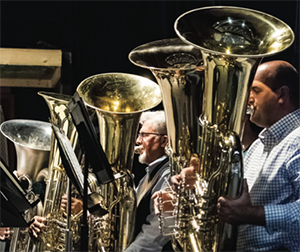 series. MoBIG is a non- profit dedicated to returning summer band concerts to Belle Isle. MoBIG features community bands and orchestras from Southeast Michigan throughout their season. Part of MoBIG's overall mission includes providing free concerts on Belle Isle (Sunset Point) during the summer months, at 6:30P.M. MoBIG is also involved with fundraising efforts to restore Belle Isle's historic Remick Bandshell. Please visit their web site at www.mobigmusic.org for updated information.
Another project which has recently developed from the original FCCB is the M-1 Jazz Collective, led by Brennan. There are 18 members and a vocalist rehearsing regularly, with the goal of playing for smaller public or private events such as festivals, fairs, and weddings. Currently, they perform in the commons area of FHS, directly preceding the full concert.
CHESS REMARKED, "WHEN I WAS FIRST HELPING TO FORM THE BAND, I figured in five years' time either we will be broken down or a great success. Every year we become more and more memorable. We continually improve our sound, and the cohesiveness of our ensemble. Other community bands want to play with us, or they want us to play events with
them, and we never miss an opportunity." Many musicians, in fact, have come from other bands, and the FCCB's warm and welcoming attitude helps.
I asked if they had encountered any major hurdles or disappointments over the years? Chess mentioned they asked the City to support the FCCB: "Not financially but to post our concert schedule on their website and in their city
newsletters. We continue to hope they will recognize the FCCB as an asset to the city. Ferndale should be proud of us!"
The FCCB is setting a strong, positive example to our community as a whole and providing us with excellent musical entertainment. We wish them many more years of great success!
Euchre fundraising tournaments are held on the fourth Friday of every month at The Ferndale Elks Lodge #1588: 22856 Woodward Ave, Ferndale.
Tournaments and band events are currently on hold due to health crisis.*
info@fcconcertband.org
www.facebook.com/ferndalecommunityconcertband