Photos By: John Rivard, David Ryals & Bernie Laframboise
ON SATURDAY, MARCH 31ST, FERNDALE HOSTED OUR OWN MARCH FOR OUR LIVES EVENT. It was organized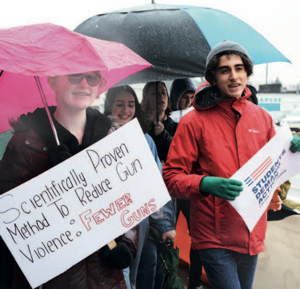 and headed by Progressive Youth Assembly and Mya Riccardi, a local activist and Wayne State University student. Despite inclement weather, the event brought dozens of activists out to march down 9 Mile from Affirmations to Geary Park. Most notable among the attendees were Mayor David Coulter and State Representative Robert Wittenberg.
The theme of the march was "Where Do We Go From Here?" and it focused on the change people can make as citizens in the wake of the recent mass-shooting tragedies now tragically commonplace in America. Riccardi sat down with Ferndale Friends for an exclusive interview about the event and the effect it had.
When asked what made her decide to lead the march Mya said, "The march is being led by four students:
myself, Nolan Handyside, Sarah O'Donnell and Alex Lawrence. We created this march because we believe that there needs to be more effective gun laws put into place in our country.
All four of us have lived in Ferndale our whole lives. We feel so lucky to live in this accepting and progressive city, and we have learned that this is a great place to stimulate change. The residents of Ferndale have shown unwavering support to its youth and students in the past, something that cannot always be said about other cities. So, by planning this march, we are not only doing it for ourselves but rather for the students elsewhere in the country who are not as encouraged to have a voice on this matter."
"The four of us were a part of a group called Progressive Youth Assembly last year. The group died out over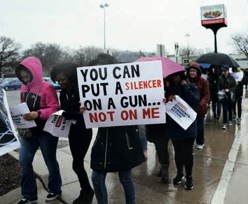 the Summer, but about a month before the shooting in Parkland, Florida we had actually discussed trying to get the group back together. Then one afternoon, about a week after the Parkland shooting, Sarah and Alex got this seemingly crazy idea to plan a march, and asked Nolan and I if we would be interested in joining them with the planning."
Along with planning came a set of goals. Riccardi said, "Our aim was to bring more awareness to the subject, and to educate others on what they can do to keep our efforts going.
We want people to know this is not something we are going to forget. Also, we purposely held this march a week later than the national march (March 24th) because we wanted to theme it Where Do We Go From Here? We had multiple tables set up including Ferndale Democrats, Mothering Justice, and Mothers Demand Gun Sense in America. We also had a voter registration table. We wanted to show residents what they could do after the march to continue our efforts to create more effective gun laws."
In regards to the future, Riccardi said, "As of right now our group is going to focus on gaining more members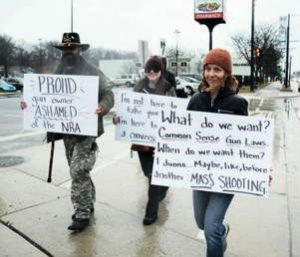 and being more involved with the community of Ferndale. We plan to recruit more high school students, in hopes that they bring in fresh ideas for future events. With each event we hold, we hope to further educate people on what they can do to make their voices heard."
The national wave of March For Our Lives events was a titanic success. The future looks bright for sensible gun-law changes because of efforts made by moral and conscientious citizens. To quote the poet and rock star Patti Smith: "People have the power to wrestle the earth from fools. It's decreed the people rule. We have the power."