Inner City Anniversary Performance: Techno Pioneers Celebrate 30 Years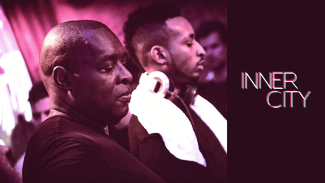 IF YOU'VE EVER CONSIDERED GOING TO MOVEMENT DETROIT MUSIC FESTIVAL, this may be the best year to attend. Why? You won't want to miss the history making 30th anniversary performance of Inner City – the Billboard chart-topping group essential to techno in Detroit and around the world.
Started by Kevin Saunderson in 1988, the band experienced phenomenal success with hit songs like "Big Fun" and "Good Life" while their debut album Paradise reached Platinum status in the UK. Saunderson is renowned in the music world in his own right; known as one of the Belleville Three, along with Derrick May and Juan Atkins, who started as high school friends and are credited with creating Detroit Techno.
Inner City spent much of the late '80s and early '90s touring the world. The band was comprised of Saunderson as DJ, singer Paris Grey, and Ferndale personality Tommy Onyx as music director and keyboardist. Onyx describes some of their experience over the last 30 years.
"It was an interesting kind of group to start in 1988, and to see the way technology has changed since that time. For us, every tour we did was drastically different in terms of production because of new gear and advances," he says. "The first tour we did was 100 per cent live. At the time we started there wasn't a new paradigm yet. We were going out with live instruments, and it just evolved as tours went on."
And he sometimes can't believe the memories they created through those touring years. "A lot of life experience boxes got checked on those tours," he says. "You don't realize how privileged or awesome things are when you're in the middle of it, but we got to perform at the Apollo theater for Showtime at the Apollo. Looking back it's crazy to think I got to experience that."
INNER CITY TOOK A HIATUS IN THE MID-2000s, and has evolved in more ways than one since. And he members of the band have all created individual legacies since their time touring together. Saunderson still tours independently as a world-renowned DJ and runs his record label KMS, while Onyx started a successful web development and design firm now based in Ferndale.
"This is the third time Inner City has performed the Movement festival proper. The first time was when it was still called DEMF. We performed again in 2010, and this will be the third," Onyx says. "We also performed the after-party at St. Andrews in 2012 but weren't a part of the actual festival."
As they reconvene for their 30th anniversary at Movement Detroit, the band has grown to include some changing and new members. One of Saunderson's three sons, Dantiez Saunderson, has joined the band to DJ and mix alongside his father.
Fans can also expect the return of Dennis White, who hasn't performed with the band in 25 years. White and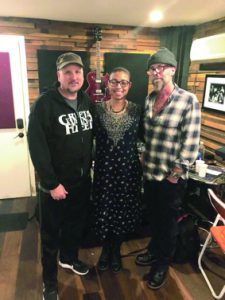 Onyx were in the band Charm Farm together in the late '80s, and most recently White won a 2018 Grammy for Best Remixed Recording of the Depeche Mode song "You Move." White will be on keyboards alongside Onyx and Nico Marks at Movement.
The most noticeable difference will be the transition of lead vocals from Paris Grey to Steffanie Christi'an. A Detroit native, Christi'an has per-formed with such artists as Erykah Badu, Talib Kweli and Big Proof. She is also active in the Black Women Rock collaborative.
"She's from Detroit, is a phenomenal singer and is from the scene – super excited to have her in the mix " Onyx says. "We've been having her redo backing tracks because we weren't looking to replicate Paris and wanted Steffanie to create her own part in Inner City."
Movement Detroit takes place Memorial Day weekend, May 26th through May 28th and Inner City will perform Monday May 28th ahead of Wu Tang Clan, where they are planning to release two new singles.
"Everyone is at a stage right now – Kevin is considered a legend at this point, Dennis just won a Grammy, I have a web development business – this stuff is exciting but we could all easily go our separate ways," Onyx says. "But we are all kinda' excited to see if we could get another charting record again, one more box to check would be to do another tour with charting records."