Ferndale Friends Event Previews – May 2018
MAY | THROUGHOUT FERNDALE
Bike Month
DID YOU KNOW THAT MAY IS NATIONAL BIKE MONTH? We like to think 'bike month' is every month in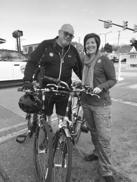 Ferndale. However, this May we will align with national efforts across the country and celebrate our bike-friendly city with Ferndale Bike Month! Throughout the month of May, the City will host weekly coordinated rides and education classes, including bike law and smart cycling. Ferndale Recreation, DDA, Police Department and Rotary Club will also host the annual Bike Rodeo on Thursday, May 17th at Schiffer Park. Look for scheduled dates, locations, and routes for weekly coordinated rides, classes, and more in the coming weeks at ferndalemoves.com.

May 5: Group Bike Ride (start at Downtown Ferndale Bike Shop)
 May 9: Group Bike Ride (6:30 PM start at Downtown Ferndale Bike Shop)
 May 12: Group Bike Ride (start at The Fit Park)
 May 17: Downtown Bike Rodeo (4 PM-8 PM at Schiffer Park)
 May 18: Bike-To-Work Day (contact Detroit Greenways Coalition)
 May 22: Group Bike Ride (6:30 PM)
 May 23: Bicycling 101 Class (6:30 PM at Ferndale Area District Library)
 May 30: Group Bike Ride (6:30 PM start at Downtown Ferndale Bike Shop)
https://ferndalemoves.com/resource/bike-month
ced@ferndalemi.gov or jlyons@ferndalemi.gov.
SAT MAY 5 | 2-8 P.M. | B. NEKTAR 1511 JARVIS
B. Nectars Spring Mead Fest
MEAD IS AN ALCOHOLIC BEVERAGE created by fermenting honey with water, sometimes with various fruits, spices, grains or hops. It's not quite wine and not quite beer, but it's sure damn good. The Spring Mead Fest will take place at B. Nektar (1511 Jarvis) and runs from 2:00 P.M. to 8:00 P.M., although the taproom will stay open until 12:00 A.M. Admission is free and tickets are available for purchase to sample the variety of beverages. "We throw a party, located in the back parking lot of our headquarters, with some local food trucks, and an array of our products for attendees to try out," said Miranda Johnson, marketing chief. "Each year is different."
SAT MAY 12 | NOON-9 PM | BDT'S, HAZEL PARK
ROCK THE PARK Artist Bazaar
Come Rock the Park at an artist bazaar on Saturday, May 12th with BDTs at 21630 John R Rd. in Hazel Park. Admission is FREE and the event runs from noon to 9 PM. All proceeds will be donated to the Hazel Park Art Council, a local non-profit dedicated to bringing art to the community and our homes. Rock the Park will feature artist Mark Arminski, who will be showing off his amazing art along with 20+ local artisans. The event will be indoors and out with live local bands, raffles, silent auction, food trucks, and beer and wine for purchase. Come support your local artisans and participate in this amazing event! Let's kick summer off right by Rocking the Park.
SAT MAY 5 | DOWNTOWN FERNDALE
Cinco Bash Pub Crawl
CincoPubCrawl.com
GRAB YOUR FRIENDS AND YOUR SOMBREROS and get into the "south of the border" spirit for Metro Detroit's biggest Cinco Bash!  Enjoy "loco" specials on your favorite cervezas & margaritas at all of your favorite bars in both downtown Ferndale & downtown Wyandotte. Two pub crawls – two exciting locations – dozens of Metro Detroit's best bars. Each bar will feature exciting cocktail, beer and shot specials, as well as festive activities. Tickets are available at Registration Bars and are $15 in advance ($25 day-of).
SUN MAY 13 | 8-11 AM | 1ST UNITARIAN CHURCH
Women Walk For Peace  A Mother's Day Event
GATHER AT 1ST UU CHURCH/CASS CORRIDOR COMMONS. 4605 Cass at Forest in Detroit.
8:00am – walk south to Grand Circus Park and return to 1st UU by 11am (3 mile loop). Signs & Banners
provided. Immediately following the walk you are invited to attend a special service and potluck at 1st UU Church. For more information and to get on our e-list contact Anita at racedancer@hotmail.com. Check out our event page on Facebook: www.facebook.com/womenwalkingwoodwardforpeace/
TUES MAY 15 | 6:30 PM | FERNDALE LIBRARY
Artist In You
The Artist In You' Fosters & Rewards Creativity For Youth
THE ARTIST IN YOU" IS A COMMUNITY-WIDE CELEBRATION of 2D student art, featuring works by young talents from Ferndale High School, University High, and Center for Advance Studies and the Arts. Students will compete to have their winning piece converted into public art. A public reception with live music will take place Tuesday, May 15, 6:30 P.M. at the Ferndale Area District Library. "The Artist in You" provides students with a unique opportunity to exhibit, market and gain exposure for their creative work at a formative age. Art will remain on display May 14-June 9.
SAT MAY 19 | 5:30-11 PM | 4 RIDGE ROAD
Pleasant Ridge Audtion & Gala
THE PLEASANT RIDGE FOUNDATION PROUDLY PRESENTS the 58th Annual Pleasant Ridge Auction & Gala. This year's theme is "Back to the 80s." As always, attendees are welcome to dress to the theme. In addition to providing the opportunity to bid on a large variety of donated items, your ticket allows you to sample fabulous food from Chick-en Shack, dazzling desserts from Treat Dreams, great beer from Axle Brewing Company, and wonderful wines. This year's Gala will once again include the exciting raffle offering with a Grand Prize of $10,000! The Foundation will put all money raised at the event back into the community to support a variety of activities/projects. Tickets for the event are $40 per person prior to May 14 and $50 after and can be purchased at pleasantridgefoundation.org, City Hall, or at the door the day of the event.
SAT MAY 19 | 9 AM-NOON | CITY HALL LOT
7th ANNUAL CLEAN THE FERNDALE UP!
THIS YEAR'S SEVENTH ANNUAL EVENT will be held on Saturday, May 19, 2018, when volunteers will plant, spruce, paint and clean designated public spaces. Friends, co-workers and family members are encouraged to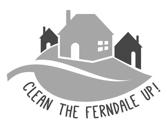 participate. Please wear blue jeans and t-shirt as you will positively get dirty in the fun. Complimentary hot dogs and refreshments will be provided immediately following the completion of activities.
This year's volunteer projects will include the planting of flowers at the Veteran's Memorial and City Hall, sprucing the grounds at the Ferndale Area Public Library, clean-up at city parks and downtown painting projects. On this same day, the DPW (Department of Public Works) and SOCRRA (Southeastern Oakland County Resource Recover y Authority) will have the popular temporary Drop-off Recycling Station, located in the City Hall Parking Lot, from 9:00 A.M. to 12:00 P.M. As an added addition, we are pleased to include Simple Recycling to collect usable clothing and textiles for reprocessing into rags, insulation, and stuffing and the remaining natural materials left for composting. Individuals and groups interested can preregister at: https://ferndalemi.seamlessdocs.com/f/2018CTFU
SAT MAY 19 | ROYAL OAK FARMERS MARKET
Tequila Mundo
TequiloMundo.com
ULTIMATE FUN PRODUCTIONS AND REAL DETROIT EVENTS are pleased to announce Tequila Mundo on Saturday, May 19 at Royal Oak Farmers Market. This exciting tasting will bring together over 60 distinct varieties of tequila from around the world, across the state, and down the street. It's a chance to discover and taste specialty cocktails, exotic margarita flavors, agave derived liqueurs, crèmes, and infusions. All guests of Tequila Mundo will receive a commemorative glass for tasting, drink sample tickets, keepsake photo, and live entertainment. So, whether you are a tequila geek, a newcomer to the world of agave, check out Tequila Mundo for the yearly celebration of all things agave!
SAT MAY 19 | 9AM-11AM | BLUMZ BY JR DESIGNS
Spring Perennial Exchange
IF YOU GROW PLANTS, OR SHAKE YOUR HEAD IN WONDER when someone else grows them, head over to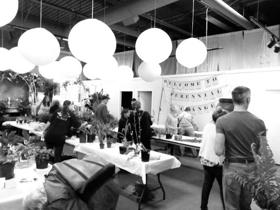 the 9th Ferndale Perennial Exchange at Blumz By JRDesigns at 503 E 9 Mile. Ferndale Beautification Commission Chair Robbin Yelverton explained how the "exchange" works, which is: "Bring a plant, take a plant." Bring your perennials in a labeled container. You will receive tickets to "purchase" other plants. There will be plants for sale as well. All monies help fund other events the Beautification Commission hosts throughout the year. For more info, go to the Ferndale Beautification Commission's Facebook Events Page.
THUR MAY 24 | 6-9 P.M. | DOSSIN MUSEUM, BELLE ISLE
FernCare Free Clinic 10th Annual Dinner
JOIN US TO CELEBRATE OUR 10TH ANNIVERSARY. This dinner is to celebrate the volunteers who make these services possible and a chance for us to say thank you to the donors who felt so many years ago and still feel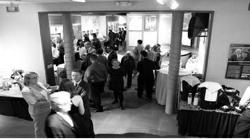 that FernCare is a valuable resource. The location is lovely and fascinating at the same time. Great views of the water, Canada, the occasional lake freighter and a recently completely renovated museum. Walking into the original men's smoking room of one of the Great Lakes cruise ships takes your breath away. Did I forget to tell you bring your phone or camera? We plan a strolling dinner based on Detroit ethnic and historic heritage. There will be places to sit and eat, so you don't have to juggle plates and glasses. A cash beer and wine bar, music throughout and a Silent Auction. The Annual Dinner is one of our largest fundraising efforts. Tickets are $75 per person and include a drink ticket. There could be an additional $11.00 as you come on the island because Belle Isle isa state park and requires either the yearly Recreational Passport that is paid at the time of license renewal or per visit. There are a variety of sponsorship opportunities available ranging from$250 to $10,000. Ticket and sponsorship information is on our website, www.ferncare.org. Click on 10th Annual Dinner or purchase dinner tickets and sponsorships by mail: FernCare, 751 E. Nine Mile, Ste.2, Ferndale, 48220. If you have any questions, e-mail Kate Baker, Dinner Chairperson at kbaker@ferncare.org.
MON MAY 28 | 10 AM | LIVERNOIS & W MAPLEHURST
100th Anniversary! Memorial Day Observance
ON MONDAY, MAY 28, MARCHERS IN THE ANNUAL MEMORIAL DAY PARADE will commemorate the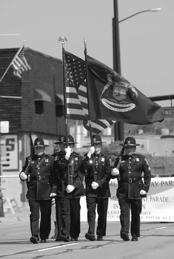 100th anniversary of the longest continuous observance of the holiday in the state of Michigan. Armed service members from every branch of the military will be honored at the parade, which gets underway at 10:00 AM at the corner of Livernois and West Maplehurst. The focal point of the Memorial Day observance is, as always, the reading of the Honor Roll. The Honor Roll includes the names of service members who died since Memorial Day 2017. Veterans from Ferndale and neighboring communities are recognized during the Honor Roll. "We are encouraging members of the community – businesses as well as residents – to participate as marchers in this momentous occasion," said Jean Burns, president of the Ferndale Memorial Association, the organization tasked with commemorating the sacrifices of veterans in the city. Participants will take to the streets with veterans, scout troops, school marching bands, dignitaries, service organizations and businesses, as well as Michigan Fallen, which has marked the occasion with placards honoring state residents who have died in overseas conflicts. Some groups decorate floats.  Every group is urged to keep in mind the mission statements: "For Those Who Gave Their All" and "Lest We Forget." Visit www.FerndaleMemorial.org, or call Ms. Burns at 248-595-1187 or Major Stephen Lemelin at 248-648-1457.
MON, MAY 28 | ROYAL OAK FARMERS MARKET
A Final Meeting Together With Lee Alan
THOUSANDS OF US USED TO GET TOGETHER EVERY NIGHT ON THE RADIO. What if we could all have one last time together? Not on the radio, In person. You and me. And as many of my friends from all those great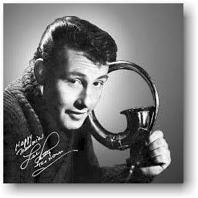 days who are still with us as I can get to come. Names you know. Radio-TV people, Music People. One last time. In one place. Memorial Day Afternoon, Monday, May 28th, 3 PM to 6 PM. at the Royal Oak Farmers Market., 316 E Eleven Mile Rd, Royal Oak, MI 48067, limited to 500 people. Advance ticket sales only. $20.00 per person. All ticket proceeds to The Royal Oak Historical Society. http://leealancreative.com/reunion
MON MAY 28 | 10 AM | LIVERNOIS & W MAPLEHURST
Michigan Fallen Foot Float
WE NEED YOUR FEET TO HONOR THE MEN AND WOMEN who lost their lives in the Iraq and Afghanistan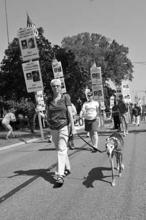 War while serving in  a Michigan Military Unit. We have 262 individual posters to carry, flags, banners, and will be introducing a new design to our float, as well, the parade for this years tribute to the family and friends of our Michigan Fallen. We need your feet! Come join in May 28th at Livernois and West Maplehurst. Sign in time 7:30 – 9:30AM. Parade starts at 10:00 AM. Please no clothing that promotes a business, a product, a religious or political issue, or political candidate. We welcome vets to wear hats, as well, volunteers are encouraged to honor this national holiday by wearing red, white, and blue.