By Jeff Milosevich
THERE ARE SO MANY EVENTS COMING UP AT THE FERNDALE LIBRARY this Summer I'm not sure it can be contained in one column!
But let's start with some music! Our ever-popular Summer Concert Series is coming back: These free musical performances for all ages are hosted outdoors in our courtyard, made possible by the Friends of the Ferndale Library. This year's lineup brings a mix of jazz and world music sweetened by an array of eclectic instrumentation.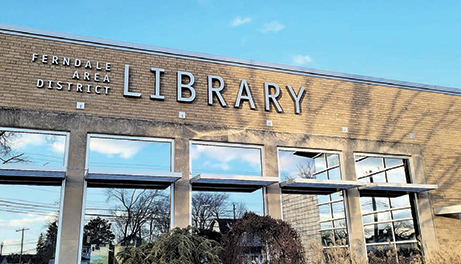 CONCERT SERIES
OUR SUMMER CONCERTS ARE SCHEDULED ON TUESDAY EVENINGS, June 18, July 19, and August 9, each performance beginning at 6:30 P.M. Nessa (June 18) performs original world music that is Celtic-inspired but also infuses sound and rhythmic elements from the Caribbean, Africa, and India, as well as a mix of genres, from classical and jazz to folk and funk. Djangophonique (July 19) is a virtuosic, instrumentally driven acoustic jazz quartet bringing to life the rich musical language of Django Reinhardt's jazz manouche. Klezundheit (August 9) is a 10-piece ensemble group performing traditional and modern klezmer, gypsy, Balkan, and jazz music, featuring a mix of accordion, trombone, tuba, flute, and soprano saxophone.
SUMMER READING
THIS YEAR'S THEME FOR OUR SUMMER READING CHALLENGE is An Ocean of Possibilities, so you can anticipate a range of water-themed events (and prizes) for all ages. When you sign up for Summer Reading, you (and your family) can create an account with the Beanstack app to track your reading throughout the season. Starting as early as June 11 and continuing until August 31, adults will be challenged to read four books, teens will be challenged to read three books, and kids will be challenged to read for five full hours. As you read, you can earn digital badges and raffle tickets through Beanstack: the more tickets you earn, the more you can submit for our range of prizes.
Some of the events we have planned include a watercolor class (June 9), a look at lake monsters (June 23), a history of sea shanties (July 7), and an instructional presentation on rain barrels (July 14). Sign up for our Summer Reading Challenge opens on June 11; for more info, visit: www.fadl.org/summer-reading. And remember, if you take our Summer Reading Challenge and are ever in need of recommendations, visit www.fadl.org/readerscorner, where you can request book bundles and receive personalized recommendations.
LIBRARY OF THINGS & OTHER UPDATES
WHILE WE'RE HIGHLY ENCOURAGING EVERYONE TO TAKE our summer reading challenge, you can certainly use your library card for more than just reading. We were particularly excited, at the start of spring, to unveil our "Library of Things." This special collection features tools, gadgets, instruments, and more, anything from a thermal leak detector to a sewing machine or even a ukulele. Ferndale Library cardholders can check out items from the collection of "Things" for up to two weeks. For a full list of these unique items, visit: www.fadl.org/things.
The Library of Things is just one facet of some of our recent updates. You might have already noticed our new signage facing along the north, west, and south-facing sides of our building, but there are a few updates inside that you should check out! We've added an accessible laptop bar that stretches across the windows of our atrium, along with several new (and rather comfy) chairs along the windows and near our quiet reading room. Parents/caregivers will also find new furniture, new carpeting, and many new shelves inside our Kids Corner. We've also added new resources and materials, including a restocked seed library, an Adobe Suite computer station, and a set of telescopes available in our Kids Corner.
IN OTHER NEWS:
• Our Youth Librarians will be hosting walk-in/drop-in sessions for Reading With Dogs (ages 4-17), starting Monday June 6, and continuing every Monday evening from 5:00 P.M. – 6:00 P.M. (except July 4). Meanwhile, there are plans for a Reading With Dogs for Adults to begin on Wednesday,  June 29, hosted monthly on the last Wednesday of each month. There is no registration available for the kids' drop-in sessions, but you can sign-up for our adult sessions online (space is limited!)
• We've partnered with the Ferndale Project to host a monthly book club, and our librarians will be there on Tues., June 28, partnering with Ferndale Pride for a special Pride-themed event discussing Let's Go Back to the Party by Zak Salih.
• Local artist Loralee Grace will be showing some of her amazing artwork here throughout the summer, with dazzling paintings celebrating our rich environmental and cultural diversity. Check our website for information on a Reception and Artist Talk (set for June 30).
Finally: don't forget to try out our online resources! We have databases, craft tutorials, streaming movies, and an odyssey of eBooks and audiobooks, all of which you can access with your Ferndale Library card.
Visit www.fadl.org for more information.