By Ingrid Sjostrand
ANIMAL CONTROL OFFICERS ARE OFTEN portrayed in movies and cartoons as a bad guy in a van chasing pets with their net. That stereotype is fading, and Hazel Park's Animal Control Officer Justin Holland proves he is the furthest thing from an evil dog snatcher.
"Our primary goal is get every animal home. But a more realistic goal is for everyone to have their animals properly vaccinated and licensed," Holland says. "We just want to get animals back home where they belong."
Holland is the only full-time employee of Animal Control and is assisted by a small group of volunteers – currently only about eight, but they are always in need of more. The shelter holds a maximum eight dogs and 16 cats at one time, so volunteers are needed 365 days a year to feed and walk animals, clean cages and other duties. They are required to staff the office, located at 24211 Couzens Ave, between the hours of 7:00 A.M. to 9:00 A.M. and 6:00 P.M. to 8:00 P.M.
"Becoming a volunteer is easy. You drop off an application, which is available online at our web site or on Facebook, we conduct a light back-ground check and, once approved, you begin training and can start to volunteer," Holland says. "The total turnaround time is about two weeks."
Their goals might seem lofty when you consider the small staff at Animal Control, but they are making an i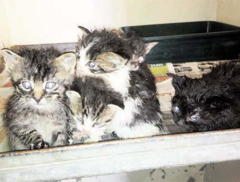 mpact in some surprising ways – like through social media. After reuniting a senior dog and its owner, the resulting Facebook post went viral, and led to a surge in social media followers and an increase in responses to posts about missing pets.
"Our moment was serendipitous; we posted a photo of their reunion on Facebook and – previously we would get close to 1,000 views on posts and photos – all of a sudden this re-homing post got 98,000 views. Then, our run-of-the-mill posts started getting 8,000 views, and now that's our average," Holland says. "That reunification is one of my favorite stories. Since then, social media has become a very powerful tool for re-homing, and it also works as a pre-screening tool for adoptees."
IN THIS YEAR ALONE, HAZEL PARK ANIMAL CONTROL has saved close to 100 percent of animals it finds; placed nearly 40 percent of found animals in new homes and reunited closer to 50 percent of pets to their owners.
Hazel Park Animal Control participates in adoption events throughout the year to increase those numbers, including the Detroit Zoo's adoption event Meet Your Best Friend at the Detroit Zoo. They also host a low-cost vaccination event in the Spring and Fall with Warren-based All About Animals Rescue to encourage owners to vaccinate their pets for only about $30.
Holland says the success of the shelter is in large part due to the City's prioritizing of Animal Control in their budget and using their resources to help the Department. Recently, Hazel Park helped obtain a 2017 Ford Transit van for Animal Control's use. The department also wouldn't accomplish what it does without the people that live in Hazel Park and their love for animals.
"My favorite thing about Hazel Park is the residents' willingness to help, and the close community feeling we have in this city," Holland says.