SAT JUNE 22 | THE FRONT PORCH | ALL OVER FERNDALE
By Sara Teller
EACH YEAR, THE FRONT PORCH FESTIVAL BRINGS FERNDALE RESIDENTS TOGETHER for a day of music on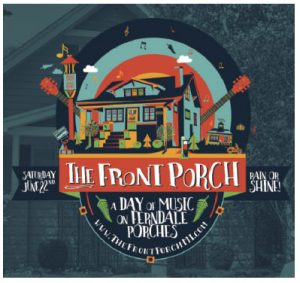 neighborhood porches with a variety of bands playing an eclectic mix of tunes. Planning for this year's event is well underway. "We are looking to have a porch this year dedicated to children's music," said Michael Benghiat, its founder and executive producer. "Additionally, we are always looking at components outside of music such as comedy or spoken word on porches in between performances."
He added, "From day one we've always explored how we can extend the Front Porch brand and the event past the 6:00 P.M. cutoff into the downtown area." The idea would be for merchants and venues to host music well into the night. Benghiat called the concept "kind of like a Front Porch at Nite."
This summer, the line-up is also set to expand. "The first two years we focused on just getting the event under our legs. This year, however, we just may accomplish something like this," Benghiat explained. "Last year we had twenty-seven porches and fifty-seven performances. This year, if we choose, we can have as many as thirty-five porches" which would equate to seventy performances. However, he said there is a need to "try to keep the footprint as tight as possible so that attendees can easily get from porch-to-porch and see as much music as possible."
There will be some return acts from the first two years as well as new entertainment with submissions being received from bands all over Michigan. Benghiat said, "While the concept of music on porches fits so well with the folk, singer songwriter and Americana genres, we have submissions from performers labeling themselves as powerpop, blues, jazz, classical, gospel, house/dance/EDM, worldbeat improv, hip-hop, funk instrumental, modern country and more."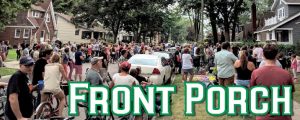 In addition to planning the festival, The Front Porch television show is still in the works. "We're still working on the production of a potential show, which may not necessarily be on a TV platform per se," Benghiat said. "The most important component needed, of course, is funding. We're still seeking the needed funding to produce a ten-to-thirteen-episode series." 
Benghiat is pleased with the success of the first two events and is thankful for the support received. "Enough cannot be said for the tremendous support we receive from Ferndale residents to lend us their porches that are turned into stages for the day and all the artists and performers for their willingness to participate," he said. "And, we so appreciate our partnership and collaboration with the City of Ferndale and police."
For more information, check out www.thefrontporchmi.com.
SAT-SUN JUNE 1-2 | PALMER PARK
Palmer Park Art Fair
DETROIT'S PALMER PARK hosts one of the area's most beautiful boutique art fairs on June 1-2. The artist tents are in a serpentine pattern winding near the lake and up to the log cabin. This creates a relaxed environment inviting shoppers to take their time and explore. The jurors for this show tend to select artists that enhance that calm atmosphere, though there certainly are some of the edgier Detroit artists participating. The show features over 60 professional artists from across the region and also includes more emerging artists than just about any other juried art fair. Mint Artists Guild, the teen art program that has a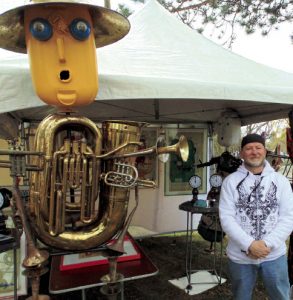 small presence at the Funky Ferndale Art Fair features as many as fourteen teens in a group tent. The Detroit Fine Arts Breakfast Club adds another ten adult emerging artists. Breakfast Club tent participants are new to art fairs and include artists in their twenties and others close to seventy. This year the fair adds an authors' tent, featuring area writers. Food trucks and a beer tent round out the offerings. The art fair is June 1st and 2nd. Saturday hours are 10 AM-7 PM, Sunday 11 AM-5 PM. Free parking is available in area lots and along Merrill Plaisance. To get to the art fair head south on Woodward and take the first right, about 3/4 mile south of Seven Mile. Information and artists lists are at PalmerParkArtFair.com. 
SAT-SUN JUNE 22-23 | ST MARY'S ORCHARD LAKE
Fine Art Fine Wine Fair
THE FINE ART FINE WINE FAIR WILL BE HAPPENING AGAIN at St Mary's June 22-23, featuring dozens of juried fine artists with one-of-a-kind exquisitely crafted works. Artists from many states participate and display works of painting, mixed-media, fiber art, drawing, jewelry, sculpture, and many more categories. We will also have wine tasting tickets available so that you can enjoy your art shopping experience while tasting an amazing variety of wines. For details visit FineArtFineWineFair.com. The Grosse Pointe Art Fair will also be returning for its second year to the Grosse Pointe Yacht Club May 18-19 in partnership with the Great Lakes Boating Festival, which has free admission and free parking at the high school with a complimentary shuttle. For more information visit GrossePointeArtFair.com.