June & September Event Previews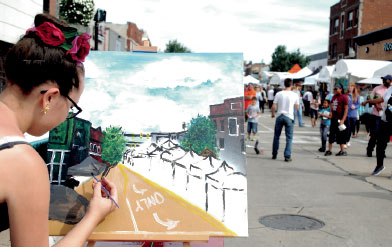 SAT-SUN JUNE 8-9 | DOWNTOWN ROYAL OAK
The Art of Fire: Clay, Glass, Metal
ONE OF THE COUNTRY'S 50 FAVORITE ART FAIRS, the Royal Oak Clay Show started 25 years ago as a project of the Oakland Community College. It was a cool and eclectic event. We're told that artists would show up the morning of the show and choose their spot from what was left. No jury or curation. The only rule was that everything had to be made out of clay. 
By 2000, the ownership of the show had transferred to the Royal Oak Chamber and they were interested in updating it into a juried art fair. A group of artists met and decided that they should add glass art to the mix. After all, they were quite similar, and it would add some variety to the show. Other than experimenting with music and layout the show stayed pretty consistent from then until 2009 when the group decided to add metal.
Metal was a popular addition. The focus remained on art created with flame and all three mediums lent themselves to dramatic demonstrations. Sunshine Artist Magazine designated the show one of the top 100 nationwide in 2010. A few years later Art Fair Calendar designated it a top 50 show.
Last year the show committee decided that it was once again time to refresh the show. The new name, Art of Fire, emphasized what makes this show unique. The show doubled down on demonstrations and hands on activities, with dramatic flame-filled action. A group of fire performers added related entertainment. Each of these areas will be returning, and there will be more and larger demonstrations. This year the plan is to add in more hands-on project activities for those that want to experiment in these mediums.
THE SHOW IS STILL TRUE TO ITS ROOTS of showcasing artists from across the country.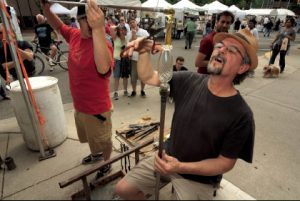 Some new attendees start out wondering how there can be 120 artists in just three mediums without many things looking similar. They come away impressed by all the ways that minerals and flame can play out in functional and decorative art.
The Art of Fire is June 8-9 on Washington Street in downtown Royal Oak. Show hours are 10 AM until 7 PM on Saturday and 11 AM until 5 PM on Sunday. Admission and demonstrations are free as are many of the hands on art projects. Some projects have a small fee. Juried artists will be selling functional items such as mugs, glasses and jewelry as well as decorative art, with everything focused on the clay, glass and/or metal elements. More information is at www.artoffirero.com.
FRI-SUN | SEPT 20-22 | DOWNTOWN FERNDALE
Funky Ferndale Art Fair
By Eve Doster
FERNDALE'S DOWNTOWN DEVELOPMENT AUTHORITY describes the city's commercial district as a place that "continues to exceed expectations and maintain the economic vitality of the district." It's no surprise then, that the DDA has such a longstanding relationship with the Funky Ferndale Art Fair, a popular annual juried art fair that celebrates its sixteenth anniversary in Downtown Ferndale this year.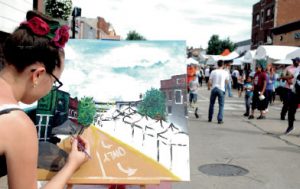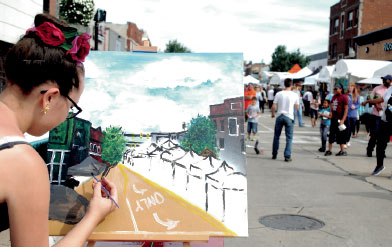 Funky Ferndale has had nearly two decades to perfect the signature "edginessmeets- high-end-art" mien that has made it a popular destination for art fair fans, families, and serious art collectors alike. It has become a mainstay in the evolving Downtown Ferndale festival scene; and, not unlike the DDA who helps to make it all possible, Funky Ferndale has exceeded original expectations.
"When we first started off, we just wanted to bring original artwork to the people of Ferndale, who we've always considered culturally curious and progressive," says event producer Mark Loeb of Integrity Shows. "We feel a strong bond with folks from this community."
The event's continued success has made it one of the more competitive art fairs in the region–which means that the 100 (or so) artists who are handpicked to show are selected from hundreds of submissions from independent artists from all over the United States.
The artwork ranges in scope, medium and price; which makes it ideal for art lovers searching for everything from rare Halloween decorations and handmade holiday gifts, to serious buyers looking to grow their fine art collections. It's a fun and easy way to support independent art and an even better way to meet the artists themselves.
AND WHILE FUNKY FERNDALE'S JURORS ARE CHARGED with handpicking a broad spectrum of the most interesting art they can—make no mistake, this is one art event that does not take itself too seriously. In addition to the affable nature of event organizers themselves, Funky Ferndale is not afraid to get a little weird. Take for example past-featured artists like the Florida man who handcrafted Australian wind instruments called digeridoos or Zachariah Ribera, a creative thinker who made art from molted spider skins.
"We really take into account whether or not the artwork is 'funky,'" says juror Kelly O'Neill. "It's the lens through which the all the selections are made." To be sure, attendees appreciate the opportunity to buy one-of-a-kind art that they can't find anywhere else. And in some cases, it's precisely the reason they come back year after year.
"I always do early Christmas shopping here because I know I can buy my friends and family gifts they'll love and feel good about receiving," says Funky Ferndale Art Fair patron, Amy Surdu of Detroit. "There's an intangible value to buying gifts that were made by hand and with passion."
Indeed, it's no mistake that Loeb selected Downtown Ferndale as the place to hold his "funky" event all those years ago…and it's no mystery why he remains. "Ferndale is an eclectic and unusual town that deserves a more interesting art fair," Loeb says. "We believe that art shouldn't just sit there looking pretty, it should invite conversation."
The Funky Ferndale Art Fair is Friday, September 20 – Sunday, September 22 in Downtown Ferndale. Hours are Friday 3-7 P.M.; Saturday 10 A.M.-7 P.M.; and Sunday 11 A.M.-6 P.M.
Deadline for artists to apply is Friday, May 17, 2019. Online applications available at: bit.ly/ApplyFFAF19