SINCE ITS INCEPTION IN 1840, THE BERKLEY SCHOOL DISTRICT HAS ENJOYED REMARKABLE SUPPORT from the community, including businesses and families outside of the District.
"The incredible success Berkley students experience is possible in part because of the overwhelming community support provided at every level to ensure they are provided with a state-of-the-art educational experience," explains Director of Communications, Jessica Stilger.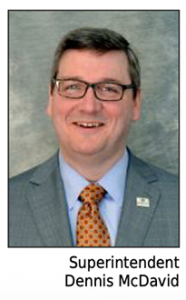 SUPERINTENDENT DENNIS MCDAVID BEAMS ABOUT HIS STAFF. "WE ARE NOW WELL UNDERWAY into our 2020-21 school year. The year has started out with remote learning, and I am incredibly proud of all our students for their perseverance. I am also deeply proud of our educators for their willingness to try new things and be nimble during this online learning time. They have stretched themselves to make sure they can deliver content with fidelity and form meaningful relationships with their students. I have never been more proud of our team for putting students first and thinking of all the ways we can support our learners while learning remotely.
"While this school year does look and feel differently, some things are still the same. Over the Summer of 2020, we had quite a lot of Sinking Fund work completed. Roof work was completed at Rogers, BHS, Anderson, Building Blocks and Burton. Parking lots were re-paved and repaired at Norup and BHS. Media Center carpet was replaced at Angell, Burton, Rogers, Anderson and Norup. We have many more projects in the works for this coming year. We are grateful for the community's ongoing support and investment in our schools.
"We prepare our students to be creative, curious, confident, and critical thinkers. This year, we will reinforce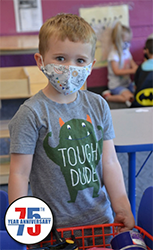 these principals with the notion of being flexible and adaptable to ever changing situations. We know our students are up to the challenge because they are always impressing us with their knowledge, growth mindset and their ability to adapt to ever changing situations.
"Our students enjoy the multitude of experiences and successes because of the overwhelming community support, the fantastic work of their great teachers and administrators and the rich and vibrant environments that parents create. We believe we are all in this together for the benefit of all our children."
THERE ARE SEVERAL WAYS ONE CAN BECOME A PART of the Berkley School District. Residents who live within the District's boundaries are welcome to register directly with the enrollment office. If a family is uncertain whether their residence is within the boundaries, there is a map available online or at the enrollment office.
Each year, the Board of Education also has the opportunity to approve School of Choice slots for a limited number of students in grades TK-5, and there are a set number of openings in 9th grade for the Berkley High School (BHS) Scholars program. Although the Board has approved the School of Choice slots the last several years, availability is reassessed on an annual basis and the continuation of this program is not guaranteed. Additionally, if the number of applications for School of Choice received after the program is approved exceed the number of openings, a lottery is held to place students. If a student's name is drawn, they will be allowed into the District.
According to the District, Berkley students "are prepared to be creative, curious, confident, and well-rounded critical thinkers who are kind and caring and have a global perspective while understanding their communities." The District has been named one of the state's recipients of the Best Community for Music Education award nine years in a row.
BHS was named a Best High School by the U.S. News & World Report in 2020, among the top eight percent of high schools in the nation. In 2018, it was one of 175 schools in Michigan to be honored with the GreatShools.org College Success award, demonstrating the District's commitment to preparing its students for continued success after graduation. BHS was also named to the Washington Post's 2017 Most Challenging High Schools list, ranking 21st in Michigan and 1,575 in the nation.
"Berkley School District is known for being dedicated to creating pathways for students to achieve their individual best, whatever that looks like for each student," says Stilger. And Superintendent McDavid is leading the charge, ensuring students are supported not only while achieving their educational goals, but also while reaching their career goals after they move forward in their journey.
BHS CURRENTLY OFFERS 26 ADVANCED PLACEMENT COURSES and students are able to attend courses at the Oakland Schools Technical Centers. Outside-of-the-box courses include zoology, forensics, Encore! show choir, creative writing, film studies, history of the Holocaust, marketing, computer programming and many more. Students can also participate in the school's newspaper, or learn robotics, foreign languages or video production while still in middle school. Many middle school students complete high school credits while attending Anderson or Norup.
Berkley's elementary schools offer opportunities for children to excel at their own level and pace by utilizing the Cultures of Thinking & Writing Workshop models. This allows administrators to gage each student's individual needs for furthering their academic growth.
Berkley offers a wealth of opportunities for middle school and high school students to join clubs and sports.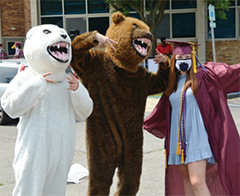 Middle school sports include softball, base-ball, football, basketball, track and field, cross country, wrestling, swimming, volleyball, golf, tennis, and clubs include yearbook, robotics, and art and drama. BHS offers football, basketball, swimming, soccer, wrestling, and cheerleading, among others, as well as club sports including hockey, figure skating, the dance team, and rugby. At BHS, students can join over 60 clubs, including unique offerings such as the vine-and-cheese club, drama, and the future teachers club.
Berkley's students have been named All-State and Academic All-State honorary recipients for activities such as swimming, track and field, baseball, golf, hockey, and soccer. Twelve student athletes signed with colleges and universities during the 2018-19 school year. The BHS Orchestra was also one of three high school orchestras nationwide invited to play at Carnegie Hall in 2019 for the World Stride Music Festival and Berkley High School was the first school in the state to adopt Sources of Strength, a peer-led wellness program that benefits all students.