9 Mile Redesign Completed!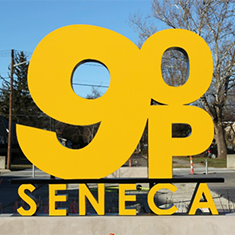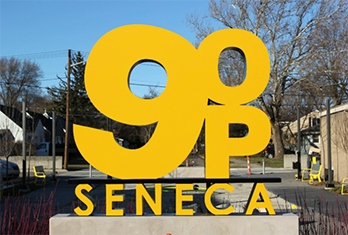 By Eric Freeman – Strategic Communications Specialist, City of Oak Park
OAK PARK'S NINE MILE REDESIGN PROJECT BEGAN IN 2014 WITH THE GOAL of creating a vibrant streetscape, vigorous community culture, and additional opportunities for both businesses and consumers. The plan included projects such as a road-diet, back-in angle commercial parking, bike lanes, trailheads, and new public spaces.
THE CITY HOSTED A GRAND OPENING EVENT LAST FALL WITH A NUMBER OF ACTIVITIES for residents and visitors along Nine Mile Road at the Sherman and Seneca Pocket Parks, the Connector Park, and the Trailhead. We celebrated with free food, giveaways, demonstrations and a ribbon-cutting ceremony attended by City Manager Erik Tungate, Mayor Marian McClellan, members of Oak Park City Council, and a host of residents.

The following is a breakdown of Oak Park's Nine Mile Redesign strategies:
Road-Diet
A road-diet is a tactic for improving driver and pedestrian safety by reducing the number of driving lanes on a street. Last year, Oak Park residents initiated a Facebook discussion about integrating pedestrian and bicycle access on the City's main streets. The City conducted a traffic study and learned that there was no need for five driving lanes on Nine Mile Road, and that reducing the number of lanes would not significantly impact automobile travel times. As a result, the automobile lanes were reduced from five or four lanes (depending on the area) down to three lanes, creating a safe path for cyclists between the sidewalks and the road. This strategy also has the potential to lower auto accident statistics by 19-47 percent. The lane replacement project includes on-street parking, a walking area, and bicycle lanes.
Back-In Angle Commercial Parking
Instead of requiring standard parallel parking along Nine Mile Road, the City has implemented a safer, back-in angle method. Drivers have a clearer line of sight to detect oncoming traffic as they exit parking spots. The requirement also makes more room for additional parking spaces.
Trailheads
Trailheads are monuments that mark the center of bike lanes and walking paths. The display features a directional kiosk, public art, and information about bicycle-related amenities.
Bike Lanes
Bike lanes are essential in the redesign since statistics show that they help significantly lower accidents and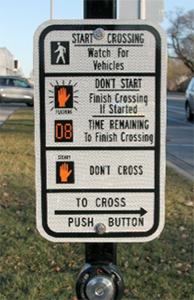 injuries. Also, bike lanes are expected to help increase consumer activity at local businesses.
New Public Spaces
Another redesign strategy is to increase the number of leisure spots for public enjoyment, such as the two pocket parks on Seneca St. and Sherman St., and the linear park along the Nine Mile Road corridor. Due to their aesthetic appeal, pocket parks have the potential to boost home values by $10,000 for residential owners on nearby blocks. The City currently estimates close to 900 visits to Oak Park's pocket parks per week based on WIFI logins. The second phase of the project will result in additional public spaces along Nine Mile Road westward to the border of Southfield.
For more information regarding the Nine Mile Redesign
project, visit the City's website at www.bit.ly/NineMileRedesign
or like the City of Oak Park's Nine Mile Redesign Facebook
page at www.facebook.com/NineMileRedesign.