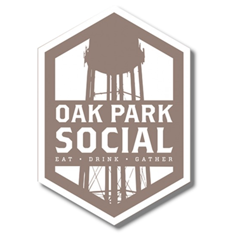 By Colton Dale
ONCE A DULL AND DRAB LIGHT INDUSTRIAL CORRIDOR, ELEVEN MILE RD between Greenfield Rd and Coolidge Hwy. is going through a total transformation. Much like the Nine Mile Redesign, City officials saw potential in Eleven Mile that hadn't yet been unlocked. So, they took it upon themselves to make a difference and bring out the best in one of Oak Park's unique business districts.
IN 2018, ECONOMIC DEVELOPMENT DIRECTOR KIM MARRONE AND CITY PLANNER KEVIN RULKOWSKI worked with the Oak Park Planning Commission to rezone three blocks of Eleven Mile between Greenfield and Coolidge; the blocks between Tulare St. and Gardens St. to be exact. They were rezoned from LI (Light Industrial) to a brand new zone called MX-1 (Mixed-Use).
Previously, those three blocks were zoned for things like small manufacturing, warehouses, storage facilities and other light industrial operations. Now, the allowed uses are much more exciting and consist of business types aimed at drawing in people from all over the region: restaurants, breweries, coffee shops, bakeries and more. The three rezoned blocks are specifically prime for this new classification because of the large public parking lots in the rear. Since the rezoning took place, investment and development in the area has taken off.
Unexpected Craft Brewing Company
THE FIRST BUSINESS DEVELOPMENT TO BE ANNOUNCED AFTER THE REZONING was Unexpected Craft Brewing Company (UCBC), at 14401 Eleven Mile Rd the former location of a small parts manufacturer. Originally
announced in 2018, this project has faced considerable obstacles but is moving forward with perseverance. UCBC will be the second location for proprietor and head brewer Edward Stencel of River Rouge Brewing Company in Royal Oak.
The new brewery will house brewing operations as well as a tasting room (and possibly space designated for food trucks), and it was all made possible by a $100,000 grant from the Michigan Department of Agriculture & Rural Development (MDARD). The MDARD grant helped Stencel cover the costs of the expansion and purchasing new brewing equipment.
"Ultimately, this grant allows us to expand into Oak Park. Without it, it would be very difficult to make this jump because of the overall costs and expenses of the project," said Stencel at the time. "It's going to help with the infrastructure, the plumbing and adding additional cold rooms, as well as allowing us to use more Michigan agricultural products and increase our overall production."
Look for Unexpected Craft Brewing Company to open on Eleven Mile in the coming months.
Oak Park Social
ANOTHER EXCITING DEVELOPMENT OPENING SOON ON THE ELEVEN MILE CORRIDOR IS OAK PARK SOCIAL, a gastropub to be located at 14691 Eleven Mile Rd.
First announced in May 2019, Oak Park Social sits right under Oak Park's iconic and newly renovated water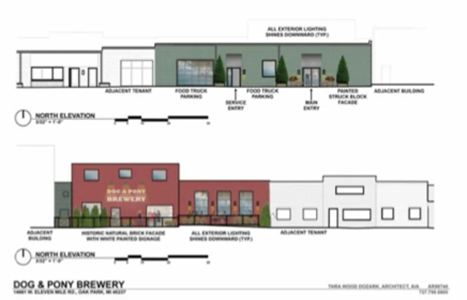 tower. It will feature an outdoor patio and offer a menu consisting of artisan-inspired New American cuisine that features unique shareables, chef-driven entrées and vegetarian options.
"We knew Oak Park was a great choice because of their recent investments in infrastructure and their strong focus on economic development," said Oak Park Social proprietor Alexander Bishai. "We sincerely believe in Oak Park and the City's vision for Eleven Mile Road. We will continue to invest in the City of Oak Park and assist in forging the path for Oak Park to be labeled as a destination for food, spirits and hospitality in Metro Detroit."
Scheduled to open this Summer, work was stalled for a while and the project pushed back due to the COVID-19 pandemic. Work has resumed, though, and residents can look forward to this unique neighborhood eatery opening very soon.
Dog and Pony Show Brewing
IN ADDITION TO UNEXPECTED CRAFT BREWING COMPANY, Oak Park is getting a second brewery on Eleven Mile! Dog and Pony Show Brewing is anticipated to open up some time later this year or early next year in the old Randolph Tool Building located at 14661 Eleven Mile Rd. Unlike some other industries, two breweries in close proximity to each other can actually benefit one another. With their own unique traits and offerings, both brewing operations should draw plenty of interest.
Dog and Pony will be complete with an outdoor front patio, offerings of both beer and cider, and an event space for when larger social gatherings are safe to hold again.
Proprietors Aaron and Josh Gierada come from an entrepreneurial background and are determined to make their brewing operation a success. "Anything you do, you have to do with passion and we will make it a success," Kyle Gierada said.
Oak Parker
ANOTHER RESTAURANT IS IN THE WORKS on Eleven Mile – this one outside of the new mixed-use zone, though. Near the corner of Eleven Mile and Coolidge, Oak Parker will be a hip new bistro located at 13621 Eleven Mile Rd.
From renowned restaurant operator Joe Bongiovanni, Oak Parker will feature outdoor seating, a basement lounge, and various spirits. Of Salvatore Scallopini and OWL fame, Bongiovanni knows what it takes to bring a great eatery to a previously uncharted area and turn it into a massive success. Architecture firm Ron & Roman are designing the interior and exterior of the building to be modern, chic, and welcoming to all. Planned to open later this year, you'll definitely want to add this spot to your "must-try" list.
Kroger
IN ADDITION TO ALL THE EXCITING DEVELOPMENTS HAPPENING on the Eleven Mile corridor, the new Kroger grocery store will be located right around the corner on Greenfield. Currently wrapping up construction, the Kroger will feature a grocery pickup service, pharmacy, and a fuel center. The biggest development in Oak Park since FedEx, this project is sure to be another catalyst for growth on the Eleven Mile corridor as well as the shopping center directly adjacent to it.
With all that is going on in Oak Park, and specifically on Eleven Mile Rd, it's hard to keep up! Stay tuned for updates and announcements about even more developments coming soon. To learn more about the City of Oak Park's economic development efforts, visit their webpage.
www.oakparkmi.gov/departments/
community_and_economic_development/
index.php