BLACKSMITHS WORK WITH ARCHITECTS AND DESIGNERS, CUSTOM HOME BUILDERS AND PRIVATE CLIENTS TO BUILD one-of-a-kind functional art and heirloom quality pieces that will likely outlast us all.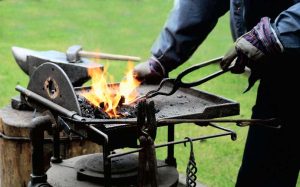 Iron gates, grills, railings, light fixtures, furniture, sculpture, tools are among the many items in your house or garden that might be craft- ed or eventually need repair by a blacksmith. Think about custom chandeliers and wine racks, fireplace tools and table bases, home address numbers, cabinet hardware, outdoor lanterns, and ornate backyard trellises.
It's a pretty intimidating subject to most homeowners! But once you get past your fears, the art of blacksmithing is quite fascinating.
And you might be surprised to learn how much of it is within your own grasp. The basic tools (forge, an anvil, a hammer, tongs and a vice) needed to do your own blacksmithing cost as little as just a few hundred dollars.
OF COURSE, YOU WILL ALSO NEED THE GUIDANCE OF A PROFESSIONAL BLACKSMITH. CJ Forge, in Hazel Park, is a modern day blacksmith shop that focuses on custom ironwork for the home and garden. They actually host classes private welding lessons now and are happy to talk to you about your project or whatever inspires you.
These blacksmiths are true artists and craftsman and ready to help anybody interested in ironwork. They're hoping to revive a dying art and they are reaching out to the community for your support. The shop is open full time to anyone interested in commission work and getting their hands dirty.
The most recent project, a mix of beauty and ruggedness was a large outdoor, botanical style sculpture for Seven Ponds Nature Center in Dryden, Michigan. It has hundreds of hand-forged chiseled leaves, flowers and vines, small bugs and whimsical birds, all wrapped around the entryway to their naturescape.
A nine-foot-tall tall garden gate was another recent, private commission comprised of life-like steel vines, leaves and brass coated flowers located next to a beautiful lake setting near Waterford.
A handcrafted, copper mailbox now adorns one of the most prominent homes in Palmer Woods and is sure to patina over time, only getting more beautiful with age.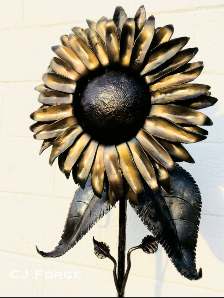 ANOTHER GORGEOUS ESTATE NEARBY IS HOME TO AN ELEGANT FORMAL GARDEN and contains multiple works of art forged by the smiths in hazel park. Striving to create a real sanctuary, an antique gate restoration surrounds their custom fountain and hopefully more is yet to come.
A unique sunflower shepard's hook was a fun local project for creative clients in Pleasant Ridge. The last custom piece recently shipped off in a solid wood crate destined for North Carolina: A custom made pot rack designed for a custom-made home.
To learn more about blacksmithing or if you need help with a project, contact CJ Forge at www.cjforge.net.