Ivy Salon: Beautiful Transformations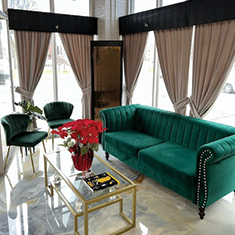 By Lisa Howard
DURING HER 25 YEARS REHABBING PROPERTIES, Timika Keathley has transformed a lot of ugly ducklings into swans.
"The before-and-after is what drives me," Timika says. "When I walk into a place that's unattractive, in my mind, I can picture what I'm going to do with it—I can see what it will look like when my work is done." Her passion for decorating and seeing possibilities has led her to rehab over 100 homes in Detroit, Southfield, and Inkster, and now she's added a commercial property in Ferndale to that list. The Ivy Salon opened in October of last year and the elegant space offers a full menu of hairstyling, lash and makeup services.
Timika first got into real estate after a conversation with a broker who was the parent of one of her daughter's schoolmates. The other parent suggested Timika get into real estate, telling her she thought she'd have a knack for it.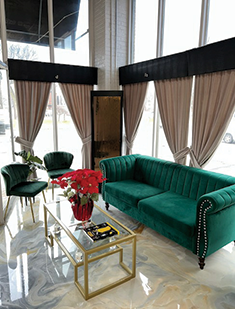 SHE RAN WITH THAT IDEA AND BOUGHT SIX HOUSES SIGHT UNSEEN but found they were in horrible shape. "I thought, 'Okay, let me make them beautiful," she says. "I believe that any property you buy, you should rehab it to the point where you'd want to live there yourself."
Her commitment to high-level renovating led to an award from the Land Bank in Rosedale Park about four years ago, for increasing home values in Rosedale Park with her flips.
Last summer, she was only halfway through an intense rehab of a completely gutted home when a realtor insisted on showing the home to a prospective buyer. The realtor was so impressed with Timika's vision for the house that she bought it for herself.
THAT KIND OF POSITIVE FORESIGHT IS WHAT PROMPTED TIMIKA to acquire the Ferndale property that she turned into The Ivy Salon. Timika used to frequent as a customer, when it had a different owner. Whenever she was having her hair done, she'd think, "Wow, this place could really use a makeover!"
Then opportunity knocked in March 2020. She threw herself into the role of designing and decorating, alongside her husband, Michael Green. Green has his own construction company and has done quite a bit of the remodeling for Timika's projects. Together, they made the salon more state-of-the-art and updated it for the new generation.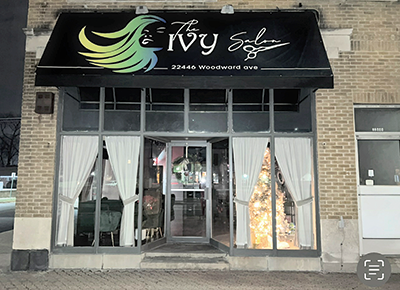 AS IVY NEARS ITS FIRST ANNIVERSARY, Timika continues to grow the salon's services and staff organically, approaching local cosmetology and esthetician schools to recruit licensed hair stylists, estheticians, makeup artists, and massage therapists. Although some stylists are looking for individual suites, Timika hopes her well-appointed, bright space will attract beauty industry professionals who prefer to work in a collegial atmosphere. In June, the salon will host a pop-up shop featuring a smorgasbord of beauty and haircare products, with more events to come in the future.
Timika would also like to expand her overall presence in Ferndale, both in terms of residential and commercial properties. "I want to make our state more beautiful," she says. "It's already a beautiful place, so why not take places that need some extra care and rehab them to make them even more beautiful locations where people can gather and visit?"
The Ivy Salon / 22446 Woodward Ave, Ferndale
https://theivysalon.business.site