Yeah Haus: An Animated Life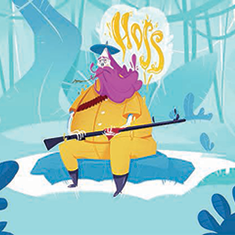 By Lisa Howard
MANY PEOPLE DREAM ABOUT MAKING A LIVING AS AN ARTIST, but Michelle Ouellette and Chad Thompson know exactly what it's like. They created their animation studio, Yeah Haus, back in 2013 and have been artist-ing ever since.
"We thought, 'We'll just do this until we run out of jobs.' And we still have jobs," says Michelle. She and Chad were both working at ad agencies but wanted to forge their own path that would allow them to earn income as creatives and pursue their own artistic projects. "I'm most proud of our short films because you can watch them years later and they hold up," Chad says. "They aren't based on trends the way commercial work is." Besides, purely personal projects are a chance to go outside of their usual lanes and learn something new.

Of course, building a successful small business – especially a creative studio takes time and determination. As Michelle and Chad point out, it's easy to look at a finished product like a film or a book and not see all of the work that went into creating it. And it is work, even when it's driven by passion and even when you can be choosy about who you work with. "I think a lot of being a creative comes down to how to not talk yourself out of continuing," Chad says.
FORTUNATELY, HE AND MICHELLE HAVE ESTABLISHED A SOLID ROSTER of clients and also a go-to list of partners they can call whenever they need to work with a collaborator. In many cases, those clients and collaborators go back years. Likewise, Michelle and Chad are not only business partners but have been married for ten years, with two kids under the age of six. They know the nuances of how to best balance their personal and professional lives.
Michelle is the illustrator; in her previous life at the ad agency, she worked as a designer and 3D artist. Chad is the creative director. In BYH times (Before Yeah Haus), he worked in post-production doing motion graphics and editing.

Together, they've created mixed media projects, 2D and 3D animations, a swath of commercial works, and their own short films. "I love to draw! That's all I want to do," Michelle says. "If I can't ever draw for myself, then what's the point?" Chad agrees — every artist, he says, has "back-burner stuff," the kind of projects that keep the fires of creativity burning bright. That's why they purposely leave some space in their schedules to accommodate their filmmaking.
ONE OF THEIR SHORTS MADE IT INTO A FILM FESTIVAL IN CANNES! (Yes, they were able to see it screened live.) They count that along with their work for Adult Swim, Disney, and various LA film festivals as some of the highlights of their joint career.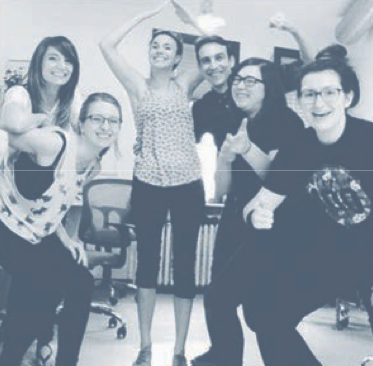 Their tidy studio includes an audio room with all the tools Chad needs to do his sound design and editing while Michelle is busily sketching and illustrating in the adjoining room. They also tackle soundtracks – not only is Chad a musician, his brother was a touring musician and joins in the music-making.
Living in an inherently creative community like Ferndale also helps. "It's easy to find a wizard guitarist on the other side of Woodward who'll come over to record," Chad says. But at the end of the day, what they treasure most is being able to collaborate and create with friendly, talented, and reciprocal partners. "It's important to us that when we finish something, people are happy," Michelle says. "We've found our little niche and we're not stopping."