By David Ryals
SANDA COOK'S PAINTING IS INFLUENCED BY THE BEAUTIFUL LANDSCAPES AND ARCHITECTURE OF HER NATIVE ROMANIA. She studied art at the Brasor School of Arts, and her travels throughout Europe, Japan, and the U. S. have given her work a unique perspective and style. Cook has shown her work extensively in Metro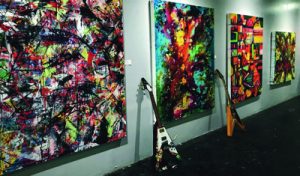 Detroit, including exhibits at the Scarab Club, River's Edge Gallery, Downriver Council of the Arts, Carr Center for the Arts, Detroit Artist Market, Grosse Point Art Center, Ariana Gallery, 4731 Studio, and the Padzieski Art Gallery. Here in Ferndale, she's recently had showings at Level 1, the Conserva, and M Contemporary.
In an exclusive interview with Ferndale Friends she said, "Art for me is a way of being alive, of connecting myself to the mysteries of the universe, nature, and the magnificent human soul."
Though she has lived and studied abroad, she has settled into Detroit and considers it her permanent home. The city has adopted her and vice versa.
"I've loved teach painting classes at my studio in Hamtramck over the last few years, and a couple of my students are selling art and showing in galleries after just a little over a year of taking my monthly classes. I am so proud of them, and I am happy to inspire others. I also do individual art classes. I love to give back and help with my art donations. This year will be my third year of supporting the Matrix Foundation, and I have painted two Little Free Libraries in the last two years. One is in front of Belle Isle Conservatory, and the other will be in Berkley in front of the beautiful art store, Vitrine Gallery & Gifts."
Her travels have inspired her art in lots of different ways. "I love to travel and explore the cultures and people of different countries. I am a U.S. citizen, and very thankful to live in a country with such great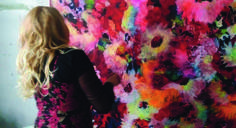 opportunities. Romania is my birth country, and growing up I enjoyed the outdoors and nature after school with my watercolor supplies. I started to paint at ten. Both places, Romania and Michigan, have their unique beauty. I love to capture in my watercolors or canvasses the beauty of places and people. Each country has its particular energy, traditions, and beauty and I love to immortalize. I take my sketchbook and water-colors everywhere to make sure I don't miss any opportunities."
ALONG WITH PAINTING, Sanda is a tarot card and palm reader. "When I was 27, I too a class reading palms and tarot. I worked from 2004-2009 for Cosmic Eyes in Wyandotte and from 2012-2017 at the wonderful Boston Tea Room in Ferndale.
The subjects of her work are bent towards nature and the cosmos. She explained what draws her to these subjects: "Nature is pure beauty. Mother Earth is so loving and generous with humans. I love the art of Vincent Van Gogh, Georgia O' Keefe, Frida Kahlo, and Jackson Pollock. When I walk into the forest, I feel home. It is pure, it is peace, it is magical. I feel the same swimming or being next to the water."