By R. Ennis
GETTING A NEW BUSINESS OFF THE GROUND CAN BE CHALLENGING. You may face problems with finding a good location, remodeling that space to fit your needs, and securing the right staff to help you run it. Even after you have surpassed all those hurdles, you still may encounter another obstacle: Coming up with the appropriate signage and graphics for drawing in the public.
Meet J. D. Bayer—who, together with his ATS Signs Partner Steve Corby, can help you spread the word about your products and services. Bayer has been working in the fields of videography, photography, and graphic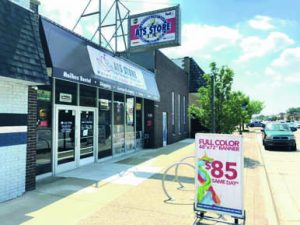 design for over 15 years. His more recent experiences as a sign designer brought him to the attention of Corby, who hired him to enhance the graphics for Corby's Anything That Ships (ATS) Store. Impressed with Bayer's work, Corby suggested that combining their know-how would benefit others.
"I designed the sign atop the building, the window and van logos, and the banner in front of the counter," Bayer says about the Hazel Park site. During the time he set about those tasks, "Steve and I talked about how our businesses complement each other quite well. We saw how we can offer everything a new business needs to promote itself."
Corby opened his Anything That Ships Store about a year ago. The expansion of the space to include ATS Signs occurred about two months ago. To let the community know about the broader range of ATS services, they literally took to the Hazel Park streets and
approached local business owners about working with them to find solutions for meeting their advertising goals.
BAYER AND CORBY HAVE ALSO FOUND WAYS to promote their services in-house.
When people come in to ship things," Bayer says, "we might ask them whether (the packages) are for a business. If they answer 'yes,' the conversation moves forward from there."
The strategies have helped to keep Bayer busy with many projects. His clients include Sneaker Pimp, a local high-end athletic wear company, and Robertson Custom Painting in Madison Heights, specializing in painting residential properties, for whom he created both its business cards and yard signs. Presently, he is making enticing graphics for Universal Jewelry & Loan in Hazel Park.
In the meantime, you can visit www.theatsstore.com for more information on ATS and its full line of printing, packaging, and shipping services:• Digital printing, copying, and finishing services:
• Mail box services
• Packaging, shipping & receiving
• Moving supplies & packaging materials
• Additional products & services – faxing, key cutting, notary, document design (such as invitations), etc.
If signage is what you want, Bayer encourages you to contact him, or stop in to his office at ATS and discuss how he can develop materials well-suited for marketing your business. Even if your advertisement ideas are beyond his immediate scope of expertise and cannot be produced at the shop — LED signs, for example, and other dynamic displays — he says he will do the research and collaborate with other designers to make them happen.
"Our goal is to be the place to go to for your media needs."