By Jenn Goeddeke
BLUMZ BY JR DESIGNS is certainly not your 'average' flower shop –they go above and beyond in providing a variety of services and, of course, outstanding product.
Co-owned by Jerome Raska and Robbin Yelverton, Blumz continues to thrive in two full-service retail locations: 1260 Library Street in Detroit, and also at 503 East Nine Mile Road in Ferndale. Raska and Yelverton continually strive to impress their customers with award-winning floral designs, all-occasion gifts,
one-stop event planning, and tuxedo rentals. Additionally, this entrepreneurial team is driven to give back to the community through involvement in a host of activities, such as: charitable events, education, the Rotary Club and the DDA.
In a recent conversation with Raska, I learned more detail on the formation of Blumz 15 years ago, and its steady development since.
Raska grew up on a dairy farm in Armada, MI. He always had a passion for the outdoors, and was also creatively-inclined. Early classes taken by Raska include art and textiles, which led initially to work in the field of fashion and merchandise. Additionally, he worked at the Royal Oak Farmers' Market on weekends, with some members of his extended family. "We were selling mostly vegetables, and some flowers. People began asking about floral arrangements for weddings. I saw this as an opportunity to start a retail flower business."
Raska worked both "smart and hard," opening small retail flower shops in country areas, plus traveling extensively as an educator in the floral industry. Prior to the birth of Blumz, Raska also worked as a general manager for large flower companies. On his travels in the industry, he met Yelverton, "…and the rest is history!" Raska added with a laugh.
The Raska-Yelverton connection was instantly strong, so before very long, Yelverton moved from Mississippi to work directly with Raska. Together, they purchased a location in the heart of Detroit. Raska added that this bold business move was made back before Detroit was considered 'cool', and many close friends were questioning their decision.
By way of a more in-depth explanation by Raska: "It was a ground-floor opportunity, and we were able to watch as the city was basically rebuilt…young families were moving in, and many of the 'hottest properties' now had waiting lists. It had become 'electrifying' in terms of events, festivals, live music, art, and so on. We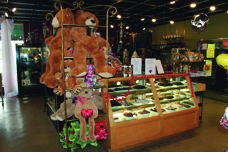 worked there for the first year, and loved it, but we also needed more space to work on events. Ferndale was just starting to 'turn around' in terms of retail development. We found a location off 8 Mile Road, just across from the State Fairgrounds. Originally, we planned to open it as a full warehouse, with a space outside to pull up a truck." Despite warnings from friends and family (such as: "the cars on Eight Mile go too fast!"), this location became not just a warehouse, but also a lucrative retail location.
Following their success on Library Street in Detroit, and then on Eight Mile road in Ferndale, Raska and Yelverton were encouraged to hear of a new space opening up, one owned at the time by another florist, Nature Nook. Raska immediately reached out to ask about a possible purchase, "…they already knew me from my work in the industry, and they liked our business model!" Within two weeks of negotiations the deal was sealed, and Blumz on Nine Mile became a reality.
Eleven years later, and the energetic duo are forging ahead with their typical enthusiasm! Having just won a coveted National "Best of Weddings" Award this year from Wedding Wire Couples' Choice, Raska and Yelverton could not be happier. Although both have won many individual achievement awards in the past,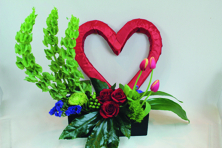 plus previous awards for Blumz, this one was special. Raska commented, "…this was a complete surprise for us…we were nominated without even knowing it, so the actual award came as a wonderful recognition! We are not afraid of hard work, and have a real passion for what we do…that passion comes through, then people respond to it…we are very blessed."
Regarding the future direction of Blumz, Raska said with a smile: "We never say no to opportunity!" Clearly, Raska and Yelverton share a love of both Detroit and Ferndale, with only positive things to say about the two cities.
What is the best part of Blumz? Without hesitation, Raska responded, "It is celebrating the special occasions in people's lives, and making them more memorable and festive…whether or not the occasion is happy or sad, we can always provide beautiful product!"
Blumz is located at 1260 Library Street in Detroit, 48226 and at 503 East Nine Mile Road in Ferndale, 48220. Phone numbers for the two locations are (313) 964-5777 and (248) 398-5130 respectively.
Visit their website for more information, or to shop online: www.blumz.com.
For more about Blumz weddings, visit: www.Ourprettywedding.com.
Connect on Facebook at: www.facebook.com/Blumz.
Ferndale Store Hours are: M-F, 9am-7pm; Sat, 9am-5pm; Sun, 10am-3pm.
Detroit Store Hours are: M-F, 8am-6pm; Sat, 10am-3pm; Sun, Closed