Michael Wiggins 1965 – 2016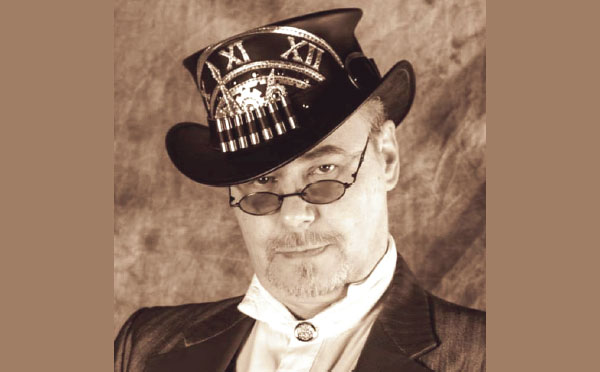 By Cheri Clair
On May 21st, at the Dearborn DoubleTree Hotel, a memorial service was held for local, much-loved entertainment impresario and Pagan leader, Michael Wiggins. Attendees were encouraged to come and "raise a glass to honor the man who thought that nothing was better than a good party."
Wiggins died of a heart attack on May 4th, at the age of 50, leaving his loving wife Cindy a grief-stricken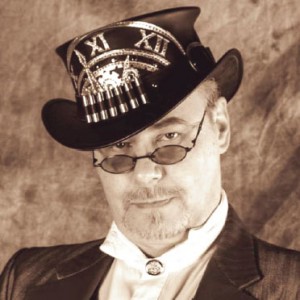 widow, and numerous others just as devastated. Wiggins was named Detroit's "Pagan of the Year" in 2013, and was the longest-serving president of the Magickal Education Council. He also helped organize an annual four-day Pagan conference known as ConVocation, and was affiliated with the annual Renaissance Fair.
On May 24th, I spoke to Steven Gamburd, the current co-owner of the Phoenix Cafe in Hazel Park. The cafe was launched as an art studio and entertainment venue by Wiggins and others in September of 2009.
Gamburd was in place as the Art Gallery and Special Events Curator at that time. He became co-owner, along with Hans Barbe, in 2013 when Wiggins schedule would no longer allow him to run the venue himself. Gamburd, was clearly in great distress over the loss of Wiggins. We discussed memorial service and the many affiliations Wiggins had in the Pagan and art communities. Gamburd proudly spoke of Wiggins' own art and his popular steampunk dance parties.
Co-owner Hans Barbe shared the following: "I met Michael in 2009 when putting together what became the Phoenix Cafe. He was interested in the concept of a community arts space that was all about amplifying people's unique talents and passions. When one of the leaders of the effort defected from the project, Michael stepped into the void. He was the one who named the venue and was the face of it for its first three and a half years.
"It's not every day that you encounter a single human being possessing all his attributes: a powerful mind, wise temperament, compassionate heart, creative talent, leadership skills, vision, purpose, wit and good taste.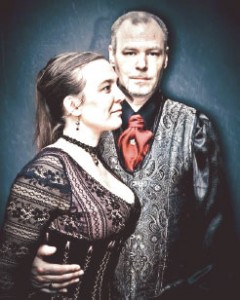 He was truly unique not just for possessing all those qualities, but for excelling in them. Michael was simply good at life and his example of what it means to live to the fullest will influence me for the rest of mine. "
In his poem, 'Be the Chosen. I Chose,' he succinctly and beautifully outlines his philosophy of life. But the last line in particular is so him. On one level it's a witty taunt, but on a deeper level it's really a challenge to all of us. He wanted to see other people aspire to be great. That, to me, is the best way to honor his memory: to not back down from a challenge, to not shy away from your greatness, to go for whatever it is you know you need to go for, even if you don't fully know what you're doing. They say what people most regret at the end of their lives aren't things that they did, but things they didn't do. I don't think Michael died with any such regrets.
"When we first got off the ground in 2009, there was a short-lived attempt at putting out a regular newsletter for the venue, and I wrote a kind of mission statement of what the venue was all about. I reread part of it at Michael's memorial on May 21st because I felt that it spoke to what he was about. He was committed to what the venue was about, but he ultimately didn't need the venue to do it. What the Phoenix meant to him was what all his projects meant to him."
The MC for an upcoming memorial at the Phoenix for Wiggins, Ted Riot, shared: "Michael's ringtone for me was the song 'Rockstar' by Nickelback. He treated everyone like a rockstar. He gave everyone credit. Their views mattered. Their feelings mattered. Equal. I was an equal in the house of Phoenix. I think 'equal' conveys the whole message of the Phoenix. The word for Michael is 'WhereWithAll.' Wherever he was, with all his mental faculties, he had all the tools he needed. The where-with-all to overcome. To ascend. To achieve.
"We shared this belief: I am king. I am supreme. But not at your expense. You are not lower. I am not great because you're less. You don't have to be a peasant for me to be king. I am king. He was helpful, and kind. He would help anyone it seemed. Everyone was like an out of town guest."
Riot added, "The symbol for Michael Wiggins should be M over W. Period. Like an hour glass. Because you can flip it over and it would still say the same thing."
Brian Lewandowski, Gallery Coordinator for the Phoenix Cafe, who has been with the cafe since Memorial weekend 2011, which is when he first met Michael and the rest of the gang, had this to say about Wiggins,"
He was welcoming from the start, and introduced me to the whole steampunk movement. I knew about steampunk prior to that, but not on a conscious level. He put a name to it, and showed me what amazing art and ingenuity was involved with the genre.
"One thing that will always remind me of Michael is the Phoenix mosaic that is hanging in the cafe.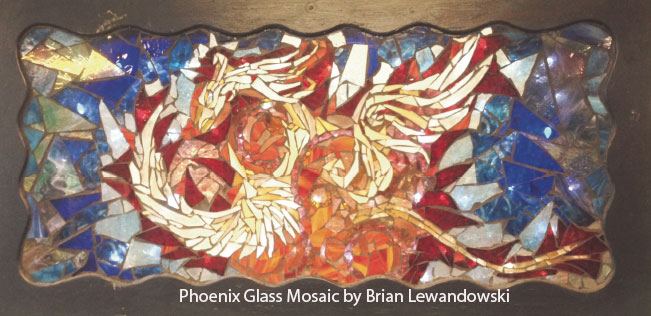 I wanted to make a sign for the front window, and talked extensively with Michael about what it should be. We agreed it should be a mosaic Phoenix, and it should be lighted. So I worked for several months on the piece, unveiling it at our two-year anniversary show on November 11, 2011. Ever since, it has been a mainstay in the cafe. Due to its weight, we were unable to initially hang it in the front window. We liked how it looked where we hung it, as did everyone else, so it has stayed there.
Michael also got me involved with the monthly steampunk dance parties he held at the Phoenix, until they outgrew the venue. I know it sounds cliche, but it truly was an honor and a privilege to know Michael. It was crushing when I heard the news of his passing, and took me some time to really comprehend."
A Memorial Steampunk Art Show, emceed by Ted Riot, honoring Wiggins, will be held at The Phoenix Cafe (24918 John R., Hazel Park, MI) on Friday, August 5th at 7pm, and will feature performances by CHAW, Emily Infinity, La Bas, Doc Colony and more.
If something happened with our health, we believe there is a solution to any maladies in a cure. What medicines do patients purchase online? Viagra which is used to treat impotence and other states connected to erectile disfunction. Learn more about "sildenafil". What people talk about "viagra stories"? The most vital aspect you should look for is "sildenafil citrate". Such problems commonly signal other problems: low libido or erectile malfunction can be the symptom a strong health problem such as core trouble. Causes of sexual dysfunction switch on injury to the penis. Chronic disease, several medicaments, and a condition called Peyronie's disease can also cause sexual malfunction. Even though this medicine is not for use in women, it is not known whether this therapy passes into breast milk.