Changing the Face of Hazel Park's John R. Corridor
Story by Derek Lindamood
Photo by Bernie Laframboise
THE MORE SUCCESSFULLY A city mingles every­day diversity of uses and users in its everyday streets, the more successfully, casually (and economically) its people thereby enliven and support well-located parks that can thus give back grace and delight to their neighborhoods instead of vacuity." – Jane Jacobs, The Life and Death of American Cities.
Hazel Park is changing – and fast. The revitalization and development of a thriving downtown is on the horizon and moving forward each passing week.
An institution called The Congress for New Urbanism – which aims to develop "vibrant and walkable cities, towns, and neighborhoods where people have diverse choices for how they live, work, shop, and get around" – selected Hazel Park and one other Michigan City to assist with the urban development process for local citizens wanting more out of their town. Beth Holland, Charles Gladue, Mike Webb and Jen Jackson – all Hazel Park residents and volunteers – are working for and with the Hazel Park government and CNU to help improve Main Street Hazel Park.
For starters, John R. Road – owned by Hazel Park, not Oakland County -will be refurbished and improved. The current road is two lanes, which will be reduced to one – the other becoming parking spaces – while the speed limit will be reduced to 25 mph, allowing safety for bikers without the need for a bike path. From 8 Mile to 10 Mile, the city will be divided into districts -restaurant/retail, an art area, an art park, a historical museum (the original Hazel Park Library), a farmer's market, and more.
"I lived in Ferndale from 1960-1970, before Ferndale even had a downtown. It was during this time period when Ferndale first began to debate with Oakland County over the usage of 9 Mile Rd. as a place for a Main St. Here in Hazel Park, we don't have that issue – the city of Hazel Park itself owns John R.," said Beth. This fact will contribute to the ease and speed that the downtown can be created now that the wheels are in motion.
A vitamin store, a recording studio, an Italian Bakery, unique eateries and other businesses will be popping up all around the 2.8 square mile city. Philanthropists such as the Truba family, residents of Hazel Park for 40 years, have donated funds for an outdoor fitness center at Greenacres Park. "The equipment that will be installed in the park will be specially made for outdoor fitness," Councilman and local mechanic Mike Webb said. The folks from Detroit TV Series, Hardcore Pawn, will open a shop in Hazel Park (although not shoot episodes there). Most interestingly, inside of the original Hazel Park Firehouse (next to Checkers on 9 Mile) will be a firehouse-themed restaurant called Fire House Plaza. "I'm not sure our city will house as many bars as Ferndale, but we'll have plenty of restaurants and retail, plus a farmer's market open on Sundays starting June 19 of this year," Beth said.
Heading up the creation of the Farmer's Market is Jen Jackson, a native of Holland, MI who harnesses a passion for her new city, as well as helping those in need. "All monies generated from leasing Farmer's Market space will be reinvested back into the market or into Parks & Recreation," she said.
The vision for the New Hazel Park is "practical, not crazy" – and the other amenities and spaces included at the Farmer's Market will offer just that – affordable, fresh produce and goods, a playgroundfor children, bathrooms, a near-by dog park and plenty of parking. Some of the vendors already showing interest in occupying the market space are Jentzens Farms out of Monroe, Apothecary Handmade Cosmetics, Ain't No Sunshine Farm, and Pink Robin Bakery – which already has three locations in Detroit. The Farmer's Market will be located on the Ferndale border off Woodward Heights, exactly where the Hazel Park Art Fair is located every year. SNAP and EBT Cards will be accepted at the market.
The energy and excitement exuded by these four Hazel Park citizens was incredibly inspirational. To better serve their community, each of them have dedicated their own time and energy to educating themselves – through MSU Extension programs and an Oakland County crash course called "One-Stop Ready" – in efforts to provide them with the knowledge that will help aid them towards achieving their goals. The knowledge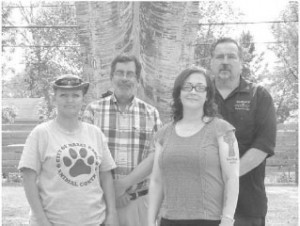 HPGMMarket@gmail.comgleaned from these programs have led to quick and easy processes which facilitate businesses getting permits and approvals much faster. Companies that apply for business permits in Hazel Park typically receive them one-two weeks after the application date. Further, they have assisted in changing zoning laws to allow for businesses to purchase and knock down unoccupied (for a minimum of six months) adjacent houses, to create parking space.
The most amazing detail regarding the sudden development of The New Hazel Park is that it's coming on the heels of very, very difficult times for the city. "From 2008-2012, the city was in an utter state of emergency. With the financial crisis, and State funding being cut, we asked citizens to step up, and they responded", said Councilman Webb. "Now, we've got triggers in place to continue developing the city under financial stability for the next 25 years. As the road bonds and ice rink are paid off in the near future, this will free up capital to continue to put towards further growth and progress. Not only is Hazel Park an affordable place to retire, but it will very soon also be a viable place for millenials to get started. The schools are improving, their financial health is returning under our new superintendent, and the new downtown will be a place to shop, socialize and enjoy."
For more information on CNU, go to: https://www.cnu.org/
If you're interested in leasing space at the Hazel Park Farmer's Market, email HPGMMarket@gmail.com
If some happened with our heartiness, we believe there is a solution to any maladies in a medicament. What medicines do patients purchase online? Viagra which is used to treat impotence and other states coupled to erectile disfunction. Learn more about "sildenafil". What men talk about "viagra stories"? The most substantial aspect you must look for is "sildenafil citrate". Such problems commonly signal other problems: low libido or erectile dysfunction can be the symptom a strong soundness problem such as core trouble. Causes of sexual dysfunction turn on injury to the penis. Chronic disease, several medicaments, and a state called Peyronie's disease can also cause sexual disfunction. Even though this medicine is not for use in women, it is not known whether this medication passes into breast milk.