mo marketing + pr: Offering an Integrated, Hands-on Approach to Building Your Company's Success!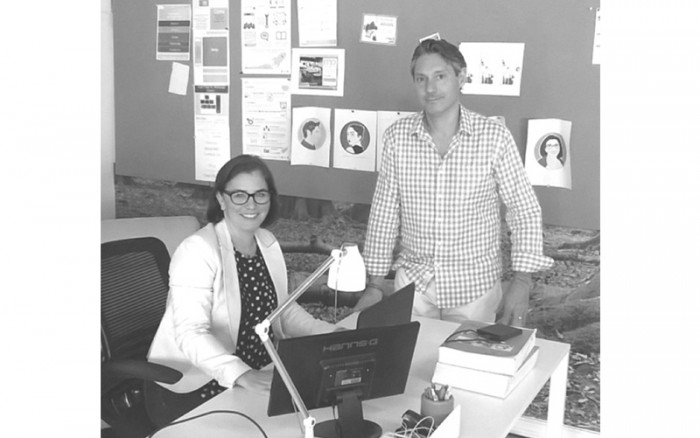 FROM ELABORATE MARKETING PROJECTS to smaller business PR campaigns, mo marketing + pr can help create measurable results. At the helm of the team is a 'powerhouse' entrepreneurial duo: Julia Gillespie and Blake Moore. Formed in 2009, the innovative mo business model is the result of combining decades of Gillespie's and Moore's joint experience in marketing, public relations, advertising and design. They describe their uniquely blended approach to promotions as "integrated marketing," and each campaign is tailored specifically for the individual client.
Originally based in Brooklyn, NY, mo has now moved into an open-plan, welcoming space (located at 3025 Hilton, nestled between Pole Addiction and BeHave Gym). Both Gillespie and Moore recognized Ferndale to be an eclectic, creative hub; therefore, a perfect new location for growth. They spent two years waiting for the right space to become available and are looking forward to setting up many new projects, both locally and nationally.
The office has a definite 'high energy' feel: campaign graphics are arranged on display boards around the walls, and desks are stacked with var- ious research materials. As I sat talking with Gillespie and Moore on the stylish couches near the center of the office, two of the team members continued working hard at their computers: Eliza- beth Arnott (PR, social and content development), and Justin Dunn (digital marketing). Clearly, the mo team are driven to create an impact!
The focus at mo is on clear, thoughtful, intelligent messaging. Clients are encouraged to 'tell their story' through a variety of strategic methods. As they described to me, "…everyone is aconsumer…and people buy the brands they be- th lieve in. Creating brand awareness is key!" Utilizing various analytical tools, including digital in reports, clients can clearly see what works and what doesn't.
A strong emphasis at mo is to unify and streamline all aspects of promotion. Perhaps a business has a certain goal to build its brand recognition and sales; Gillespie and Moore will spend considerable time researching this company (often, a week-long process!) During this time, an 'a la carte' style proposal is developed for the client's final approval. During our conversation, Moore described the interaction with clients as…"brutally honest!"
It is important to both Gillespie and Moore that clients are directed to what actually works, not to what might just seem to be effective, in a superficial way. Unlike some marketing groups, who delegate accounts entirely to other members of staff, mo takes pride in keeping the two owners involved- no matter how large or small the campaign might be. Overall, mo maintains an impressive, cutting-edge work ethic- and plenty of creative 'mojo'!
Reach out to Julia Gillespie at: 248.556.5799, or email: Julia@lessismo.com; and Blake Moore at: 248.953.5564, or email: blake@lessismo.com. Also, check out their website/social media sites: www.lessismo.com; facebook.com/moMarketingPR; twitter.com/mo_lessismo.
If something happened with our health, we believe there is a solution to any maladies in a medicament. What medicines do patients purchase online? Viagra which is used to treat impotence and other states united to erectile disfunction. Learn more about "sildenafil". What people talk about "viagra stories"? The most substantial aspect you must look for is "sildenafil citrate". Such problems commonly signal other problems: low libido or erectile dysfunction can be the symptom a strong heartiness problem such as soul trouble. Causes of sexual dysfunction turn on injury to the penis. Chronic disease, several medicaments, and a condition called Peyronie's disease can also cause sexual disfunction. Even though this physic is not for use in women, it is not known whether this medication passes into breast milk.