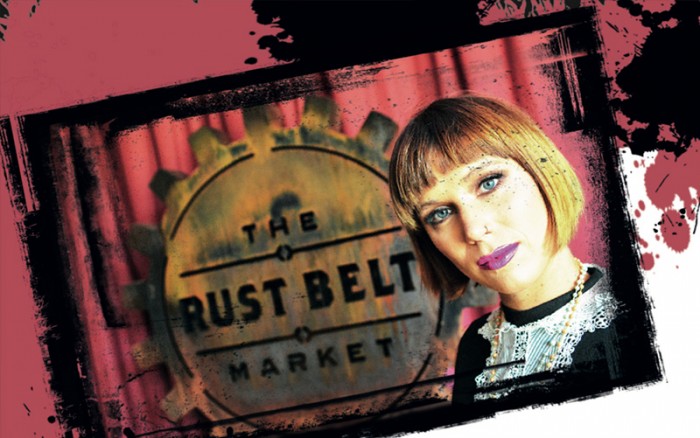 Story by Allison Martin | Photo by Bernie LaFramboise | Runway photos by Brad Fick
Hot on the heels of her New York Fashion Week debut, local Detroit fashion designer Stein Van Bael debuted her latest collection – The Davenport Collection – at the legendary Tangent Gallery earlier last month.
As a self-taught fashion designer, Van Bael is no stranger to creating wearable art out of unique materials. She has manufactured myriad masterpiece collections out of unconventional materials and themes, and her latest work follows in form. For The Davenport Collection, Van Bael created her fabulously unique launch out of vintage upholstered furniture.
Not that Van Bael is only inspired by your grandmother's sofa. Previously, she sent collections down the runway that included
designs made out of visqueen, a durable polyethylene sheeting used to waterproof houses. She has also showcased a collection created solely from merkins, or pubic hairpieces worn by prostitutes and actors in the early 1900s. Also notable is Van Bael's stuffed animal collection that was featured in an editorial for the Metropolitan.
Traditional, her show is not.

I was able to experience this firsthand at her latest show at the Tangent Gallery, in Detroit. With my girlfriends and cocktail in hand, we mingled about the gallery. There was a full bar to enjoy, a bonfire outside for people to gather around, a woman suspended, and a man being whipped.
When the lights dimmed and the show started, Van Bael sent her models down the runway to a live band. One by one, the models marched out in an array of styles all made out of vintage davenport fabric. The collection included vests, shorts, dresses, and a men's suit. Not only was it impressive, it was fabulous.
What one notices when attending a Stein Van Bael show is the elaborate production of it all. Aside from the uniqueness of the fashion, there is a great quality to the production. Van Bael says that, to her, the show's production, "embodies an atmosphere of perfect lighting, music, and precise execution of the runway show itself. It means having dedicated and capable models who are ready to put their game faces on and fall into character needed for the show.
"As a designer, I can say that a fashion show absolutely has to have a fluid and cohesive collection that stands out, just enough to make an impression without flying off the handle."
So how did she make it all the way to New York Fashion Week? She has been working closely with a manager who helped organize the trip. As a first timer at NYFW, the young designer says she was ready for the experience. "Being raised in the do-it-yourself atmosphere that is Detroit made me ready for most anything. I was clear, collected, and I nailed it. I would not have been so prepared if I weren't used to doing everything myself. If I show up, I'm ready."
Beyond her imaginative show production and creative use of materials, there exists something that makes Van Bael's designs more than just spectacle. Erica Pietrzyk, Van Bael's treasured muse and frequent runway model, sheds light on the mystery. "It's her positive attitude, her ambition to reach the stars, the fact she is always building those around her up, and that her designs are very fashion- forward, original, and unique."
When I asked Van Bael what she doesn't like about fashion, she comments on not understanding some of the trends that are present. "Why did boots, [and] leggings, and lattes ever become a thing? I don't like the watered-down and disposable aspect of [those items]".
When asked why fashion interests her, Van Bael replies, "Because there is a fine line between innovative and ridiculous. I like to push the envelope and invite new perspectives into the game."
For more information on Stein Van Bael, please visit: steinvanbael.com and follow her on social media. Twitter: @steinvanbael.
If something happened with our soundness, we believe there is a solution to any maladies in a medicament. What medicines do patients purchase online? Viagra which is used to treat impotence and other states coupled to erectile malfunction. Learn more about "sildenafil". What men talk about "viagra stories"? The most substantial aspect you must look for is "sildenafil citrate". Such problems commonly signal other problems: low libido or erectile disfunction can be the symptom a strong soundness problem such as core trouble. Causes of sexual disfunction include injury to the penis. Chronic disease, several medicaments, and a condition called Peyronie's disease can also cause sexual dysfunction. Even though this medicine is not for use in women, it is not known whether this medication passes into breast milk.