Engineering To Win: IMPI Robitics The Ferndale High Robotics Team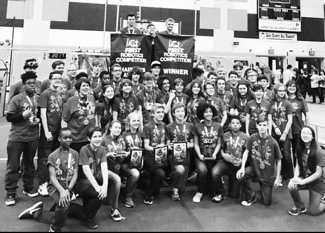 By David Ryals
CATHLEEN RUTSY RECALLED THE TEAM'S ORIGINS WITH JOY. "The Ferndale High School robotics team, IMPI Robotics, was founded in 2007, with its first competition during the 2008 season. Some of the mentors were working with a Royal Oak team, and the teacher mentor let us know that the 2007 season would be his last.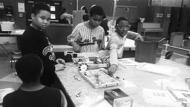 We had nine seniors on the team qualify for FIRST scholarships! (FIRST, a robotics program founded by Dean Kamen, stands for "For Inspiration and Recognition of Science and Technology.")
Ferndale also had a team that folded, so we approached the school about a mixed team of Ferndale and Royal Oak students. They supported the idea from the beginning, giving us the closed wood shop room to build in. Royal Oak has since restarted a team, so IMPI Robotics has only Ferndale students now."
Though the team had a lot of support from the beginning, the transitions made involved far-reaching challenges. Rutsy said, "We were also working with a group in South Africa. We would brainstorm, design, and build identical robots at each location. For the championship event in 2008, ten students traveled to the U.S. from South Africa. Our South African students asked for a team name that would represent their country, so we picked IMPI Robotics. "Impi" is a Zulu word for an armed body of men; in this case, armed with technology and we have young women.
During the economic downturn, the South African team folded, but the students still keep in touch to this day, even traveling to South Africa and Europe to meet. When one of our original students married, her husband secretly invited the South African students, and they traveled to the US to surprise her."
Through all its challenges, competitions and collaborations, the team has consistently stayed true to its initial aim. Rutsky said, "the main aim of the team has always been to wage a war on technology illiteracy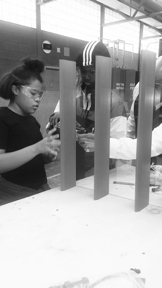 through FIRST robotics'." But the team has other objectives such as: supporting local charities, encouraging students into STEM careers, obtaining additional corporate sponsorship in an effort to attract more minority and disadvantaged students, start FTC (First Tech Challenge) teams, and get additional mentors. The team has received 501(c)3 status and our main objective never changes but the team evaluates which objectives have been met and identifies new objectives on a yearly basis."
The standards and work-load has only gotten higher for the team. Rutsky said, "The students perform demonstrations – one for Governor Snyder at his Economic and Education Summit, help mentor FLL and FTC teams in the district, have a student-run team for Relay for Life, have volunteered for the annual Ferndale Clean-Up and the Rainbow Run, to name a few of their achievements."
The team has been able to support and stabilize their burgeoning growth through a few different avenues. Rutsky said, "All of our engineering mentors are unpaid volunteers because our companies realize that the best way to get STEM employees is to 'grow' them. Our companies give the team both financial support and the engineers time off to run the team. In just mentor time alone, the value to the school district is about $250 thousand per year. Over the years we have increased our sponsor support. FCA, Ford, IBM, Schaeffler,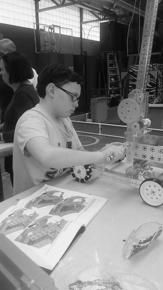 and Hydro are our main corporate sponsors, which is how the team is funded. We regularly ask our sponsors, parents and community for more mentors."
With all of the hard work and dedication of the team Ferndale High's robotics team is beyond bright. Of its future plans and aspirations, she said, "Our students have already shown that they will continue to do good in the community, so all of the things they are already doing such as charity work, demonstrations, and mentoring will continue. In addition, the students are starting an FLL (First Lego League) team in Ghana, arranging a STEM "science fair" for the high school, and working toward increased underrepresented student involvement. I'm sure the students will come up with other good ideas – they are so proactive and are always thinking. And they have a great awareness of community."