The Ferndale Community Concert Band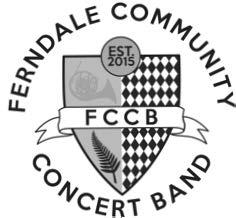 By David Ryals
AS MEMBERS OF THE FERNDALE ARTS AND CULTURE COMMISSION (FACC), Tim Brennan and Sharon Chess were charged with creating a community band. In February 2015, Sharon set up a FaceBook page and named it Ferndale Community Concert Band. The interest in the idea was inspiring, and they knew they were heading in the right direction. They separated from the FACC that Spring, and became a recognized 501c3 non-profit organization.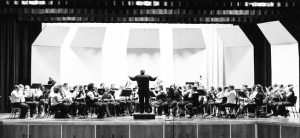 Now, beginning their third season, they are excited to welcome 20 new members, bringing them to a resounding 83 members. Their members are exceptional musicians, having various talents and degrees in teaching or performing music and longevity. Twenty-five members are alumni of the Ferndale Schools (FS) Music Program, from 1969 to students who are now Freshman through Seniors in the FS program.
The fascinating part about FCCB is, as a group, they have become a community of individuals who share the passion for music, people and community. The friendships, camaraderie and mentoring for each other is unlike anything Sharon and Tim have ever witnessed or experienced in other organizations.
Being part of this organization has been a wonderful opportunity for all of them.
One of their flute players, Ms. Anne Dwyer, put it best, "The opportunity to interact with and learn from this wealth of musical knowledge is like finding a million dollars in my attic – it's a treasure in my own house."
Though Sharon does not play an instrument or read music, her passion for music and those who are talented and gifted in music touch her heart and soul. She is the band's biggest cheerleader, as she listens through every rehearsal and performance.
Her job as Director of Development is to create awareness and opportunity for members and the whole organization. They now have several smaller ensembles within the band who are invited to play at area events. The organizers of such events in turn donate to the band, welcome assistance for a non-profit with a slim budget.
They gladly accept donations for the band, and encourage everyone to join their email list. Immediately following their concerts, the FCCB offers a bake sale, and many of the members put their culinary skills to work and contribute to the sale.
Other opportunities are blossoming. A new event being produced by Quicken Loans, Winter Wonderland, has reached out to the FCCB to be a part of an innovative way to bring people to Downtown this winter.
The Ferndale Community Foundation, Ferndale Area Chamber of Commerce, Woodward Dream Cruise, Downtown Development Association, Social Connection and Ultimate Fun Productions are a few of those who have helped to recognize and support them in this endeavor.
The FCCB is extremely excited to announce they are the recipient of a grant for 2018 from Michigan Council for Arts and Cultural Affairs. The Council invests in organizations which encourage the growth of arts and culture in any community.
The FCCB Home Town Holiday concert, on Sunday, December 17 at 3:00 P.M. will be held in the Ferndale
school auditorium, and is free to all those who attend. This performance is not your traditional singalong of carols. A new tradition will begin with this concert; they are encouraging everyone to wear an ugly holiday sweater or tie, and join them in a Santa march scheduled for the same day.
The FCCB has also been invited by the Clarkston Community Band to join them and the Rochester Community Band in a single performance in the Clarkston High School auditorium on March 4, 7:00 P.M. The facility is state of the art, having been recently renovated. This invitation, once again, shows the respect gained in such a short period of time with in the world of community bands.
Their Music Director, Ed Quick, is excited to lead an incredible collection of talent and devoted musicians, and smiles as he raises his baton to begin each rehearsal. They couldn't do it without him.
Continued support and opportunity will increase the Ferndale Community Concert Band's longevity. Check them out on YouTube and at www.fcconcertband.org