Make Someone Feel Special With A Gift from 3Winks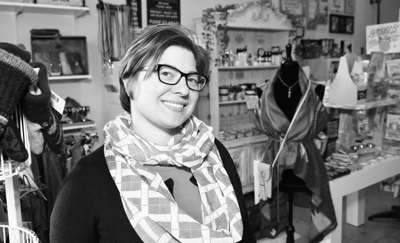 By: Jill Lorie Hurst
HEATHER HOPKINS' COOL LITTLE SHOP, 3 WINKS, is a terrific addition to the rapidly growing retail neighborhood on 9 Mile just east of Woodward. I was delighted to have an excuse to visit the store and chat with the owner. She is proud and excited to share her new venture. Opening a store like this is something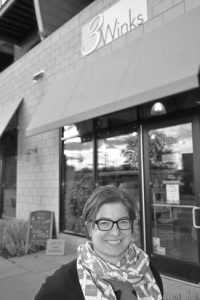 she's wanted to do for a long time. When Heather's mom died a year ago, she started to reevaluate and think about what she wanted to do with the rest of her life. A Western Michigan University graduate, with a degree in interior design and a background in business and marketing, she's worked in retail for over 20 years. She enjoyed her most recent job at Harold Wholesale, but decided it was time to take a risk.
"It took me over 20 years to be okay with failing if it doesn't work out." she smiles. "No matter what happens, I've already learned so much. If there's a next time, I'll be smarter." She also has the full support of her husband Jesse, a guitar technician at the Guitar Center in Farmington Hills, who also designs and builds guitars. The couple, who've been married for a little over two years, lives in Hazel Park, "right around the corner" from the store. "I couldn't do this without Jesse." says Heather. Their dog Austin has a stake in the business too and if you visit their website, you'll find "Austin's Pick of the Month."
Heather has gifts geared toward dog and cat lovers of course, but what is amazing as you look around is she truly has something for everyone. "Gifts," as opposed to "presents"; presents are something someone needs or has requested, while a gift is something I think you'll enjoy based on things I know about you, shared the business owner.
There are cards, soaps, candles, scarves, holiday ornaments. Practical things with a frivolous twist, like the "Glammer Hammer," an emergency escape hammer for the car. Cake mugs with recipes on the cup. A fun, rainy, Saturday treat for the kids. Need a last-minute gift? There are gift baskets in the $55-60 range, and cute secret-Santa give-ables for about $20. Michigan crafts are represented, and she also displays products that benefit a number of nonprofits.
Heather speaks of each product with knowledge and enthusiasm. She shares a particular favorite, strands of beautiful, handmade fabric birds: "Birds of Joy and Happiness." No two are the same but they are said to bring joy, good luck and prosperity to their owner. Heather: "I love the message, and supporting a local artist."
I see things at 3Winks I've never seen in another gift shop. "Growing up, I never wanted to be like everybody else." She brings a unique eye and a big heart to her little store. "I enjoy helping people find the perfect gift. To think outside the box. Hopefully a store like this encourages thoughtfulness."
203 East 9 Mile Rd, Ferndale
Tues.-Sat. 11-8, Sun. 12-5
3winksgifts.com