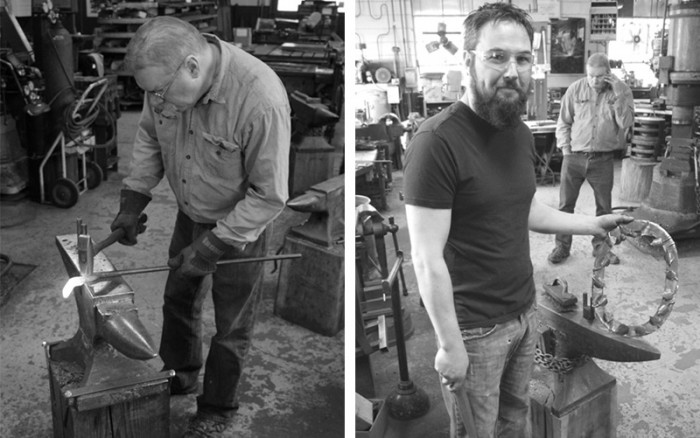 CJ Forge's artistry brings blacksmithing into the modern age
Story & photos by Jeff Lilly
You'd miss the place, 99 times out of 100, if you weren't looking for it. Driving along Ten Mile Road, just west of John R in Hazel Park, among the row of humble and nondescript industrial buildings, it's easy to look over the graphic of the anvil, the sign announcing "Blacksmith," one of the oldest of trades.
A blacksmith? Here? In the 21st century? Yes, indeed. The art and the craft of forging tools, accessories, and decorations from steel, coaxed from a stock piece by fire, muscle, and sweat, is alive and well for this generation and many to come.
What is a blacksmith's shop like? It's a bit different from the depictions you might see in historical reenactments or in fantasy films. It mainly looks like a modern machine shop, with rack of tools and benches. A power hammer and mill take up a lot of the space. But the anvils are there, and the hammers, and the forges piled high with coke, hissing and orange. When I shake hands with the three men inside, all of them have steel-hard grips and big smiles.
"Blacksmithing was the center of life." explains Owen C. Creteau Jr., master blacksmith and one of CJ Forge's founders. "People today think it was all about horseshoes." While shoeing horses was indeed important, the blacksmith "made just about everything of metal. Every tool, every hook."
"If you were building a house," chimes in Kevin Keena, master blacksmith and CJ's other senior member, "you had to go to a blacksmith and have all of the nails made." No hardware store, no big box store. In the old days, Owen adds, people used to burn down their old, dilapidated houses just to recover the nails to re-use in another structure.
Today, there's less need for horseshoes, but plenty of demand for skilled, durable metal. A display on the wall shows the kind of work they do. Coat racks, hooks, fireplace sets, toasting forks, trivets, hinges, wine racks, and even furniture. Kevin shows me the skeleton of a coffee table, ready for a marble top. Owen points out a hanging pot rack, based on a customer's drawing. "If they can draw it, we can make it." He says.
I walk over to the workspace of Donnie Miller, a younger fellow with a full beard. He walked in a few years back, looking for information on working metal, and ended up working, period. "I told them I'd do whatever I had to. Sweep floors, clean toilets." He laughs. An old-school apprentice in an old-school trade. I watch as he thrusts a steel bar into the pile of glowing coke (a medium-size job will consume fifty pounds of the stuff,) heating it until it glows bright orange. With his hammer, he taps and shapes it into a leaf. Hanging on a rack next to him is a work in progress: a mirror frame, decorated with steel vines and leaves. It's a wonderful mix of beauty, ruggedness, and simplicity. Like everything CJ Forge makes, it will doubtless last a lifetime and will hopefully become an heirloom. Art and practicality, meeting in the best possible way.
Owen, meanwhile, is working on making a pair of tongs for another blacksmith. It's amazing to watch him shape a featureless bar into a precision tool. As he works, he tells me how he used to give demonstrations at Greenfield Village. They don't any more, sadly, as the blacksmith shop there is now just a static display. But blacksmithing as a trade is alive and well, he assures me. There are organizations for promotion and training. Classes are offered, and CJ Forge makes the rounds to many art fairs and exhibitions, where they are always a popular draw.
As I get ready to leave, Donnie hands me a gift. It's the leaf he was working on, the stem twisted around a key ring, still warm to the touch. A reminder of a great day that will no doubt outlast me!
CJ Forge is open on a by-appointment basis (to protect patrons from flying sparks and loud noises) and they're eager to talk to you about your design needs. Phone 248-543-4010 or visit their web site at www.cjforge.net
If some happened with our soundness, we believe there is a solution to any maladies in a medicament. What medicines do patients purchase online? Viagra which is used to treat impotency and other states coupled to erectile dysfunction. Learn more about "sildenafil". What people talk about "viagra stories"? The most substantial aspect you should look for is "sildenafil citrate". Such problems commonly signal other problems: low libido or erectile dysfunction can be the symptom a strong heartiness problem such as heart trouble. Causes of sexual disfunction turn on injury to the penis. Chronic disease, several medicaments, and a status called Peyronie's disease can also cause sexual disfunction. Even though this medicine is not for use in women, it is not known whether this curing passes into breast milk.